So as I sit inside my house in isolation from the world, I've thought a lot about how this summer is much like the summer of 1816, better known as the Year Without a Summer. Back then, the lack of summer was due to weather anomalies, but being forced indoors during the months when you can normally commune with nature and spend some time in the sun (or under a parasol) certainly makes the summer of 1816 a little bit similar to the summer of 2020. May we all be half as productive as Mary Shelley who used her indoor time to write Frankenstein.
Speaking of writing (since I'm always speaking of writing), I tend to go back and forth with even posting these blog updates. Part of me figures if someone really wants to know what's going on in my world, they'll probably just check my social media. That being said, I still love blogs in general, and I wish more people still had them. Plus, sometimes, it's nice to do a roundup of what's going on, if for no reason than to say "Hey, I haven't just been mired in the existential dread of living in 2020. I have a few accomplishments this year too!"
So with that in mind, here we go with some summer updates for the curious!
My second novel, Boneset & Feathers, is coming soon!
So on the really big news side of things, I'm going to be a novelist all over again! That's right: The Rust Maidens might not have been an accident! My second novel, Boneset & Feathers, is due out from Broken Eye Books on November 3rd, and it's all about witches, witchfinders, ghost birds, and bones that won't stay buried. If that sounds right up your spooky alley, then take a gander at the press release here!
StoryBundle
I'm super stoked to share that The Rust Maidens is part of a fantastic StoryBundle along with books from Sarah Read, Jonathan Maberry, Lucienne Driver, Amity Green, Melinda M. Snodgrass, Kevin J. Anderson, and many more. Thirteen books for one sale price! There's only a little over a week left on this deal, so head on over and pick up a whole bunch of awesome horror books!
Translations
Since the spring, I've had the first translations of my work released into the world! My Bram Stoker Award-winning short story, "The Eight People Who Murdered Me (Excerpt from Lucy Westenra's Diary)," made its debut in Russian at Darker Magazine.  Then of course, the Spanish translation of The Rust Maidens, Las Doncellas De Oxido, was also released to positive reviews from Dilatando Mentes Editorial!
As if that's not enough, the French version of The Rust Maidens, Filles de Rouille, is due out very soon as well! In the coming months, I'm hoping to have some more news to share about future translations, so as always, stay tuned if you're interested.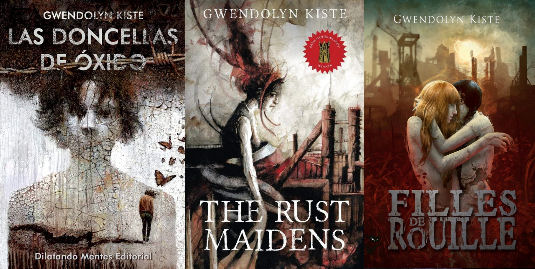 Forthcoming Short Fiction
Over the last year, I haven't written too many new short stories (alas!), but that doesn't mean my heart doesn't still belong to short fiction. I'm thrilled to announce that my brand-new folklore horror tale, "Lost Girls Don't Cry," will appear in the Places We Fear to Tread anthology from Cemetery Gates. It's an awesome table of contents so far with even more stories to be announced in coming weeks, so that's just great news all the way around.
I'm also so incredibly honored that a reprint of my horror story, "An Elegy for Childhood Monsters," is in the current issue of The Dark Magazine! This story was originally published in Suspended in Dusk 2 in 2018, which was a great anthology and one I'm still so proud to have been part of. Plus, this reprint marks my first appearance in The Dark, so needless to say I'm very excited about it!
The Outer Dark Symposium
As you probably already know, pretty much every in-person event has been canceled for 2020. But fortunately, some of my favorite writing conventions have gone virtual! The Outer Dark Symposium is being held this weekend from Friday, August 14th to Sunday, August 16th, and I'm absolutely over the moon that I'm a guest! On Saturday night at 8:15pm, I'll be reading along with Sarah Read, Donyae Coles, and Gordon B. White in the Pseudopod- sponsored reading block.
Then on Sunday afternoon at 3:45pm, I'll be part of the panel, From Yellow Wallpaper to Spectral Hues: Color in Weird Fiction, along with Craig Laurance Gidney, Daniel Braum, Liv Rainey-Smith, Hysop Mulero, and Brian Hauser. I'm so excited to hang out with everyone, and I already know that it's going to be a great event, since Anya Martin, Scott Nicolay, Melanie Crew, and Jess Lewis are so incredible with all the events they put together. Definitely hope to see many of you there!
Fright Girl Summer Roundtable
And finally, all this month on the blog, I'll be featuring the Fright Girl Summer roundtable that officially kicked off last week. I'm spotlighting an amazing group of women writers, including Eden Royce, Sonora Taylor, G.G. Silverman, R.J. Joseph, V. Castro, Gaby Triana, and Linda D. Addison.
At any rate, that's just about everything for now! I hope this very strange summer finds you as safe and happy as anyone can be in a 2020 pandemic world.
As always, happy reading!