Welcome back! This week's author interview is with the talented Nemma Wollenfang! Nemma is a speculative fiction and romance writer with a host of short stories as well as a novella available through such outlets as Flame Tree Publishing, Titan Books, Roane Publishing, Romance Magazine, and more.
Recently, Nemma and I discussed her inspiration as an author as well as her favorite (and least favorite) parts of the writing process.
A couple icebreakers to start: when did you first decide to become a writer, and who are some of your favorite authors?
Since I was little I've been penning stories. Recently my mother found my first 'book' written when I was around six years old titled 'the dirds'. Apparently I was a young Hitchcock who had trouble differentiating 'd's and 'b's. As many adult know though, finding time to write can be tough. While at university I had little time to spare – doing a dual science degree didn't help with that. When I completed my masters I took a gap year, not with the express intention of writing, just to explore options and have a break from laboratories. I'd also lost someone close to me and wanted some quiet time. Writing wasn't even on my radar. In the end, I sort of fell into it. After reading an old Greek myth about Actaeon, an idea for a zombie apocalypse novel sprang to mind. I know, odd connection, but I couldn't let it go. That was when I 'caught the bug', so to speak. Writing turned out to be therapeutic and freeing and it was pretty much the only thing I wanted to do after that.
Of course, as with many writers, it took much longer to refine my technique, then to start submitting out. Now, I've had stories appear in various publications, including Murder Mayhem (Flame Tree Publishing), A Bleak New World (RIP), Come Into the House (Corazon Books), and Romance Magazine. My first ever novella, a fantasy romance called Dragon Law, has also recently been released in the anthology Masked Hearts by Roane Publishing. Longest story published to date!
As to favorite authors, that's just tough! There are so many. But here are a few who have particularly stuck with me. People who have developed fabulous worlds I've revisited more than once. Anne Rice (Interview with a Vampire), Jules Watson (Dalriada Trilogy), Kresley Cole (Arcana Chronicles). If you haven't heard of the last two I highly recommend having a look.
Your story, "Clockwork Evangeline," appeared last year in Flame Tree Publishing's Science Fiction Short Stories anthology. What was the inspiration behind this particular piece?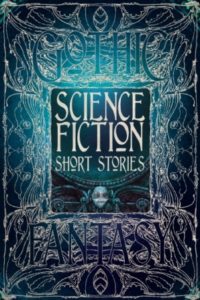 It was a competition run by Steampunk Journal in 2014. When I saw the advert I was intrigued – I'd never heard of steampunk before. After doing a little research into what it was I was hooked. Victorian-era fashion combined with steam-powered devices? I wanted to write about that! While twiddling my thumbs over potential plots and listening to an OST score, the clockwork girl in her holographic clothes quite literally danced into my head. Thus, Clockwork Evangeline was born.
The story subsequently won first place in the over 18 category and was published by Titan Books on their website. "Clockwork Evangeline" was my first ever short story to be published, so I was thrilled.
Now, I'm developing it into a fully-fledged novel…
Your fiction sometimes delves into the historical. Do you have a specific approach to research when you need to find and verify historical details in your writing, or do you allow each project to dictate your process?
Usually I just go with the flow of an idea. If research needs doing, I can mostly sort it later – usually I just need to clarify details. You see, I've grown up with a lot of historical fiction, and around a lot of history – my mother often took me to visit historic British sites growing up: burial cairns, standing stone circles, old ships, cathedrals, castles, etc. – so a lot of it comes naturally, as I at least have a vague idea. If I do have trouble getting the feel of a particular era, sometimes I find that watching films or reading novels set in the time helps before embarking on a new historical project. It allows me to get the feel of accents, fashion, etiquette and language – the smaller details that sometimes get bypassed. And, as always, a brief internet search can usually answer a lot of questions. To not hinder the flow while writing, I tend to leave the more trying details until later.
In your university work, you've studied both biology and parasitology. Do elements of these fields ever creep into your fiction?
This is where I test out my mad-scientist cackle, and don my white overcoat and goggles. Hehe…
A while ago, someone asked me this question and my immediate answer was 'no'. Then I thought about it… and actually, elements do creep into my work. A lot of my university career was spent around blood-sucking insects and the parasites they transmit, specifically ticks, but I learned plenty about the vast array of vectors and parasites that exist worldwide and how they can not only invade a host body but alter their behaviour to suit their own needs. Creeped out yet? One of my favorite science fiction short stories, "GOD is in the Rain" (published in A Bleak New World by RIP), is about a parasitic type of technology that runs rampant, invades human bodies and alters behaviour. I had a lot of fun writing that one. Likewise, Clockwork Evangeline (the novel) has a number of 'science-gone-wrong' moments, with several mad scientists thrown into the mix who think it's a-okay to play God. Many of the tinier details in these stories came from things I learned during my degrees. So yes, my science background seems to have given me a lot of delicious fictional fodder to work with.
If forced to choose, which is your favorite part of the writing process: drafting new ideas, crafting a first draft, or polishing an almost finished piece?
When the idea for a new story strikes, and you can't leave it alone, that is one of the best feelings in the world. When the characters really speak to you and new scenes keep popping into your head and you just can't stop typing… Like many writers, I have little notebooks constantly nearby – to jot down all the things I'll otherwise forget if I wait too long to reach a computer. They even went with me to my best friend's wedding the other week – where the strawberries on the buffet table gave me an idea for a new romance novella. I find it a lot harder when it comes to actually piecing a story together, chapter by chapter. That's when the tougher decisions come into play and things get cut. Editing, I've found, is the longest and most tedious part of the process. Knowing when a piece is finally finished and ready to send out can be hard.  However, that sense of achievement when you've been working on a piece for a long time and you finally type 'The End' can be fantastic.
What projects are you currently working on?
The biggest is Clockwork Evangeline (the novel). After it won a prize as a short story and was later published in Flame Tree's deluxe gothic fantasy hardback, I decided to expand the story. It just kind of took flight and its first draft won Retreat West's First Chapter Competition in February. It also later received an Honourable Mention for a grant from the Speculative Literature Foundation (SLF). Currently I'm working on some final editor's notes, before taking a deep breath and handing it out to Betas.  Then… we'll see.
I also have another novel in the works, a historical one called Rose Gold: A Piratical Tale. As you can tell, it's about pirates. It has been shortlisted in three novel awards so far but still needs work. There's also the infamous zombie apocalypse novel too! So at the moment I have plenty to keep me occupied.
Big thanks to Nemma Wollenfang for being part of this week's author interview! Find her at Facebook, Twitter, and Goodreads as well as on Amazon.
Happy reading!