Welcome back! Today, I'm thrilled to feature author and reviewer S.J. Budd. Her work has appeared in numerous short fiction venues around the world. When she's not writing her own stories, she blogs about writing, highlighting reviews of her favorite speculative fiction on her site, with a special focus on independent and up-and-coming writers.
Recently, S.J. and I discussed her inspiration as an author as well as her favorite part of the writing process.
A couple icebreakers to start: when did you first decide to become a writer, and who are some of your favorite authors?
I don't think there's ever really been a point where I decided to be a writer as it's something I've always done. About a couple of years ago I decided to give it a real go and see how far I can take it and it's been such an adventure. I've had quite a few stories published and hopefully more to come.
I'm an avid reader in lots of genres and have lots of favourite authors such as Patrick Rothfuss, Daphne Du Maurier, and Stephen King.
While you are now based in London, you grew up in Cornwall and have said that the Celtic legends of the area have inspired you. Is there a particular story you've written that you feel is most inspired by your upbringing, or do you feel the influence is pervasive through your entire body of work? Or perhaps a bit of both?
Growing up in Cornwall definitely sowed the seeds of a deep interest in the supernatural and fairy tales and that has inspired me greatly as a writer. I think the influence runs through all my work. Quite a few of my stories such as "The Mound" published in The Wild Hunt have been set in Cornwall as it provides such a great setting with its rich history and landscape.
On your website, you often feature a number of reviews of speculative short fiction. What inspired you to become a reviewer, and what has been the most interesting or surprising part about the process?  
I began to write reviews as a way of helping other authors, there's so many great writers out there waiting to be discovered! When someone has contacted me to say they loved a story of mine it really means so much so it's nice to spread the love by writing reviews of magazines I enjoy reading. I like promoting magazines and stories I really like as there are some really great publications out there such as Sanitarium and Deadman's Tome who work tirelessly to give a voice to authors.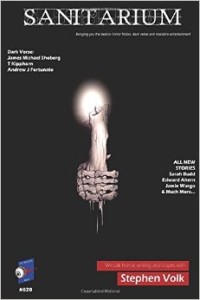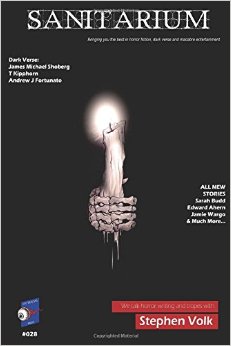 Your stories have appeared in numerous venues, including Aphelion, Shadows at the Door, and The Siren's Call, among others. Do you have a personal favorite of your published works?
I think it has to be "The Little Orphan Girl" which was published in issue 28 of Sanitarium Magazine. It was my first story ever published, I had been having my stories rejected for about two years up 'til that point and it meant so much finally breaking through! It really gave me the determination to keep at it and three years later I've had 16 stories published.
If forced to choose, which is your favorite part of writing: crafting dialogue, developing characters, or working on setting?
I would say developing characters. I love thinking up new characters, getting inside their heads and living in their world. I guess writing is very similar to acting in that sense.
Where would you like to see your writing career in five years?
I've finished a novella and am aiming to see it published with a full novel in the same series. That would be amazing!
What upcoming projects are you working on?
I've got a collection of short stories that will be out soon, Spells and Persuasions.  In the meantime I'm focusing on writing as much as I can and improving my craft!
Big thanks to S.J. Budd for being part of this week's author interview series! Find her online at her author website as well as on Twitter!
Happy reading!