Welcome back! Today, I'm thrilled to spotlight author Juliana Spink Mills. Juliana is a speculative fiction author based in Connecticut. Her debut novel, Heart Blade, the first in a multi-book series, debuted last month from Woodbridge Press.
Recently, Juliana and I discussed her evolution as a writer as well as what's she's learned so far from writing her Blade Hunt Chronicles series.
A couple icebreakers to start: when did you first decide to become a writer, and who are some of your favorite authors?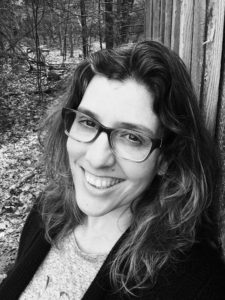 Thank you for inviting me. I love your interviews, and I had so much fun answering your questions. As for writing, when I was a teen I always told myself I was going to be a writer someday. But somehow it got sidelined for way too long. Finally, when I turned forty, I picked up my dream, dusted it off, and told myself to stop messing around. I finished my first novel, a middle grade adventure story, two months later. It didn't matter if it was good or bad; it was a 'real' novel, with a beginning, middle, and end. I was hooked! I haven't stopped writing since.
My first love will always be kid lit. I grew up on a lot of classic English authors such as C.S. Lewis, E. Nesbit, and Arthur Ransome. Tolkien was my gateway into 'adult' fantasy. Currently, some of my favorite authors (I have too many to list them all!) include Brandon Sanderson, Cinda Williams Chima, Rick Riordan, and Victoria Schwab. I read a lot of YA and middle grade fiction in between huge tomes of epic fantasy, and I love snappy urban fantasy by authors such as Jim Butcher, Seanan McGuire, and Elliott James.
Congratulations on your debut novel, Heart Blade, from Woodbridge Press! What was the inspiration behind this book?
Thank you! I'm so excited. I can't wait to share Heart Blade with everyone. As for inspiration, I needed a break from a novel I'd been querying with no success, so to take my mind off things I blasted out a ten-thousand-word short story in two days. Afterwards, I couldn't stop thinking about the main character, Diana, a half-demon. I imagined she had a younger sister, a runaway named Del, and I wrote a short scene about her. Heart Blade evolved from that one scene in my head.
You have a sequel to Heart Blade, also forthcoming from Woodbridge Press. What challenges did you face in expanding the universe of your characters, and was there anything easier about the second book when compared with the first?
I'm working hard on Night Blade, the second book in the Blade Hunt Chronicles series. I think one of the main challenges in writing a sequel is making sure not to lose track of all the plot threads I set up in the first book, while at the same time expanding the story to show new sides of it and to embrace new plot and character arcs. It's so much fun getting to broaden the Blade Hunt world, but at the same time I'm constantly worried I'll forget to include something important from the first novel. Also, with two more books planned in the series, I need to remember to leave space for the story to grow.
The easy bit is not having to create a whole new world; I already have the set up to play in, and I already knew most of my book two characters.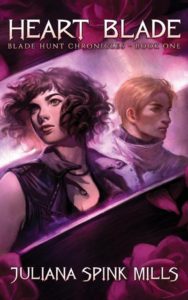 You've written both short fiction and novels. Do you find your approach is different depending on the length of the story?
Definitely! A short story is like a streamlined version of a novel, pared down to absolute basics. You need to be able to give readers a feel for a much wider world, while at the same time focusing on a tight storyline and remaining within the constraints of word-count and format. I find short stories a lot harder to write, to be honest. I always want to add either too much detail, or not enough. I used to be a regular in the SFFChronicles.com flash fiction competitions, and when I first started trying my hand at short stories they were either way too short, flash fiction style, or too elaborate, with novel-length pretensions.
In addition to your fiction, you are also an interviewer on your blog! What inspired you to start your interview series, and what's the most important thing you've learned through talking with other writers?
I love interviewing other authors. When I first started writing, I obsessively read writer blogs for clues on how to figure out my own approach to it all. I think the interviews came from that curiosity, the desire to understand a little about someone else's process and inspiration. I think one of the most interesting things I've learned is just how vast and varied the writing world is. Everyone is unique; there is no 'right' or 'wrong' way to do things, only what works or doesn't work for you.
If forced to choose, which is your favorite part of the writing process: crafting characters, developing dialogue, or establishing setting/mood?
Setting and mood come first, I think. Because that usually inspires the rest. But my favorite bit is figuring out the plot. My first drafts are all plot-focused. It isn't until I start revising and editing that I start adding layers to my characters and fine-tuning the dialogue.
What projects are you currently working on?
I'm finishing Night Blade, the sequel to Heart Blade, and on the side I've been outlining book three, Star Blade. I also have a half-finished science fantasy YA that I'm itching to get back to at some point, inspired by the 1980s gold rush in the Brazilian Amazon.
Big thanks to Juliana Spink Mills for being part of this week's interview series! Find her at her website as well as on Twitter, Facebook, and Instagram.
Happy reading!