Welcome back! Today, I'm thrilled to spotlight writer Kathryn Kulpa. Kathryn is a widely published author and editor. Her most recent release is the chapbook, Girls on Film. I was fortunate enough to read an advance copy of Girls on Film over the summer, and I loved it so much that my blurb even appears on the back cover. The book is a fabulous examination of show business, isolation, and fantasy, and this group of stories most certainly stick with you long after the last page.
Recently, Kathryn and I discussed her inspiration for Girls on Film as well as her writing plans for the future.
A couple icebreakers to start: when did you first decide to become a writer, and who are some of your favorite authors?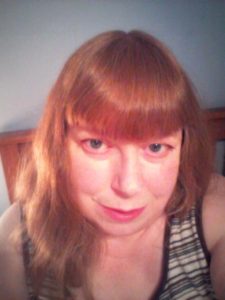 I remember telling stories even before I started writing them down. When I had sleepovers with my cousins or friends, I would make up bedtime stories about my stuffed animals having adventures or just invent bizarre happenings with real people. I remember writing stories as early as second grade, and producing "books" of notebook pages folded in half and stapled. So it was something I always just did, but I didn't really think about it in terms of "deciding to become a writer"–that would be like saying that one day I decided to become an oxygen breather! If I was good at anything else, I'd probably be doing that. And if I could become a mermaid and start breathing water, I would, in a heartbeat.
Some of my favorite authors, in no particular order: Shirley Jackson, George Orwell, Vladimir Nabokov, F. Scott Fitzgerald, Raymond Chandler, H.P. Lovecraft, Edgar Allan Poe, Margaret Atwood, Charlotte Bronte, Neil Gaiman, Kelly Link, Madeleine L'Engle … I also grew up, unabashedly, on comic books and Mad Magazine. And I've re-read the Harry Potter series more times than I'd care to admit.
The first story I read from you was "Under the Skin," which appeared in a 2015 issue of Goreyesque. What was your process and inspiration for this particular piece?
"Under the Skin" actually started as a much shorter story I wrote years ago for a special issue of Margin, a magical realism magazine. It was only about a page long, but the idea of these two bird girls, who were opposites but not, kept haunting me, and I knew I had to tell more of their story. Then I had this image of a girl tripping over a tree root at a cemetery and it turning out to be someone's leg, and I knew the story had to have this cemetery element. When I was a kid, there was an old cemetery near my aunt's house that was one of my favorite places to play, and bits of that made it into there.
Congratulations on the release of your chapbook, Girls on Film. What a wonderful collection! How did you curate which stories would appear, and were there any tales that you initially planned to include but that ended up being cut from the final book?
Not really. I had to choose carefully, because I was entering a chapbook contest with a 25-page limit, but I knew that certain stories had to go together. Although I'd written them at different times and published them in different places, the "Wendy and Brian" pieces were part of a cycle with these recurring characters–a troubled young woman who becomes an 80s child star, and her equally troubled but more private brother–and I still may go back to them. They're very real to me. Then I noticed that other pieces had similar thematic elements: aspects of film, projection, seeing, being seen, fantasy vs. reality. Once I knew the title, it came together pretty quickly. I also put together another collection, What the Moon Sees, so pieces that didn't fit in one went in the other.
You recently worked with Eden Royce on the Spider's Web Flash Fiction Contest. What inspired you to become involved with this contest, and what was your experience like as an editor reading the submissions?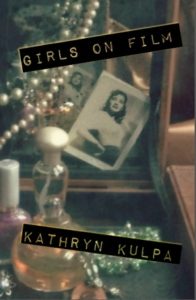 I became involved with Spider Road Press a few years back when I sent work into an anthology of flash fiction by women writers. The editor was in an MFA program at Goddard, and a friend of mine also went to Goddard, and she brought it to my attention. The anthology (Up, Do: Flash Fiction by Women Writers) ended up publishing two of my stories, and I've stayed in touch with the editor, who has done a great job promoting small presses and women's writing. When she asked me to serve as a contest judge, I was happy to. I have experience judging contests and editing, but this contest was a little different, because the stories were being evaluated on not just literary quality, but also on whether they featured a strong, complex female protagonist. Eden Royce did a good job of keeping us both on track with that, and I liked having another person to discuss the stories with.
Out of your published stories, do you have a personal favorite?
Yikes! Kind of like choosing your favorite child … or cat … but I think my story "Mr. Lillicrop's Shining Moment," from my first story collection Pleasant Drugs, remains my favorite of my longer stories, because it was so much fun to write this eccentric character in this elaborate, playful, allusion-rich, old-fashioned style. My favorite flash fiction pieces are "Everything Makes You Sad," from the new collection, because it takes everything that really is sad and makes it funny at the same time, and "Bricolage," which was published in Smokelong Quarterly, because I've always loved reading ghost stories but I'd never really written one before.
What upcoming projects can we expect from you?
I have another chapbook that has been a finalist in some contests, so I plan to keep working on that and sending it out. I may have enough work at this point for a full-length story collection, so that's another potential project. I'm also finding myself interested in going back to writing longer stories, and maybe a novel, which may or may not be young adult.
Huge thanks to Kathryn Kulpa for being part of this week's author interview! Find Kathryn at her author site as well as Facebook and Twitter. You can also find her at Cleaver Magazine where she works as the flash fiction editor and occasional book reviewer!
Happy reading!