Welcome back! Today, I'm thrilled to spotlight author Kelly Robinson. Kelly is the Bram Stoker Award-nominated author of numerous non-fiction articles appearing in publications such as Scary Monsters and Rue Morgue, among others.
Recently, she and I discussed her inspiration as a writer, her love of silent film, her research process, as well as what she's got planned next.
A couple icebreakers to start: when did you decide to become a writer, and who are some of your favorite authors?
In a way, I've always been a writer. I was reading at age 3, which almost seems freakish, so by the time I was in schooI, I'd already been reading a while. My kindergarten teacher used to have me read books to the class while she sneaked out for smoke breaks! I started writing soon after, writing stories, poems, and scripts for puppet shows that I would come up with and perform for the class. I was always obsessed with the Scholastic Books order forms, and I made up one of my own, making up titles of books my friends could "order," and then making and drawing books by request for the titles they wanted. (One was called The Girl Who Snuck Into the Boy's Bathroom.) I talked my teacher into letting me single-handedly make a school newspaper, which I duplicated on one of those old ditto machines with the smelly purple ink. It was called The Classroom Clammer, which had nothing to do with clams, but I guess I was going for "clamor." It featured news stories like "Robbie is moving!" and "D.C. has a lot of cats!" So, when I say I've always written, I really mean it.
My taste in writing ranges from old comic books to classic literature, from the humor of P.G. Wodehouse to the bleak, noir worlds of Cornell Woolrich and Horace McCoy. I enjoy things that are difficult, like Russell Hoban's Riddley Walker, which uses language that is almost like a code to be cracked. As far as favorites, I often cite Martin Amis, A.S. Byatt, Doris Lessing, Octavia Butler. My taste in horror skews weird. I like demented things like Jon Bassoff's Corrosion, the weirdness of David Mitchell's Slade House, or anything by Tony Burgess, who is some kind of a freak genius. But then, I'm just as happy reading ghost-y 19th century authors: J.S. Le Fanu, Théophile Gautier. My favorite short story is Joe R. Lansdale's "Tight Little Stitches in a Dead Man's Back."
Oh, and I should mention non-fiction, since I'm a non-fiction writer. I love writers like Joan Didion whose essays are smart and provocative, with such beautiful prose. I'm in awe of horror writers/researchers like Gary Rhodes who do deep, deep research, turning up brand new information about very old things.
You're a two-time Bram Stoker Award nominee for your excellent nonfiction articles. What draws you to writing horror nonfiction and in particular to writing about classic horror?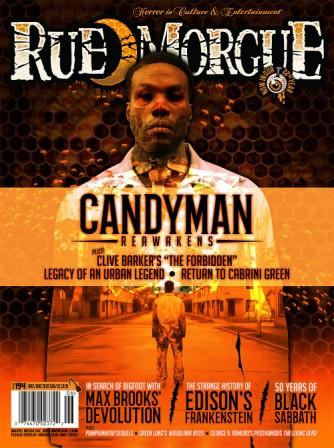 I've always been interested in the story behind the story. I think I'm just a question-asker by nature. For me, the thing itself isn't enough. I want to know the origin of the thing, you know? And that curiosity extends to the books I read and the films I watch. Nothing happens in a vacuum, so even the oldest horror films were inspired by something. Today, horror films have the entire history of the genre to inspire them, but the further back you go, to say, the 1890s, those films had to draw from non-film sources. Some of them came from books, obviously, but also from stage plays, vaudeville acts, comic strips. Some short films were even inspired by popular catch phrases of the day.
As far as classic horror, I do like all kinds of horror, but I'm particularly drawn to silent film. I think that goes back to what I was saying about wanting to know what's behind everything. I like seeing the horror film in its infancy, before it became so imitative. I particularly like writing about obscure or even lost silent films, because they are so far removed from the world of the internet. Some of the films I write about have barely any trace online, except for maybe an IMDB listing, which is often filled with inaccuracies. When I first started writing about the 1913 film The Werewolf, there were only a few references to it online. (Now there are many, the majority of which are sourced from my own work, whether credited or uncredited.)
Do you remember the first horror movie that really captured your imagination?
My parents weren't particularly horror fans, so I didn't get a lot of exposure to them at a young age. My brother and I surreptitiously watched Jaws on HBO and thought it was just the greatest. I remember seeing a thriller called Paper Man that had a scene where someone is crushed by an elevator and it haunted me for decades, until I recently rewatched it and found it is pretty silly. I was captured by horror lit long before film. I devoured books about witches, vampires, and mummies. My favorite books on those subjects were non-fiction, even back then. I had a children's book on werewolves that contained Medieval woodcuts, and one on vampires that included that famous Vlad the Impaler woodcut of people on spikes. (They don't make kids' books like that anymore!) The fact that they were non-fiction books made me feel like vampires and werewolves were a real part of history. So, when I was much older and could choose movies for myself, I gravitated toward the subjects I'd always been drawn to.
What kind of resources do you seek out as you're working on your nonfiction articles? At this point, do you have a specific research strategy, or do you find that every article requires its own approach?
Some of the films I write about, as I said, haven't left a big trace. I liken it to detective work when I write about certain lost films. The best resources are movie magazines from the silent film era, and also historic newspaper articles. Finding reviews in small-town newspapers is like striking gold, because, while magazine pieces are cool, they're puff pieces, and they often exaggerate the film's appeal. Reviews give a much more realistic picture. I'm sort of a no-stone-unturned researcher, because you never know what source might lead to an interesting fact. When I was writing on Attack of the Mushroom People, I investigated the natural resources on the tiny Japanese island where some of the filming took place, and discovered that it is home to actual bioluminescent mushrooms—something I've never seen reported anywhere else.
Nonfiction is an area in every genre that often doesn't get enough love. What advice do you have for other nonfiction horror writers out there who are looking to get started in the industry?
It's funny that non-fiction is overlooked, when it's the type of writing people encounter the most. You may not read a novel every day, but you probably look at news articles, click on some humor pieces, read some reviews. Those things don't just appear out of the ether! It's funny that novel writing tends to be so much more romanticized.
My best advice for starting out in non-fiction is to think about what you can bring to the table that's new. What's the point in writing yet another article about something that's been covered over and over. That doesn't mean you can't write about well-tread subjects, but think about what you're bringing that's not been said before. Unearth a new fact. Tackle a film from a new angle. Make a comparison that others might not have thought of. Questions are also a good starting point for articles. If there's something you're wondering about, chances are good someone has wondered about it, too. Find out the answer, and tell everyone else.
While I'm sure it's hard to pick just one or two, what are your favorite underappreciated classic horror films that you wish more people would see?
That's a tricky question, because the term "classic" suggests a film has already stood the test of time. When I'm trying to hook people on silent horror, I always suggest The Unknown from 1927. It stars Lon Chaney as an armless circus performer who shoots guns and smokes cigarettes with his feet. It has so many bizarre twists that it is never dull for a second, and it's easy to forget that there's no dialogue. I'm also a fan of The Hands of Orlac from 1924, starring Conrad Veidt of Caligari fame. It kicked off the hands-with-a-mind-of-their-own trope, inspiring two remakes: Mad Love with Peter Lorre in 1935, and The Hands of Orlac with Christopher Lee in 1960.
In addition to your nonfiction, you also had a poem, "Caligari," appear in last year's HWA Poetry Showcase. What can you share about the inspiration for this piece?
I'm new-ish to poetry, which I hadn't written much since childhood, but I'm very much enjoying it, as it allows me to play with words in a very precise way. I'm working on poems for all my favorite classic horror films, and The Cabinet of Dr. Caligari seemed like a good place to start, as the somnambulist character is so iconic. That was my starting point—the idea that Conrad Veidt's face is so recognizable, so often reproduced in silent film books, but do people really understand what he's about? And that he's not the villain?
What are you working on next?
I am thrilled to have just signed a contract with 1984 Publishing to write a book on an absolutely insane cult film from the 1980s. I can't announce the title just yet, but when I can, you will probably hear me yelling about it.
Where can we find you online?
You can find me on Twitter at @KellyRobinsonHQ, where I mostly crack lame jokes, and I'm always eager to have Patreon followers.
Huge thanks to Kelly Robinson for being this week's featured author!
Happy reading!