Welcome back! Today is all about ghosts, turntables, and bittersweet odes to mothers. Yes, the May/June issue of Black Static is almost in the archives, but that doesn't mean it's too late to talk about "Songs to Help You Cope When Your Mom Won't Stop Haunting You and Your Friends," my story that appears in the recent table of contents. And here's the issue now, with one very red-lipped author holding on for dear life!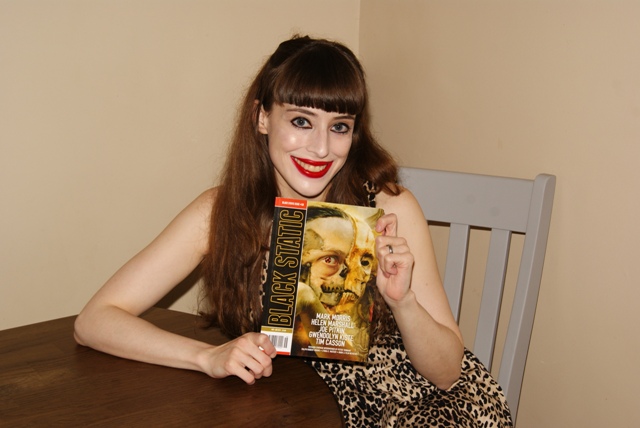 This release is a super exciting one for me. First off, it's my debut in Black Static! I've adored TTA Press for years, and I've long dreamed of selling a story to Black Static. It was one of my four "white whale" markets—Nightmare, Shimmer, and LampLight being the other three—so it's beyond thrilling and humbling to have finally accomplished this goal. And sharing the table of contents with authors like Helen Marshall, Mark Morris, Tim Casson and Joe Pitkin only makes it an even more auspicious experience.
Secondly, this story is also quite a personal one. It was written as a Mother's Day gift to my own mom. Some gift, right? A lonesome tale about a dead mother who returns to haunt her difficult daughter in the family's rec room. No offense, ma. Of course, she'd be the first to agree with that "difficult daughter" part, but this is my blog, not hers, so we'll just move along now…
This is also my first story set in my home state of Ohio. For a long time, I'd shied away from writing stories about the places I'm from; I tend to leave settings more open-ended, in the sort of fairy tale tradition. But in crafting this story, I wanted to give it the specificity of a certain time and place. Given my own connection to the northeastern Ohio area, it seemed like Cleveland in 1980 at the dawn of the Rust Belt era would be an appropriate backdrop for a story about decay and loss and perseverance in spite of everything. I also got to dive into research mode and scour for time-period photographs and anecdotes. There was definitely montage music to accompany Montage Gwendolyn.
Speaking of music, as the title of the story suggests, songs are integral to this tale, serving as the wraparound, as the narrator copes with her loss and her subsequent haunting by listening to tunes from Led Zeppelin, David Bowie, Bruce Springsteen, and Pink Floyd, among others. Thanks to my mom, I grew up loving music, especially albums on vinyl and in particular 1970s classic rock, so this story gave me a chance to integrate those elements in my fiction. And David Bowie even ended up in the artwork for my story! A Very Ziggy Hooray!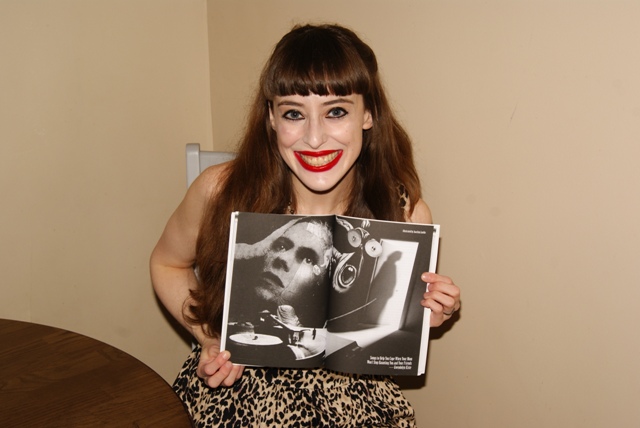 (As a nobody-cares-but-me side note, all the songs that serve as the wraparound were released in the 1970s, but since I wanted the story to take place in the icy cold of January, it would technically have to be January 1980, since Pink Floyd's The Wall didn't come out until fall of 1979. There's your piece of you-didn't-want-to-know trivia. Now back to our regularly scheduled blog post…)
Unlike so many of my projects that threaten to drag me into the deep and drown me there, this story was an incredibly joyous process. It also had my quickest ever turnaround: from the day I started the first draft to the point when it was finished, submitted, and accepted was only ten days. Seriously. That timeline still seems unreal typing it even now. But part of the reason the story came together so quickly in the early drafts was that this particular tale had truly lived inside me for years. When I was sixteen, I had my very own party room like the narrator in the story (hers is the rec room; mine was the basement).
Ever since those early-2000s days, I knew I wanted to write about that experience of being young and feisty and trying to find your way in the world, even when it's hard. Even when you don't want anyone, especially your mother, guiding your way. Even when you especially want your mother guiding your way, though you're too sour to admit it. So when it finally came time to write it all down, this story was not only a wonderfully smooth process, but also one that reinvigorated me to return to a previous, unrelated project that had stalled entirely. So yeah. It was definitely a fantastic time. So thanks, Mom, for the inspiration. I owe you one.
Finally, if you're looking for more horror fiction after reading the May/June, be sure to pick up the new July/August issue of Black Static! With stories from no less than three fabulous female writers that I've had the pleasure of spotlighting (Kristi DeMeester, Damien Angelica Walters, and Sarah Read), the issue is sure to be a great one. And yes, it's true: there's also an interview with me in there, talking about my collection, And Her Smile Will Untether the Universe, so if you're so inclined, you can check that out too!
Happy haunting, and happy reading!