Another Wednesday, another awesome author interview! Today is all about writer Travis Coleman. Like previous interviewee Lee A. Forman, Travis is a past competitor in David Wellington's Fear Project. He is also author of the serial A Wolf in Patchwork Clothing as well as the collection, Escaping Sanity. Recently, Travis and I discussed serialized fiction, favorite authors, and the good old writing process.
A few icebreakers to start: when did you first decide to become a writer, and who are some of your favorite authors?
I first decided to try my hand at writing when I realized that I needed to do something with the ideas that often flooded my head. I talked an idea out with my wife and, after working through some details, I set a goal to write 10,000 words. The goals expanded and the project reached 50,000 words before I knew it.  As far as authors go, I have a list of authors I would like to learn from. R.A. Salvatore, Frank Herbert, Raymond E. Feist, Stephen King, and Brandon Sanderson are all on the list, and each for different reasons.
You are currently underway with your serial, A Wolf in Patchwork Clothing. What initially inspired you to write serialized fiction?
I first wanted to write a serial after reading the book "The Club Dumas" by Arturo Pérez-Reverte. In the book they talk about Alexandre Dumas publishing most of his stories as serials. Even his longest work, The Count of Monte Cristo, was published in weekly installments in a newspaper. I realized that serialized fiction was only really used in television and comics.  Yet I would love nothing more than to see it come alive again, to give people more than the news in newspapers.
What are you aspirations in regards to your serial? How long would you like the finished version to be, and do you envision publishing it in paperback at some point in the future?
My goal for this serial was to try it out and to get a feel for the process.  I planned the story to be between 20,000 and 30,000 words in length. The goal was a create an opportunity to showcase a villain from a novel that I'm editing currently.  The plan for that series of books is to self-publish them in the future. I would most likely put this piece into a paperback for those who prefer to read that way. Also, this story should wrap up right around the end of October, but I will be starting a new serial in January.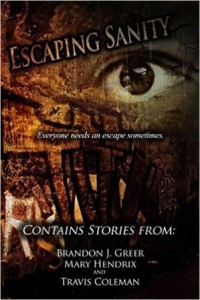 You were a competitor in David Wellington's Fear Project. During that process, what was the most important thing you learned about writing?
The thing I took away from the Fear Project is the importance of editing and proofreading. With a three day period to conceive, write, and then rework the idea as many times as you could, it forced you to make cuts. I lost character description, setting, and some lines which I felt were awesome. But in the end you have to do what's best for each story.
If forced to choose, which part of the writing process is your favorite: developing characters, crafting description, or establishing mood?
I feel that the most important element to what I write is finding ways to make the character relatable. If you have a character who the reader identifies with, then the book will be read. It's what keeps you reading in the slow sections. It's what puts the fear into you when your favorite character is on the verge of death.
Out of your published works, do you have a personal favorite?
The first story I published is still one of my favorites. The story is published in a collection entitled Poe-It which was available through Amazon. After they closed their doors, I had the rights and republished it as the first story in my collection, Escaping Sanity.  The story is titled "The Well" and was inspired by "The Cask of Amontillado" by Edgar Allan Poe.
Big thanks to Travis Coleman for being part of this week's author interview series. Find him online at his blog, where you can read his serial and learn more about his work!
Happy reading!