For the first interview of March, allow me to introduce author Lee Forman. Like Brooke Warra and Scarlett Algee, I met Lee through Sanitarium Magazine where the four of us help editor Barry Skelhorn field new submissions. But that's hardly Lee's only role in horror. He is currently a contestant in the Fear Project, a competition in which thirteen horror authors have their mettle tested with a myriad of weekly writing challenges, knowing all too well that one by one, they'll be eliminated until there's only one horror writer left standing. I checked in with Lee to see how he's holding up under all that authorial stress (spoiler alert: he's keeping it together with aplomb).
Obligatory icebreakers: when did you first decide to become a writer, and who are some of your favorite authors?
It all started with a blackout. I was living in a little cottage out in the middle of nowhere, and with no power and nothing to do I took a pen and paper and started writing. I've been doing it ever since. I grew up reading the Goosebumps books, then moved to Stephen King, and then started reading all kinds of literature. I always wanted to be a writer, but didn't realize I could until that night during the power outage. I wrote a little bit in high school for the school's creative writing magazine, and I wrote things here and there, but none of the stories ever worked out. It was during the blackout that I wrote my first horror story. And that's when I realized that I was supposed to be writing horror.
Stephen King, Clive Barker, and John Saul are some of my favorite authors. They've brought me up on their stories and I've taken inspiration and learned from their work over the years. I try to incorporate the best of what they do into my own writing style, making it strong yet unique.
What made you want to get involved with the Fear Project, and what has been the most surprising aspect of competing so far?
When I first heard about David Wellington's Fear Project I instantly wanted to be a part of it. The [concept] made it sound fun and interesting. I saw it as an opportunity to test my skills, see how I stand next to other authors in the genre, as well as meet and network with new people who share my love for horror literature.
What's been most surprising to me so far in the competition is the sense of community and friendship that many of us have developed. Most of us have been communicating and wishing one another luck in the weeks since the Fear Project began. We all want to win, but we're also happy to be part of such an awesome event, and when it's all over I'm sure we'll all keep in touch. The great thing about the Fear Project is that everyone gets something out of it, not just the winner.
You are on a tight schedule with the competition and have to create content very quickly. How do you keep yourself inspired and constantly writing?
 
In between challenges I do a lot of reading and thinking of story ideas to keep the creativity flowing. I also watch a lot of horror movies. They've always been a source of inspiration for me. The entry being due Sunday night doesn't leave a lot of time to write and edit the best thing I can come up with. So when the challenge is posted after midnight on Thursdays I write out as many scenarios as I can that fit the challenge. After that I choose the best one and rewrite it until I can't rewrite it anymore.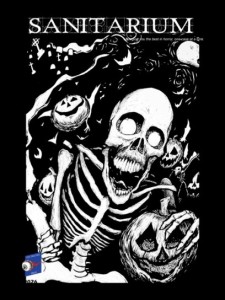 All writers have trusted beta readers. Who are the people you trust to give you honest feedback?
I'm a member of two local writing critique groups. They're my best and most honest source of feedback and they're also some of my biggest supporters as an author. I always trust their advice and they've really done a lot to help me improve my craft. We've also recently started a critique group between the Sanitarium Magazine submission reviewers, who are a great group of talented writers. They give excellent feedback and advice and are an awesome group of people to work with.
Horror deals with a diverse number of fantastical topics. That said, are there any themes or threads that connect all your work? Are there any new concepts you're excited to try?
Not all my work is connected but I tend to enjoy writing about creatures, supernatural beings, and experiments gone wrong. If you read something I've written, it most likely contains one of those elements. I also tend to incorporate a lot of things from reality into my work. It might be something as insignificant as an alarm clock I once owned, or it might be something that actually happened. Many of the places and settings I use are taken straight from the real world.
As far as new concepts go, I've been experimenting with writing different genres. I've been working on a little science fiction and writing some memoirs.
Out of your published stories so far, do you have a personal favorite piece?
"The Blackout" That's still my favorite story. It's the first horror story I wrote and I still enjoy its concept to this day. It's the one that got me started as a serious author. It's the one I would love to see hit the big screen as a movie someday.
Thanks so much to Lee for participating in this week's author spotlight. Check out his latest entries at the Fear Project website or just see what's he up to over at his personal site.
Happy reading!