Welcome back for the last author interview of 2020! Today, I'm thrilled to spotlight Curtis M. Lawson. Curtis is the author of the novel, Black Heart Boys' Choir, and his new collection, Devil's Night, among other works.
Recently, he and I discussed his inspiration as a writer, his podcast, Wyrd Transmissions, as well as what he's got planned next!
A couple icebreakers to start: when did you decide to become a writer, and who are some of your favorite authors?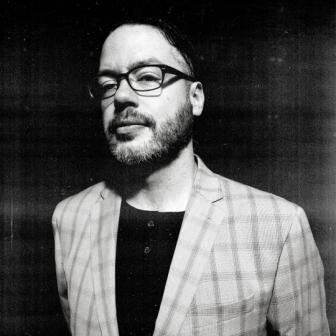 I spent most of my teen years and early twenties playing in metal bands, where I wrote almost all of the lyrics. When I was 25 my last band broke up I decided that I wanted to explore a more solitary form of self-expression. I was passionate about all kinds of genre fiction and people had always told me I had a way with words, so I decided to give writing a shot. I toyed around with short stories, but mostly I wrote comic scripts at first. I spent about 10 years writing comics without much success.
Eventually I ran out of money to pay artists and wrote a novel called The Devoured, more as a pragmatic choice than an artistic one. I fell into a publishing deal for that first book and it was more successful than any of my comics had been, so I decided to turn my focus to prose. Five years later and I have four novels, two short story collections, and a novella under my belt. I've been very fortunate, and it seems like I made the right choice in jumping mediums. I have to credit those years making comics for teaching me how to tell a story though, and for bringing a cinematic element to my work.
As for my favorite authors, there are some of the bigger names you might expect like H. P. Lovecraft, Clive Barker, Robert Bloch, Kurt Vonnegut, and Neil Gaiman. John Langan, Jeffrey Thomas, and Caitlin Kiernan all immediately come to mind as well.  I also draw inspiration from visual storytellers like Quentin Tarantino, Wes Craven, John Carpenter, Frank Miller, and Sam Keith.
Congratulations on the release of Devil's Night! What can you share about your latest book?
Devil's Night is a collection of short stories that all take place over the course of Devil's Night in 1987 in Detroit. Each story is a standalone piece, but there are threads that connect them here and there, and they all come together to tell the bigger story of the city itself.
There are several recurring themes, symbols, and a sort of shared mythology between the tales, but each has a unique feel. Because of the structure of the book I was able to explore several different kinds of stories in the collection while keeping the theme consistent. There are some weird fiction stories, a bit of dark fantasy, and a few pieces of visceral horror without any sort of supernatural element. Despite their differences, each serves to more richly paint the picture of the night as a whole and look at recurring themes through different points of view.
Weird House Press has released the book as a signed and numbered limited edition hardcover. It's a gorgeous book and features 9 full-color interior illustrations by Luke Spooner of Carrion House. It's the kind of volume I always fantasized about for my work and I'm incredibly thankful to Weird House for investing their time and money to create such a beautiful edition.
Last year saw the release of your novel, Black Heart Boys' Choir, which garnered a lot of praise and made the Bram Stoker Awards Long List. What was the inspiration for that book?
Black Heart Boys' Choir is a story of music, madness, and obsession. At its most basic, it's about the psychology behind mass shootings. That was the impetus for the project. There are plenty of people who are vastly more qualified to talk about gun control and mental health, but I don't see many folks discussing the deeper roots of the problem. I wanted to explore the inner and outer pressures that push troubled young men to commit these terrible acts of murder and suicide. I wanted to explore the sense of anomie in our society and how generations of adults have failed so many of our children on very basic levels. The book isn't meant to romanticize these tragedies, nor is it intended to serve as an apologist manifesto for the killers, but I hope that it might get people asking some of the right questions.
Black Heart Boys' Choir was largely inspired by experiences and feelings from my youth. I like to call it emotionally autobiographical. I drew a lot from the resentments I felt when I was younger and from traumatic experiences I experienced as a kid. The criminal activity in the Scandanavian and German black metal scenes were also a major influence on the narrative and the characters.
You're also a podcaster with your awesome show, Wyrd Transmissions. What inspired you to create your own show, and what has been the best part of it so far?
Honestly, the show is just an excuse for me to talk with awesome people. I realized a while back that one of my favorite things to do is have interesting, meaningful conversations. I like to talk about art, books, music, and philosophy. Wyrd Transmissions gives me the opportunity to do that, and with a wide array of people with unique, interesting perspectives.
I've had so many incredible guests, but the high points might have been my discussions with S. T. Joshi and Ramsey Campbell. Ramsey is a living legend and one of the nicest, classiest people in the business. It was insane to get to chat with him and absorb some of his wisdom and experience. Joshi also has a lot of incredible insight and has served in so many roles in this business, so we were able to hit on a ton of topics. Joshi has been one of my biggest supporters. He's been incredibly kind and generous to me, so it was nice to have a real conversation with him, rather than an email exchange.
You've written a wide variety of work. Do you find that you prefer short fiction or longer fiction? Do you have a different approach depending on the length of the project? 
I enjoy short stories, but I prefer writing longer fiction. My mind naturally gravitates to stories that have a little more going on. The sweet spot for me is that short novel length, just around 50-60k words. It gives me enough time to develop my characters and my world, to establish themes and motifs, and to unravel a plot with twists and turns. I'm a big advocate of brevity, so I try not to overburden the reader with too many asides and I do my best to cut out anything that might cause the story to drag.
My process is much more relaxed for short fiction. With short stories I plan out my beats and major plot points, but I let the rest come about organically as I write. When it comes to something like a novella or longer, I plan it out like a train heist. I have everything from plot points and character arcs to themes and symbolism mapped out on color coded index cards. It's pretty nerdy, but it works for me.
If forced to choose, which is your favorite part of the writing process: establishing setting, crafting dialogue, or developing characters? 
I would have to say developing characters. I sometimes joke that I'm a method writer. There is something very satisfying about figuring out who a character is—their motivations, their insecurities, their mannerism and idiosyncrasies. In most cases the character directs the trajectory of the story, and sometimes they throw a monkey wrench into your outline. It's kind of cool when that happens and they derail the story in a way that you didn't expect.  That also leads to my second favorite part of writing, which is the problem-solving aspect of stringing together a narrative that's logical, well-paced, and emotionally captivating.
What projects are you currently working on? 
There are two projects I'm actively working on. One is a novella for a shared universe project. All I can really say about it is that I'm kind of terrified and thrilled to be included in the author lineup for this one. My name will be appearing with some of the folks I most admire in the horror world.
I'm also working on a new novel for Weird House Press. It's a Lovecraftian story, drawing upon the Cthulhu mythos and New England's rich and creepy history. I was reluctant to do something in that sandbox at first, as I have a profound fear of messing it up, but I found an idea that I think is fairly original and captivating.
I know that it's currently very chic to undermine and deconstruct Lovecraft, and that has been done very effectively by some talented writers, but that's not what I'm trying to do. The book isn't going to be a simple pastiche, either. I guess it could be described as a love letter to Lovecraft and to our shared home of New England. I'm hoping that I can channel all the things I admire about Lovecraft's work and world, reframe them with more modern storytelling sensibilities, and present them in my own voice. Time will tell if I pull it off!
Where can we find you online?
My website is curtismlawson.com, but I'm pretty active on facebook. You can also find me on Instagram @curtismlawson or twitter @c_lawson.
Big thanks to Curtis M. Lawson for being this week's featured author!
Happy reading!