Welcome back! This month, I'm thrilled to feature a two-part spotlight on Mythic Delirium and their new collaborative book, A Sinister Quartet! This expansive omnibus features a brand-new novel from acclaimed author C.S.E. Cooney, a novella from Mike Allen, and the debut novellas from Jessica P. Wick and Amanda J. McGee.
Recently, I talked with all four authors about this fabulous new project, from its inspiration to why they're writing in the horror genre!
Tell us a little about your latest project A Sinister Quartet. What inspired your particular story in the book?
C.S.E. COONEY: I feel like I always say this–only it isn't always true!–but this one came from a dream I had. I don't remember much about the dream, but I remember I was living in Rhode Island at the time, with my mother. I remember the scene with the sacrifice pretty vividly, and later a wild attempt at escape that ended by drowning in a river. I remember it had something to do with the movies, the desert, and strange angels. After my first (failed) attempt, I contacted a filmmaker friend of mine–Magill Foote–for some resources on the history of cinema, a subject I know very little of, hoping to give my secondary-world fantasy a bit of foundational structure through late 19th/early 20th century technology.
AMANDA J. MCGEE: I wrote "Viridian" about a year after my honeymoon in Vermont, where we had some excellent adventures. Vermont was just one of the places we visited, but we had so many odd and serendipitous experiences there I knew I wanted to write about it at some point. About a year after that I lost my favorite new aunt-in-law to cancer, which rekindled some old memories of similar losses that I found myself suddenly dealing with. The whole process of getting married was oddly stressful, though it turned out well, and I think I had that in the back of my mind when I started working on the story. It's not exactly what I intended to throw in when I set out to write a Bluebeard retelling but I guess the best writing is personal.
JESSICA P. WICK: I wanted to write about a sister and brother and have their relationship be the important one in a story. I also wanted to write about a katabasis, a fairyland, and people making decisions that weren't good for them. Then Ravenna pretty much just took over the story and told it to me. There's definitely some Tam Lin influence here, maybe also a little of my trip to Central Europe. I know when I began writing "An Unkindness," I had no idea how it was going to turn out, or even what was really wrong with Ravenna's brother. Next project, I want to focus on a story about ladyfriends who are grown ass adults with lives.
MIKE ALLEN: "The Comforter" continues the story begun in (and expands the monster mythos invented in) my horror tales "The Button Bin" and "The Quiltmaker." I didn't write "The Button Bin" with intent to write a sequel, much less multiple sequels, but at the end of "The Quiltmaker" there are two children left alive whose situations are . . . let's say, markedly different, yet related. After the publication of "The Quiltmaker," I started wondering what would happen if, a few years later, one child tried to contact the other, which led to the couplet "how you and I are kin / my mom stole your mom's skin." The rest of it grew tendrils from that morsel.
I perhaps made a risky choice in presuming that "The Comforter" is so strange that it won't matter that much if readers come to it without having read the earlier stories, but reactions so far seem to indicate I made a winning bet, whew!
How did A Sinister Quartet develop? Had you done a collaboration like this before, or was this your first time putting together a project with other authors?
C.S.E. COONEY: Mike Allen has probably answered this, but we'd been playing with the idea of combining our novella forces for a while, and either shopping something out or putting something together ourselves. It burgeoned from there into something rather more symphonic. I'm so pleased, both to have virtually "met" Amanda J. McGee and her wistful, lucid prose, and to see more work by Jessica P. Wick, of whom I've long been an ardent admirer, out in the world for others to slaver over.
AMANDA J. MCGEE: This is my first time participating in any kind of anthology really. It's been a project of firsts for me — first published novella, first time working with a small press (or any press for that matter), first contemporary work. I've really enjoyed all of it. Mike, Claire, and Jess have been wonderful to work with, and I don't think "Viridian" would have been as strong of a story without their input.
JESSICA P. WICK: The credit for A Sinister Quartet coming together as well as it does all goes to Mike Allen, who I'm sure will have more intelligent things to say about its making. I was familiar with Mike's button bin world (pause here for a deep shudder) and I've long been an ardent fan of C. S. E.'s work, but I had no real idea what I was getting into with their pieces here, and this was my introduction to Amanda McGee's awesomeness. The fact that these works all echo one another and seem to be playing on the same themes — to me, that was just a really marvelous surprise. Mike Allen's a sharp, apparently tireless editor and co-creator, and I'm really just honored to have Ravenna included in the project.
MIKE ALLEN: I've worked with both C.S.E. Cooney and Jessica Wick before, as both publish-er (the Mythic Delirium zine, the Clockwork Phoenix anthologies, C.S.E.'s World Fantasy Award-winning collection Bone Swans) and publish-ee (C.S.E. edited my novel The Black Fire Concerto for Haunted Stars, Jess published my poetry in Goblin Fruit), while Amanda McGee is a new recruit. I consider A Sinister Quartet the unofficial sixth volume in the Clockwork Phoenix series.
As for how it came together, to try and keep it concise: about four years back C.S.E. and I had discussed appearing together in a book that would've been like one of those old Ace Doubles, two novellas (in her case it ended up being a full novel!) back to back with two front covers. That proposal never got off the ground — but I made the call that the book that could have resulted deserved to see daylight in some form, and set A Sinister Quartet in motion without quite knowing yet it was going to be a quartet. At about this same time, I read an early draft of Amanda's "Viridian," and C.S.E. put Jessica's "An Unkindess" in front of me, and I saw threads that could connect.
Each of you has written in numerous genres, including fantasy and science fiction. What inspired you to write this book that focuses more on horror?
C.S.E. COONEY: I didn't set out to write horror. I'm not sure I ever set out to write any particular genre; it's only, I sort of see the world mythically, even the one I live in. That we're living in dark times, that the dream upon which my story was based had embedded nightmarish aspects, and that I knew I'd be in a collection with Mike Allen—whose own "gross-outs" of fiction are epic—and therefore decided to up my own grotesque game a bit, probably all informed my prose on a subliminal level.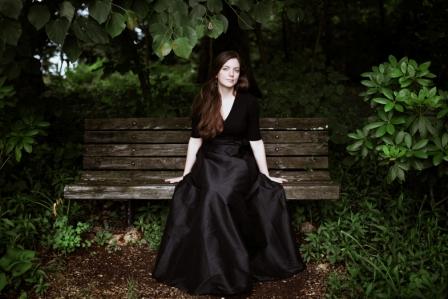 AMANDA J. MCGEE: It's funny because I don't know that I intended to write horror when I set out. I saw "Viridian" as more of a contemporary fantasy ghost story thing. I wasn't sure how to market it. Mike, of course, immediately saw it for what it could be. I didn't think of myself as a horror writer before that but I can see horror elements in some of my previous work now. It's kind of freeing actually.
JESSICA P. WICK: I think I'm finally coming to terms with the fact that my natural inclination is just to wander my stories through the Dark. I give credit to fairy tales and a love of mischief and a hope/despair relationship with the human race, all of which lends itself well to telling darker stories. But I certainly didn't think before, just for example, writing a certain scene in "An Unkindness," 'I want to make sure this is so horrific that when I express squeamishness irl to someone they'll exclaim 'YOU, who's so cruel to [REDACTED]' in tones of disbelief.' (And yes, that did happen to me. And made me laugh. But it was unexpected.)
MIKE ALLEN: You may have noticed my co-authors laying the blame for this at my feet, hah, hah! I am certainly the capital-H Horror writer in the set, though I don't limit myself to that.
It kind of goes back to the seed of the whole project — had that original proposal come to fruition, the book would have come out from a house known for horror and the Weird, and my half of the "double" was always going to be "The Comforter," which is cut from the same mercilessly nightmarish cloth as its predecessors. It made sense for the other stories included to incorporate macabre turns and dark themes.
Huge thanks to the authors of A Sinister Quartet! Head on back here next week for Part 2 of our roundtable discussion!
Happy reading!