Welcome back for this week's author interview! Today I'm pleased to feature S. Alessandro Martinez. He's the author of numerous short stories as well as the forthcoming novel, Helminth!
Recently, he and I discussed his inspiration as an author as well as his love for horror and his hopes for the future of the genre.
A couple icebreakers to start: when did you decide to become a writer, and who are some of your favorite authors?

I've been voraciously consuming books ever since I learned how to read. But as for writing my own stories, I started sophomore year of high school. I remember writing this violent dragon story for my English class. The teacher wasn't that thrilled about it, haha. I also recall entering a short piece into a Star Wars fanfiction competition that same year, which I won.
Congrats on the forthcoming release of your debut novel, Helminth. What was the inspiration for this book?
Thanks! One of my all-time favorite locations for horror is a cabin in the woods, which is where my novel takes places. (I probably have Evil Dead 2 to thank for that.) There's just something about the isolation, the absolute pitch-blackness when the sun goes down, the silence, the way the trees can hide the shadowy presences that like to lurk in the dark corners of our seemingly mundane world. The forest is primeval, and a perfect place to discover horror that is way older than humanity.
As for the inspiration for what Rei and her friends find out there, and what happens to them, well…I can't say without giving some things away. But I can say there are some influences from Lovecraft, Cronenberg, some Barker splashed in there, and maybe a pinch of dark fantasy.
You've written a number of short stories over the years. How was the process of writing a novel different (or the same) as writing short fiction?
With a novel, you have much more room for everything. With a short story, you have a word limit, and you need to get everything you want to say into a nice compact package. With a novel, I can take more time setting a scene, giving intriguing backstory, or building up characters' personalities and their relationships.
What first got you into the horror genre? Do you remember the first horror film you saw or first horror story you read?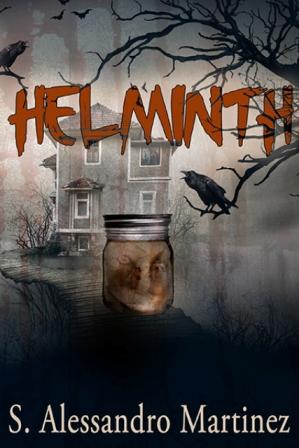 I started watching horror movies when I was like five or six. My grandpa would take me to the video store so I could rent whatever I wanted, then we'd go home and watch it in the backroom, because that was the only TV with a VCR. It was almost always a horror movie that little me picked. I'd study all the VHS covers and choose one I thought looked the scariest. So I have my grandpa to thank for letting me do that. Of course, I had plenty of nightmares back then, but it was so worth it. As for books, my mom would let me pick almost anything I wanted at the bookstore. I obviously loved spooky things, so I'd pick whichever book (kid or adult) looked the most intriguing.
I don't remember exactly what was the first horror movie I saw, but the earliest memories I have of watching horror movies are Child's Play, The Evil Dead, and Trilogy of Terror. That little Zuni fetish doll that came to life in Trilogy of Terror scared me so much. It kind of still does…
As for horror books, I read tons of Goosebumps and other kid horror stuff. But I also remember reading authors like Stephen King, John Saul, and Bentley Little way, way before I was old enough to.
What are a few recent horror books you've read that you would recommend?
I'd recommend Diabhal by Kathleen Kaufman, The Troop by Nick Cutter, Devolution by Max Brooks, The Toll by Cherie Priest, The Nefarious Necklace by Kelly Evans (as K A Evans), and Clown in a Cornfield by Adam Cesare.
What are your hopes for the future of horror?
Horror does seem to have had a big resurgence this last few years, doesn't it? I see so many new horror movies and shows being added all the time to Netflix and Hulu. We horror fiends even got our own horror streaming service, Shudder. I would love to see this enthusiasm with horror books as well. Get more horror literature into the mainstream!
Also, one thing bugs me to no end: When people do enjoy horror, they want to label it a "thriller" or something. They're like, "Oh, this was actually good. It can't pooooossibly be horror." (Insert snobby accent there.)  I wish people would stop that, haha.
What projects are you currently working on?
The very first novel I wrote is an epic fantasy with necromancers as the good guys. I'm still enthusiastically pitching it and shopping it around. And you know, there might be some…connections between Helminth and that fantasy world….
I'm in the last round of editing the sequel to that fantasy novel, and I'm also working on a cryptid horror novel, a horror/superhero novel, a haunted house novel, and an adventure/horror novel.
Where can we find you online?
You can find me at my website: https://salessandromartinez.com/
I'm pretty active on Twitter: https://twitter.com/The_Morda_Shin
And if anybody is still on Facebook: https://www.facebook.com/salessandromartinezwriter/
Big thanks to S. Alessandro Martinez for being this week's featured author!
Happy reading!