Welcome back! Today, I'm thrilled to feature author Tom Deady. Tom is the Bram Stoker Award-winning writer behind Haven, Backwater, and Weekend Getaway, as well as numerous short stories that have appeared in Hardened Hearts and Unnerving, among other outlets.
Recently, Tom and I discussed the inspiration behind his new book, Coleridge, as well as his favorite part of the writing process and what he has planned next.
A couple icebreakers to start: when did you decide to become a writer, and who are some of your favorite authors?
I think I've always known I wanted to be a writer, I just didn't do anything about it for a long time. Haven was written in fits and starts between 1995 and 2010. When that was finally finished, I decided to take my writing seriously. I got my Masters in English and Creative Writing and have been writing ever since.
Anyone who has read my work knows Stephen King is a major influence in my writing, but there are so many writers I admire. Early Dean Koontz, Shirley Jackson, Rio Youers, Josh Malerman, Tana French, Peter Straub, C.J. Tudor, Simone St. James…I could go on and on.
Congratulations on your new book, Coleridge! What can you share about the process behind this story?
Coleridge started out as a short story for a modern gothic anthology. Like many of my stories, the characters took over. I had originally planned a traditional haunted house story, but Dalia, Zadie, and Slade had other plans. I'm really happy with the way it turned out, It's a little out of my comfort zone as a writer so I'm pretty nervous about how it will be received.
Coleridge is all about a very creepy, atmospheric house with a dark history. What are your favorite haunted house stories or films? Was there one in particular that really helped to inspire this book?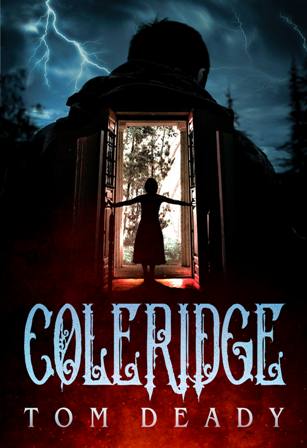 I love haunted house stories. The Haunting of Hill House is a classic, and while the Netflix show really just used the name, it was a fantastic series. The Elementals by Michael McDowell is a master class in creating the slow burn and creepy atmosphere. The Marsten House in 'Salem's Lot fascinates me, I'd love a prequel that focuses on what happened there before Barlow and Straker arrived. The House Next Door by Anne Rivers Siddons and The Invited, Jennifer McMahon's latest are both unique takes on the haunted house.
I can't say there was one in particular that helped inspire Coleridge, I think they all did in some way.
You've been steadily releasing new books, starting with your novel, Haven, in 2016, which won the Bram Stoker Award. How do you find time to write? Are there certain tips you use to keep yourself focused, or particular writing rituals that have helped you over the years?
Finding time to write is never easy. I'm a night owl, so a lot of my writing is done after the rest of the family is in bed. I'm fortunate to have an incredibly supportive wife who helps carve out writing time for me.
One thing that has always worked for me is NaNoWriMo (National Novel Writing Month). I've done it for the past six years and made fifty-thousand words three times. I finally figured out why it works: keeping track of word count. I started doing that this year and it helps me a lot. I can't hide from the spreadsheet and its empty cells on days I don't write.
I don't have any life-changing words of wisdom. I started taking my writing seriously pretty late in life, and I feel like I have a LOT of stories to tell, so time is a great motivator for me.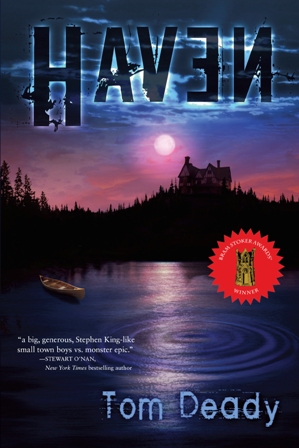 In addition to your novels and novellas, you've also written a number of short stories. How is your approach to your short fiction different or similar to your approach to writing long fiction?
Short stories are honestly not my favorite format, whether reading or writing. I grew up reading the doorstop horror novels of the eighties, so character development and subplots are everything to me. Short stories are too abrupt and always leave me wanting to know more.
If forced to choose, which is your favorite part of the writing process: developing characters, crafting dialogue, or establishing setting?
Character development. Obviously, all three are important, but for me, stories are ultimately about people. Watching a character grow (or devolve in the case of some) as a story progresses is what fascinates me. I look at books like It by King and Summer of Night by Dan Simmons as the blueprints for character development. The depth and complexity of each player in those stories is amazing.
What's next for you? What projects are coming out soon, and what are you currently working on?
After Coleridge, I'm going to release a short story collection. Details aren't worked out yet, but it should be out this summer and featuring some great artwork by a very familiar name. I have a short story called "The Legend of Stingy Jack" in Haverhill House's folk horror anthology Would But Time Await that should be out in the fall. Early next year, my novel, The Clearing, is due out from Vesuvian Books. This one has been in the works for a while and I'm very excited about it.
Where can we find you online?
The best place to get in touch is www.tomdeady.com. All my social media links are there, as well as the link to my Amazon author page and the opportunity to purchase signed books.
Tremendous thanks to Tom Deady for being this week's featured author!
Happy reading!