Welcome back for the final installment of our Women in Horror Roundtable for 2020! February always goes by way too fast! At any rate, let's check in with these awesome interviewees one more time and find out what they've got planned for the future!
There are so many writing conventions and readings year-round in the horror genre. What are some events that you've attended or would like to attend that have valued women's voices in the genre?
V. CASTRO: I have to give props to the HWA for making a huge effort when it comes to diversity. I attended StokerCon last year and plan to go again this year because the panels were diverse and interesting.
TERI.ZIN: The Outer Dark and ReaderCon, for sure. To be fair, I haven't been to many conventions outside of those two, but I've felt supported so thoroughly at both. I recently attended NecromoniCon which is aggressively white, but the Board did everything they could in their power to help me feel safe.
LISA QUIGLEY: Stoker Con is the only one I've attended so far, and I absolutely love it. If I can only attend one con a year, it's going to be that one. I definitely feel that they value and uplift not only women's voices, but also those of all underrepresented communities. The panels are (from my POV, at any rate) effortlessly diverse. It's a great time.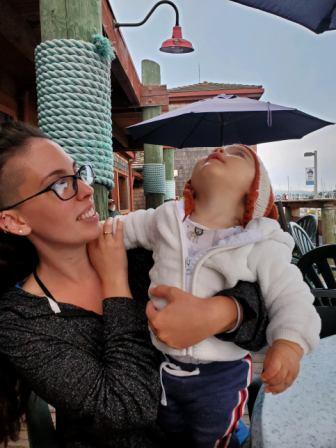 MACKENZIE KIERA: Stoker Con has never failed to delight. The panels seem to be very equal when it comes to maintaining a gender balance. I'd really love to go to KillerCon one day; I hear nothing but good wonderful things. And if you're in LA, they've got a killer book club called "The Thing in the Labyrinth." That's run by a friend of the fright: Kat McGee.
LARISSA GLASSER: I've been so lucky to be included in the programming for The Outer Dark, Necon, Necronomicon, StokerCon. I never expected to be, but know that horror and genre fans/artists are some of the kindest, most inclusive people in the universe. I've been looking for that my entire life. I also adore Boskone, although I haven't been involved in programming yet, I love to lurk.

MICHELLE RENEE LANE: Primarily, I have attended StokerCon and its previous iteration, World Horror. While certain members of the HWA have been racist, sexist and homophobic, I genuinely believe that the organization is making an effort to be more inclusive and representative of the diversity among horror writers. It would be naive to say that as a genre we have overcome discrimination and prejudices, but I have faith that most of the people within the HWA have the best intentions in their hearts and are consciously working toward building a diverse community of writers.
I attended my first Camp Necon this past summer, where I released my debut novel, Invisible Chains. It was a diverse and welcoming environment that provided space for all voices to be heard. If you haven't attended Necon, I highly recommend it and you will definitely see me there this year where I will undoubtedly drive Tananarive Due insane with an unending stream of questions and praise while I try to convince her to become my mentor.
Last year I was supposed to attend the first Multiverse Science Fiction and Fantasy Convention, which actively works to showcase the diversity of writers, educators, cosplayers, filmmakers, etc. within the speculative fiction writing community. Unfortunately, I had to back out at the last minute because of financial issues, but I'm hoping to attend in 2020.
And, I've been invited to attend GenCon this year as a guest author. I really don't know much about the con, but I am looking forward to going and learning more about it.
ERIN SWEET AL-MEHAIRI: I keep so busy with three, growing kids who are now 20, 16, and 12 that I haven't had much time to go to events in all these years. My money and my time has always been on them when I'm not working long hours in publishing. My son is a sophomore in college in DC and so traveling money goes first to taking him to and from the 8 hours or to visit him. I love to visit historical places and hike and explore on weekends with my family and so I usually prefer to do this. I try to support what I can online, and I'd love to start going to some conventions, but I think I'd probably prefer to go to writing conferences. I'd love to one day be invited to participate in a panel or to help, but that will be only if it doesn't interfere with kids. My girls being in sports, musicals, and other things really eats up my weekends too. I am hoping to get to a Scares that Care though, being in VA, and then also to StokerCon 2021. I'd love to throw together something for us PA and OH to do!
I can't answer the second part of the questions as I've not been to any but from what I've seen online HWA does this well with StokerCon and a lot of women go and have their voices heard on panels.
As far as other conventions I view online, so many are film horror focused, but it seems they really do appreciate and showcase their women pretty well. I don't know anything behind the scenes so it might not be the case, but I know that through social media I learn a lot about women in film and I'm really glad for those that promote them so we can learn about them.
What's next for you? What projects are you currently working on, and what do you have coming out in the near future?
V. CASTRO: In February Hairspray and Switchblades from Unnerving will be released.
May is Latino Book Month and I am curating a Latinx dark fiction and Horror book bundle for StoryBundle.
TERI.ZIN: I have a short story titled The Night Sun being published by Tor.com in March of 2020. I'm currently working on edits for my novella about a pregnant woman stuck on a boat on a drowned planet. She's not happy about it, to say the least, lol. I've always got multiple stories and novel ideas I'm tossing around, but there is another novella and novel I hope to finish in 2020.
LISA QUIGLEY: My debut novella Hell's Bells will be published in May 2020 by Unnerving. I am also revising a novel, and have a few short stories at various stages of drafting. I've also got a new novel in the dreaming stages currently. I've always got something brewing!
MACKENZIE KIERA: Currently I'm working on flipping a possession trope for a call to an anthology, and my debut novella "ALL YOU NEED IS LOVE AND A STRONG ELECTRIC CURRENT"  is coming out in August of this year with Unnerving Press.
LARISSA GLASSER: Here's the thing, I've carried so many different book ideas and plots for years, it's a matter of picking and choosing. I've been on a huge Arthur Machen/folk horror kick lately so The Brightening is going to be about trans celebrities and seances. I have another WIP Glue Man which is also about celebrity culture but also ethics in journalism and serial killer worship in the media. Some of these themes covered will be futuristic in nature, but I want to try to tap into the human and emotional viscera that only someone like Jack Ketchum could
capture. It's up to the readers to gauge how successful I am in that endeavor. I just hope it reaches people.
Also, please raise your voice – Free Chelsea Manning.
MICHELLE RENEE LANE: My goals for this year include writing and submitting more short fiction. I have a story coming out later this year, "African Twilight," in The Dystopian States of America, which is a charity anthology that will raise money for the ACLU. And, I just finished a story for another anthology that focuses on female monsters that will be out later this year. I'm working on a series that features the work of speculative writers in which I showcase a fragment of their fiction and ask them questions about their writing on my blog, Girl Meets Monster. And, the next installment of my Speculative Chic blog series, "With This Right, You'll Be Dead: Violence Against Female Protagonists in Romantic Vampire Fiction," will be out later this month.
Beyond that, I hope to finish the first book in a series of novellas about a succubus in an arranged marriage with a demon, and I'm also hoping to complete the first draft of the follow up to Invisible Chains.
ERIN SWEET AL-MEHAIRI: I'm mostly spending a lot of time working in publishing whether for pay doing editing and publicity, some free editing and publicity to help (select few – not an invitation to do for everyone as unfortunately I can't), and the reading and reviewing and interviewing. I am trying to fit in more down time this year, some of it filled with more reading and reviewing.
So that said, I wrote two poetry books in the last couple years – by hand on paper. I need to get them typed and edited. I will need to see who will publish or self-publish. But I lost some of my mojo for this, as I'm afraid at time for my own promotion. I also have several unfinished novels and short stories that need worked on. I am also disheartened. I started the year off losing my writing mojo. BUT I did go to Baltimore last weekend (Jan 11) and I visited Edgar Allan Poe's home. It sparked a bit in me. Then my friend Duncan and I were chatting, and he jokingly said something referring to Russian nesting dolls that started my brain wheels spinning. So, time permitting, maybe my mojo has returned.
I'm still at discovering what 2020 means for me and it's a work in progress. I hope to figure it out soon though. Until then, I'm going to wait for writing inspiration to strike me. I generally don't often feel that til spring hits.
Thank you so much to the seven amazing women who were part of this year's Women in Horror Roundtable. It was wonderful talking with them!
Happy reading, and once more, happy Women in Horror Month!