Welcome back for part three in our Women in Horror Roundtable! The month is rapidly winding down, but that doesn't mean we're done here yet! Today I talk with these seven fabulous interviewees about the publications out there doing great work for diversity in horror as well as what everyone has planned for Women in Horror Month this year! So let's go, shall we?
While there's still such a struggle to be heard as a female author, there are fortunately those out there who are doing their part to help us get our voices heard. Who are some of the editors and publications that are doing great work for diversity in horror?
V. CASTRO: Unnerving did a submission call for only women before opening it to men. Love that. I've seen a lot come from Nightscape Press, Demain Publishing and Grindhouse Press. I also have to give credit to the big review sites for consistently promoting women. That is how we change publishing because publishing is a business. Demand and noise made for female authors will get the attention of publishers and editors. Same goes for authors of color.
LISA QUIGLEY: Eddie Generous at Unnerving Magazine/Publishing is definitely doing a lot to promote women in horror as a policy. I know for his last calls for novellas, he wanted a minimum of a certain percentage of women—so he opened the submission window up for pitches from women before opening up the call to everyone. Ellen Datlow is, of course, continuously creating top-quality horror from some of the best writers writing today—and a huge percentage of them are women.
Nightscape Press is also awesome and incredibly adamant about representing diverse voices.
I'm sure I'm forgetting some, but those stand out to me off the top of my head.
MACKENZIE KIERA: Eddie Generous over at Unnerving did a great thing this year. He opened submissions to his Rewind or Die series to women first, I think that's really great, really wonderful. Saga Press I believe is making a push to be diverse as well. Really, I'm impressed by most editors and publishers. Everywhere I turn, it seems like places are actively trying to be inclusive. One of the first horror groups to reach out to Lisa and myself were Michael David Wilson and Bob Pastorella from This is Horror to offer their congratulations and support. They've been great friends to us.
TERI.ZIN: I owe so much to Dr. Kinitra Brooks. She had such a strong faith in my story that she let me shuffle my feet for months after sending the invite. That story (Summer Skin) went on to be long-listed for Ellen Datlow's Best of Horror 2017. Chesya Burke for being such a grounding support at NecronomiCon and more. Farah Rose Smith for having me on local panels and readings. L.H. Moore, Monique Laban, Camilla Zhang, Jessica Guess, Tracey Baptiste, Mimi Mondal, Nisi Shawl, Laura J. Mixon, Anya Martin, Sioban Krzywicki, Hillary Monahan, Diana Pho of Tor, my agent Roseanne Wells, so many women who have encouraged, pushed, supported, held me so that I acould keep going, keep submitting. As for publications, I see Fiyah doing amazing work. Robert S. Wilson of Nightscape Press is fantastic. Alana Joli Foster and Melody Meadors of Outland Entertainment are phenomenal.
LARISSA GLASSER: Along with Lightspeed's "Destroy" series of books that took off a few years ago, I really dig what Nightscape Press, Raw Dog Screaming Press, and Haverhill House Publishing are doing for diversity in publishing. Not only are they committed to opening up the field for diverse voices, they also have excellent taste in scares. I would also say this about Clash Books – for such a small press they really have their shit together and they're building one hell of a brand. Look out.

MICHELLE RENEE LANE: Maybe I'm a little biased, but I would say that Haverhill House Publishing is making a great effort to publish more horror fiction by female writers and women of color. And, Scary Dairy Press released an anthology of all female horror writers in October, The Monstrous Feminine.
Beyond that, I'm not really sure what to say. I think publishers in general are trying to be more inclusive and to publish books with a wider variety of voices, but we still have a long way to go. SciFi & Scary just released their list of 20 Diverse Authors to Read in 2020, and I am honored to have made the list with amazing writers like Tananarive Due, Linda Addison, Nalo Hopkinson, Nnedi Okorafor, and Gabino Iglesias. If you read more books by women and people of color, you'll find out who is publishing them and hopefully, if readers demand more books from these and other writers, they will continue to add diverse voices to the horror genre.
ERIN SWEET AL-MEHAIRI: Nightscape Press and the Wilsons for sure do almost the best job out of everyone with a lot less notice than they should have. Apex Publications – Jason and Leslie don't get enough love either. They work hard, long hours and have families and so there isn't a budget for print copies, so they sometimes get the shaft as far as promotion buzz. They do a great job bringing women and other diversity to the table though.
Also, I'm biased as I work for Raw Dog Screaming Press, but I wanted to work for them because they do this! John and Jennifer publish women and diverse authors from around the world and do such a wonderful job in supporting not only their books and authors but everyone out there with their time and expertise and voices.
What are your plans for this year's Women in Horror Month? Are there any events, in person or online, that you plan on being involved with?
V. CASTRO: I am open to everything! As of now my plan is to shout out as many females as possible. If I see anything cropping up, I will do my best to highlight it.
TERI.ZIN: This WiHM, I hope to be on a local panel created by Farah Rose Smith. Other than that, just write and shout out my fellow marginalised writers.
LISA QUIGLEY: I don't have any plans as of yet! Most likely we will just be interacting with the horror community on our podcast twitter platform, retweeting, sharing, and amplifying all the awesome content being shared.
MACKENZIE KIERA: Not at the moment, but my eyes and ears are open!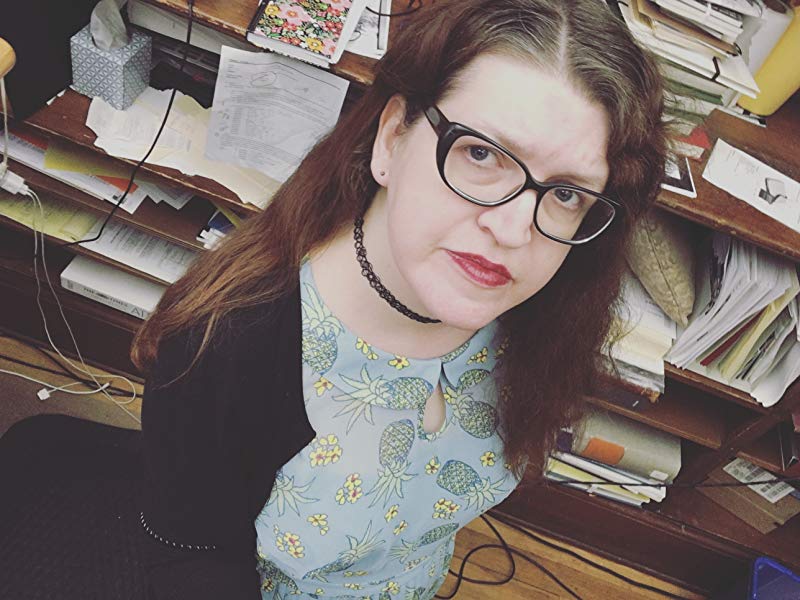 LARISSA GLASSER: On February 8, I'm reading at a free admission panel Dark Minds, Dark Hearts: A Valentine's Fiction Affair in Millbury, Massachusetts (just outside Worcester) with Matthew M. Bartlett, Sonya Taaffe, Doungjai Gam, Fiona Maeve Geist, and Andrea Wolanin . Apart from that, I'm going to Boskone the next weekend of February 15, and hopefully also make it down to Providence Rhode Island to see The Color Out of Space with some friends.
MICHELLE RENEE LANE: Aside from your blog, I'll be writing a guest post for The Horror Tree's WiHM series. And, I'll be continuing my blog series about the acceptance of violence against female protagonists in romantic vampire fiction over at Speculative Chic, with Part 3: Dating & Courtship.
ERIN SWEET AL-MEHAIRI: I usually do something on my site such as interview women horror authors, do features, or whatever I have time for. I've done it the last few and one year I did in conjunction with David from The Scary Reviews (we did 30 mini-interviews with women). I'd love to have time to do more. I haven't heard much about events yet – it's January and you know people wait till the last minute to announce or do things (I'm guilty of this too). I'd love to go to a women's film fest or something if there was one within a three-hour drive? I'll read more horror books by women than I already do, and I'll watch films by women directors on purpose more than I already do – but I already do a lot so I'm not sure if that will be a big change. I'll have to think on it some more.
That concludes Part Three in our Women in Horror Roundtable for 2020. Come back next week for our fourth and final post!
Happy reading, and happy Women in Horror Month!