Welcome back for the final installment of our Women in Horror Month roundtable discussion! These last four weeks went by all too fast!
Last week, in part three, we discussed the best advice our nine authors had to offer to newer writers as well as their hopes for the future of horror. This week, I'm turning the spotlight back to them by highlighting their upcoming work as well as their final thoughts on this year's Women in Horror Month. So let's get to it, shall we?
What projects are you working on now, and what releases can we expect from you in the next year?
Catherine Grant: I'll be working on the June issue of Lamplight. I am writing short stories and submitting. I made a promise to myself to write one new short story a week. Nothing new is pending for publication. I am working on a witch novel set in the Bridgewater Triangle that I am hoping to finish this year. I'm also working on another secret project that I'll be publishing under a pseudonym.
Denise Tapscott: Right now I'm polishing up a short story called "The Price of Salvation", which deals with bullying, vengeance and redemption.  Bullying is unacceptable, especially in this day and age and I wanted to put an interesting spin on it. I'm not sure if I want to release the story by itself, or with a collection of other short stories, but I definitely want to release it this year.  In the next year you can expect the sequel to Gypsy Kisses and Voodoo Wishes called Enlightening of the Damned as well as a novella inspired from one of the smaller characters from Gypsy Kisses and Voodoo Wishes.  It's a character that speaks to my heart often and I have to share his story with everyone I can.  I need to do a lot of research about the Native American culture for this story; I want to honor their traditions and culture. The horrible situation with the Dakota Pipeline and Native Americans really weighs on my heart;  Water is Life. The least I can do is speak out about it, in a creative way.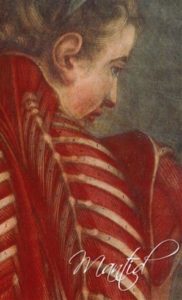 Nadia Bulkin: I have a few stories in anthologies that I'm not sure have been officially announced yet, but my main focus this year will be trying to see if I can get a non-fiction, non-horror "passion project" off the ground.
Carrie Laben: All my best stuff is information-embargoed or uncertain at the moment, but I have at least one new piece of fiction and one essay coming before spring, and as you read this my first novel is in the hands of an interested editor, so fingers crossed! (Gwendolyn's note: In the weeks since this interview was done, the third issue of Mantid Magazine has officially been announced and released, and it includes a couple of those aforementioned under-wraps stories from Nadia and Carrie as well as tales from Brooke Warra and myself!)
Sumiko Saulson: I am attached as a writer to a film project, 7 Magpies, conceived of by Lucy Cruell. It is seven stories written and directed by black women, a sort of Creepshow or Tales from the Hood format. Not sure when we will see it made. As mentioned before, I am putting together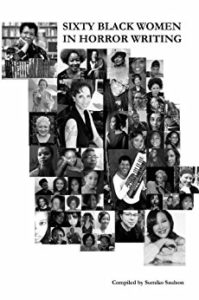 Black Magic Women with Nicole Kurtz and Mocha Memoirs Press. 100 Black Women in Horror is coming out. I am working on two novels – Akmani, the fourth installment in my very dark paranormal romance series Somnalia, and Disillusionment, the sequel to my debut sci-fi horror novel, Solitude. One of them should be out before the end of the year, perhaps both, not sure… it depends on how fast the rest of the writing and editing goes.
Kenya Moss-Dyme: I spent all of 2017 in a weird state of suspension. I had things in progress but just couldn't find my voice. I'm going to make 2018 count and release those things that are gathering dust. If I take too long on a project – for whatever reason – I lose interest and don't even want to finish, so that's what I'm struggling with right now. But I plan to release a new collection of horror with a love-theme, and my long awaited, highly anticipated (haha) urban apoc story, Dead Zoned.
Rebecca Allred: I'm actually on a writing hiatus for 2018 (remember that part about giving yourself permission to take a break?) and currently only have one story slated for publication this year. "Behind the Veil of Pretty Pink Lies" will appear in Pickman's Gallery (Ulthar Press), and is scheduled for a March release. I'm still shopping a few short stories and one co-authored novella, so that number may still (hopefully!) change.
Anya Martin: Unfortunately I can't talk yet about my biggest release coming this year yet, but let's say I am working on some new stories and longer works. Also, I'll have a flash fiction in Zine Trio from Ladybox Books, that was postponed from last year but should come out in 2018. Aside from writing, I'm continuing to assist Scott Nicolay as associate producer on The Outer Dark podcast, which features interviews with Weird and speculative fiction writers and airs most weeks on This Is Horror. And we'll be throwing the second annual The Outer Dark Symposium on the Greater Weird Saturday March 24 at the Winchester Mystery House in San Jose which CBS News just dubbed one of the 10 most haunted places in the United States, not to mention a movie! It hit me recently that we are the only conference currently dedicated to contemporary Weird fiction. Among the women joining us this year as guests are Silvia Moreno-Garcia, Sumiko Saulsen, Rios de la Luz, Tiffany Scandal, Rebecca J. Allred, artist Liv Rainey-Smith, and filmmakers Heather Buckley and Izzy Lee! We still have memberships available (at least at press time), so I urge any writers and readers of the Weird to come!
Brooke Warra: Stories, stories, and more stories! My monster story, "The Scritch," will appear in Mantid Magazine's Volume 3 this month, and you can expect to hear my stories on The Lift podcast, as well as The Wicked Library. Aside from commissioned pieces, I am also writing a novella I hope to finish in the next few months. It's going to be a busy year!
Any final thoughts on Women in Horror Month for 2018 (or any thoughts about what you'd like to see for Women in Horror Month for the years to come)?
Denise: I love the idea of Women in Horror Month.  I hope that more women are encouraged to celebrate each other, and to allow themselves to be celebrated. How wonderful would it be to have 30 days of women in horror on AMC and many other mediums?  Ladies, we rock.  We should applaud women from the past, present and future for our unique voices.
Nadia: I hope we get to the point where we don't need it. But that would require much broader change at the societal level.
Carrie: I really hope that when we do this next year, I won't be exhausted from protesting and marching all day when I finish answering these questions – but I'm not banking on it.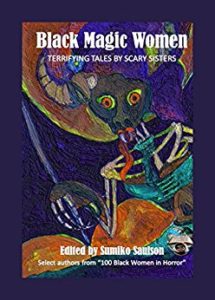 Sumiko: I really want to get a book reading going on in SecondLife for WiHM! Maybe we can make it happen in 2019, if not in 2018.
Kenya: I was thinking, how cool would it be if the movie channels did marathons of female-centered horror during February? And I don't mean women as the victim because that's all of the time, but if, in honor of this month, they showed a specially selected stream of movies like the XX collection, 28 Days Later, AVP, etc. Movies by women, starring women. Or if Amazon prominently featured women in horror on their main page with special deals on our books, just for the month. Maybe one day, the WIHM will be that widely celebrated!
Rebecca: My hope every year is that everyone, myself included, finds a new writer or two and falls in love with their work.
Catherine: I really hope that the horror community can get through another WIHM without some twatwaffle sticking his foot in his mouth. It seems to happen on a regular basis, and instead of focusing on women authors, we all pile on the woman-hater who happened to open his mouth at the right time to catch the attention of the social media pitchforkmobile. Spoiler: He was a douchebag and a misogynist the other eleven months of the year, too. Can we avoid that distraction? Can we celebrate the women in the genre and keep the conversation about the feminine? Don't let someone steal our voice. In fact, please let that rule extend to the rest of the year.
Anya: Just again that one day I'd like to think we won't need Women in Horror Month! But I am certainly excited to see all the interviews and articles that will appear this month putting the spotlight on some talented women!!!!
Brooke: It's been such a privilege and a pleasure to meet and bond with so many great WIH and I have made what I hope are life-long friendships with those women in the writing community. I am ecstatic about the future we are shaping together and mostly just excited to see what we do with it.
And that's our Women in Horror discussion for 2018! Thank you to everyone who read the series this year! Here's to a great Women in Horror Month, and an even better celebration of Women in Horror for the rest of the year!
Happy reading!