In a little over a week, I will be heading to Providence for this year's StokerCon. If you'll be there too, you can catch me on panels or at my reading! (Or you know, you can also use this schedule as a guide for how to avoid me! Either or.)
So just where exactly can you find me in Providence? I'm glad you asked…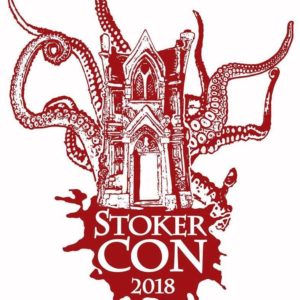 Shirley Jackson: Master of Horror panel on Friday, March 2nd at 12pm
The moderator for this one is Jack Haringa, and my fellow panelists are Jennifer Barnes, Karen Bovenmyer, Nicole Cushing, and Paul Tremblay. I was on a Shirley Jackson panel at NecronomiCon last August, where Jack was the moderator and Paul was a panelist, so I already know this one is going to be a lot of fun. I'm also super excited to meet Jennifer, Karen, and Nicole; I know their work, and it will be great to get to know them too! Also, I could basically talk about Shirley Jackson all day, every day for the rest of eternity. So yeah, this panel will definitely be a great time.
Universal to Hammer: The Classic Screen Horrors on Friday, March 2nd at 4pm
I'm moderating this one! I know, right?! I grew up on Hammer and Universal films, so to get to lead a panel in a discussion about the movies that really shaped my childhood and my love of horror is so cool that I'm truly giddy about it. Also, if that wasn't cool enough, the panelists are Ramsey Campbell, Michael Gingold, Christopher Golden, and Amanda Trujillo. Obviously, with huge names like that, the pressure's on for me to do well, so light a candle for me, will you? I prefer Creature from the Black Lagoon green, thank you.
Happy 200th Birthday Frankenstein! Mary Shelley in the 21st Century panel on Saturday, March 3rd at 11:30am
The moderator for this one is John C. Tibbetts, and the panelists include Michael Arnzen, Jennifer Barnes, Leslie Klinger, and Victor LaValle. At NecronomiCon, I was also on a Mary Shelley panel, which you can actually listen to over here at The Outer Dark if you'd like. Naturally, I'm so excited to be discussing Shelley's work again, especially with such an incredible group of authors! ( I know, I know; I keep using the word excited a lot in this post, but that's only because it's true.)
Fairy Tales: A Child's First Taste of Horror panel on Saturday, March 3rd at 2pm
The moderator here is Leslie Thomas, and my fellow panelists are Edward Ahern, April Grey, Charie LaMarr, and Trisha Woolridge. Anyone who is at all familiar with me or my work already knows how much I love fairy tales and all the darkness and creepiness contained therein. With this one, I'm not-so-secretly hopeful that the conversation will steer toward Angela Carter's work for at least a moment since her dark fairy tales are among my favorite stories of any genre.
Reading Block on Saturday, March 3rd at 4pm
Just in case panels aren't enough for you, you can also see me spouting off my fiction, most likely in a rather animated voice (hey, that improv and acting background has to help me somewhere in life). I will be reading one of the flash pieces from my collection as well as teasing an excerpt from my novel, The Rust Maidens. Authors Marc Abbott and John F.D. Taff are also in the 4pm reading block, and I can't wait to hear them read their work!
And finally, on Saturday night, Bill and I will be attending the Stoker Awards ceremony! EEEE!!! I've always wanted to go to the Stokers, and um, you might have heard, but this year is a bit special to me (as in very, very special). I've talked about this a lot already on social media—talked so much, in fact, that people are probably sick of hearing about it—but I very much want to announce it here too: my collection, And Her Smile Will Untether the Universe, is nominated for a Bram Stoker Award for Superior Achievement in a Fiction Collection! That's an insane sentence to type out, but here's a link to the final ballot in case you need external verification.
Also, because I have the best editor in the world, she also put together that updated cover you see to the left with an official Stokers seal and everything. Thanks, Jess!
So it will certainly be a busy couple days in Providence, and for that, I'm quite grateful and excited. Honestly, I'm downright thrilled. This will only be my second writing convention after NecronomiCon last summer, and I'm looking so forward to meeting a lot of new people as well as catching up with everyone I already know, either online or in person. It should be a truly wonderful weekend! *cue excited screaming*
Happy reading, and see you in Providence!