Welcome back to this week's author interview! Today my featured author is Leza Cantoral. Leza is the author of Cartoons in the Suicide Forest as well as the editor-in-chief at Clash Books, which has just released the absolutely incredible Tragedy Queens: Stories Inspired by Lana Del Rey and Sylvia Plath.
Recently, Leza and I discussed the Tragedy Queens anthology as well as her inspiration as an author and editor!
What first made you want to become a writer and editor? Who are some of your favorite authors?
I began writing poetry in high school. I don't think anyone wants to become a writer. It is kind of a shit career. I never wanted to be a writer, it is just the thing I am the least bad at. I am an artist & I need an outlet. I am not that great at painting or drawing or film or willing to do the bullshit to be an actor or filmmaker. Writing is the career the artist takes who has the lowest bullshit threshold.
I started editing Mandy de Sandra as well as nonfiction posts for the yesclash.com site. I learned that editing is so much more than doing line edits. I love working with writers & helping them find their voice & tell their story. As Editor in Chief of CLASH Books I have so much fun doing just that.
Sylvia Plath, Anne Sexton, Lewis Carroll, Hans Christian Anderson, Vladimir Nabokov, Angela Carter, Gillian Flynn, Anne Rice, Poppy Z. Brite, Joyce Carol Oates, Leo Tolstoy, Charles Baudelaire, Clive Barker, Jonathan Franzen, Bret Easton Ellis, Roberto Bolaños, Scott McClanahan, Sam Pink, Kim Addonizio, Melissa Broder, Lisa Marie Basile, Rios de la Luz, Juliet Escoria.
Big congratulations are in order for the Tragedy Queens anthology! Before we dive deeper into the process of creating this gorgeous book, let me ask you this first: do you remember the first work by Sylvia Plath you ever read? Likewise, do you remember the first Lana Del Rey song you ever heard? What was it about these two artists that inspired you to bring them together for an anthology?
'Lorelei,' is the first poem of Sylvia Plath that I read that grabbed me. Then I read the Ariel collection & it changed my entire life. That collection always has a strange effect on me when I read it. I think it has mystical powers.
I don't remember if I heard Born to Die or Cruel World first, but they both grabbed me right away & I was hooked for both albums.
Lana Del Rey has made herself into a channel of feminine archetypes. Her songs are like stories from the perspectives of different characters/aspects of herself as well as American icons like Jackie Kennedy & Marilyn Monroe. Sylvia Plath did that too. She drew from Greek Tragedy, the Tarot, mystical lore, and fairy tales. I wanted this anthology to bring a full range of female voices to life. Male dominated narratives often put women into boxes. You are either a whore or a good girl, a sex object or a scary crone. It is very limiting. I wanted to challenge these stereotypes about femininity & I thought these two incredible artists would be the perfect muses.
What was the process of putting together Tragedy Queens? Did you know exactly what you were looking for going into the slush pile, or did you let the book evolve naturally as it went?
I came up with the title & the idea & put out the submissions call. The call described the themes of the anthology. My inbox was flooded pretty quickly. I was looking for lyricism & strong character arcs. There are some stories that are more on the dreamy/lyrical side, & others that are more plot driven. I did not care about genre, just compelling stories & characters. I left submissions open for quite a while, because I cared more about getting the right stories than publishing this on some kind of schedule. The goal for Tragedy Queens was for it to feel like an album. The stories are the playlist & it is a killer track list.
Of course, you're also an accomplished, award-nominated author in your own right. 2016 saw the release of your collection, Cartoons in the Suicide Forest. What can you share about that process? How did you choose the stories for the table of contents, and were there any surprises along the way in writing the book?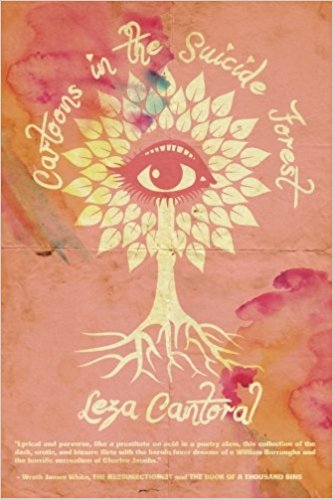 Most of the stories I had written at that point made it in to the collection. 'Star Power' was the first story I wrote that felt like my voice. It was a piece of flash fiction that I wrote for a writing workshop, based off a Tarot card prompt. That one & 'Fist Pump' were written years ago. The rest were written in the couple years leading up to the release of the collection. I left out a couple that relied a little too heavily on dream logic for their narrative structure. The title of the collection appeared in my mind one day & I wrote a story based off the title. It was more literary horror than the other stories. There are also a couple nonfiction pieces in there. This collection was very therapeutic to write. It is the journey of me finding my voice as well as a love letter to fairy tales, surrealist poetry, & horror movies.
In addition to your writing and editorial work, you run the podcast, Get Lit With Leza. What inspired you to start the show? 
Whenever I go to cons or readings I have such fun conversations with other writers, but I live in a very isolated place, so I do not get to hang out that much. Talking on videochat kinda bridges that loneliness gap. I used to drunk-dial my writer friends, now I get them on my podcast. The podcast is a great way to have a conversation with a cool artist & make something entertaining out of it. I was inspired by shows like Between Two Ferns, The Eric Andre Show, The Tom Green Show, & Da Ali G Show with Sacha Baron Cohen. I like talk show hosts like Crag Ferguson, who are not scared to show their flawed & awkward parts or talk about their dark past. It is very human & I connect with it. Get Lit With Leza began to take shape when I started to think about the charm of the bad interview. I am often not sober when I record episodes. I am not trying to kiss ass. I am just trying to have a real conversation.
Out of your own published work, do you have a personal favorite?
'Saint Jackie.' It's a short story in the More Bizarro Than Bizarro antho. It is a conversation with the ghost of Jackie Kennedy about relationships, alcoholism, & growing up.
What upcoming projects are you working on?
A poetry collection called Trash Panda, a personal essay collection called Never Cursed, & a novel about badass witches called Operation Bruja.
Big thanks to Leza Cantoral for being part of this week's author interview series! Find her online at her website as well as at Clash Books and her podcast page!
Happy reading!