Welcome back! This week, I'm thrilled to spotlight author Nicole Givens Kurtz. Nicole is the author of numerous short stories and novels, including Kill Three Birds and A Theft Most Fowl, as well as the editor of the critically acclaimed anthology, SLAY: Stories of the Vampire Noire.
Recently, she and I discussed her inspiration as an author, the release of her fantastic anthology and new novel, as well as her favorite parts of the writing process.
A couple icebreakers to start: when did you decide to become a writer, and who are some of your favorite authors?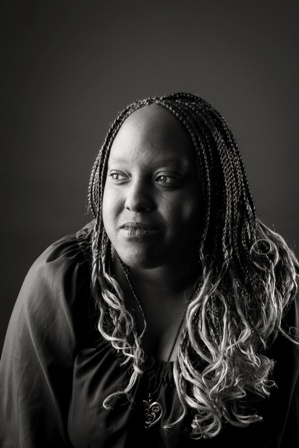 I realized I was a horror author after I wrote my first scary story in 10th grade. It involved a Thanksgiving dinner gone horribly wrong. I fell in love with the horror genre when I was 4. Where the Wild Things Are was the first horror book I read, and it remains one of my favorites to this day. I graduated to King in elementary school along with Poe and then to others later in life like Shirley Jackson, L.A. Banks, and Tananarive Due. . My favorite authors are Stephen King, Shirley Jackson, Octavia Butler, and Robert B. Parker.
Congratulations on all the success of your recent anthology, SLAY: Stories of the Vampire Noire. What can you share about your inspiration to create this anthology?
The inspiration for SLAY came about due to many conversations I have had with authors about the lack of Black vampire stories in the wake of L.A. Banks's death. Sure, there have been other Black vampires, but they remained on the perimeter, in the background, window dressing. We wanted stories like Banks wrote, that centered Black people, Black vampires and Black slayers in the forefront. What would that look like now? So, the idea was born to seek out short stories for an anthology to answer that question and to fill the void.
Even more congratulations on the recent release of your new book, A Theft Most Fowl, which is earning rave reviews. What inspired your Kingdom of Aves series, and how was writing the second book in the series different than the first?
Around March 2020 when the United States was going through a lockdown, I wanted to write something fun. I wanted to write something for me. Something that I would like. I enjoy reading everything that I write but I wanted something lighter. If you think about my Cybil Lewis series it takes place in post-apocalyptic D.C. She is very pulpy noir-ish. Right, it's kind of gritty and the same is true for my Minister Knights of Soul series, again it takes place on Veloris, an ice planet it is very dark and gritty. Sorcery, magic space opera-ish but it is still dark and gritty….I wanted something fun! And I wanted something fantastic and I wanted to like build a world and be more intentional about the world I was building. Thus the Kingdom of Aves was born. The second book draws its influence from heist stories unlike the first one that deals with a serial killer. It was different in its approach, its plot, and its mystery.
You've written in numerous genres, including horror, fantasy, and weird western. Do you have a particular favorite genre? Also, do you decide in advance what genre you want to write next, or do you allow the project to develop as you go along?
I always know before I start a story what genre it is going to be because I plan out the story, My favorite genre is mystery/horror writing, if I am honest. My next project is a 80s style slasher horror novella set just outside my hometown of Knoxville, Tennessee. The title is "Leave a Pretty Corpse."
What's the best writing advice you've ever heard?

The best writing advice I was ever given was to be patient with the story.
Which part of the writing process is your favorite: brainstorming new ideas, creating a first draft, or polishing an almost finished piece?
My favorite part is always the brainstorming. I love generating the idea and coming up with the story. That's the exciting part! The labor comes when attempting to funnel that amazing idea onto paper and executing it. That's the real work in writing.
What projects are you currently working on?
I am currently working on the horror novella, "Leave a Pretty Corpse," and my on-going cyberpunk thriller, "Lucky Glow: A Fawn & Briscoe SF Mystery" for my Patrons at Patreon. I am also currently editing titles for Mocha Memoirs Press, as well. We recently released two new horror titles, L. Marie Wood's "Telecommuting" and Stephen L Brayton's "Night Shadows."
Where can we find you online?
I am online at Twitter, @nicolegkurtz, at Facebook as facebook.com/NicoleGKurtz, at website http://www.nicolegivenskurtz.net, and at Patreon http://www.patreon.com/NicoleGKurtz
Tremendous thanks to Nicole Givens Kurtz for being this week's featured author!
Happy reading!