Welcome back for part two of this month's Fright Girl Summer Roundtable! Last week, we met our seven featured authors and learned about what inspired them to become horror writers. Today, they share some of their challenges as well as the female horror authors they love and recommend.
So let's take it away!
What are the biggest obstacles for you as a writer? Conversely, who are some of the publications, editors, or other writers who have made your journey through publishing a more positive one?
EDEN ROYCE: Self-doubt can be an enormous burden. As writers, many of us live in our own heads and negative self-talk can keep even the best creatives from producing work.
I've been lucky enough to work with some wonderful people in publishing, though. Everyone at Fiyah Lit Mag (past and present) is fantastically supportive and encouraging – they deserve all the kudos for the stunning work they do. Sandra O'Dell at the Drabblecast is a phenomenal editor as are Vajra Chandrasekera at Strange Horizons and Kerrie C. Byrne at Augur Mag. Last but not least, my editor Jordan Brown at HarperCollins loved my novel Root Magic from the start and his input helped make it shine.
GABY TRIANA: My biggest obstacle has always been branding. Because I cover a lot of ground, I can't for sure say I'm a "horror writer" or a "YA writer." I write stories about people. The one theme all my stories have is self-discovery, learning about the powers buried deep inside oneself, because this is how I've felt all my life, like I've slowly been uncovering supersecret hidden powers. But there's no "Supersecret Hidden Powers" shelf in the bookstores, so I end up all over the place.
My journey through kid lit was difficult, though it started out easy. I got my agent as soon as I finished my first novel, and he sold my manuscripts to HarperCollins in two 2-book deals right out of the gate. Everyone thought I had it made. But then, the industry changed, I was asked to write more Latina heroine books, which I did, but they didn't sell, so I tried going back to paranormal horror, but I was advised against it, because the "trend was dying." I got lost. Really lost. But I finally decided I'm going to write whatever the hell I want. I've slowly been making my way back to my heart, mostly on my own, but I can definitely thank a few people. My agent, Deborah Warren, who's been "new" for about 8 years now, Jonathan Maberry, who couldn't understand why my books weren't more widely read and has been instrumental in lifting my voice higher, Michelle Zink, who went indie and guided me through the process with such a generous heart. Too many people to name, but they've all been such an inspiration to me.
LINDA D. ADDISON: The obstacles now are very different from the beginning of my writing career. Now that I'm retired from day job you would think I have nothing but time to write, however, I'm also involved in projects with other creative folks, so it's a constant learning process to balance my time.
I could fill pages with publications, editors, or other writers who have been invaluable in my career (including family and friends), a few highlights are: There are many small press magazines (Pirate Writings, Epitaph, Lore, etc.) and anthologies (Dark Voices, Rough Beasts, GSHW In A Fearful Way, Dead Cats Bouncing, etc) that published me early on. Asimov's SF Magazine (after getting published in 1997 after years of rejections); Space & Time Books editor Gordon Linzner (whose editing/advice/friendship has meant everything to me & published my first three books, two received HWA Bram Stoker awards), CITH (Circles in the Hair) workshop from NYC, which came together in 1990 and have had so much to do with the evolution of my writing. Meeting Tananarive Due in 1997 at a World Horror in NYC when she was on the final ballot for a Stoker in Novels was completely inspiring.
Game changers like having a story published in Sheree Renée Thomas' Dark Matter anthology; workshops with Terry Bisson, Nancy Kress and others, who became supporters and friends. There are so many I met at conferences like NECON, WHC, and groups like HWA who became my mentors/friends.
There are people who are no longer with us, who believed in me before anyone else knew of my work: Tom Piccirilli, Jack Ketchum, Charlee Jacob, Stephen M. Wilson, Rick Hautala.
V. CASTRO: The biggest obstacles are time management with home life and protecting my mental health with the chaos in the world.
Unnerving headed by Eddie Generous has always been great with publishing women. Flame Tree Press has bought two of my books that are very much inspired by my culture.
All the women in horror have made this journey truly special and amazing. I love how we support each other through the good and the bad. By us continuing to do this, I truly believe we can all achieve what we want on our individual writing journeys. We are stronger together.
G.G. SILVERMAN: My biggest obstacles, currently, are the unfolding horrors of the political landscape. I do believe that writing is an act of resistance and reclaiming one's voice is ever more important as the days progress, but I sometimes wonder if I should be doing something else—as in, are the lives of Americans in clear and present danger? I'm constantly evaluating our emergency supplies, making sure we have enough food, medicine, for the humans and the dog. And though I'm checking on the mental health and wellbeing of friends and family when I can, I'm always wondering if it's enough, if there's someone I've missed.
As for those in the writing field who've made my publishing journey a positive one—there are so, so, so many people. I think the ones who've impacted me the most are the teachers—they've given me a huge gift by teaching me what they know. Most of them write in genres outside of horror, but I feel that's what makes my work richer. Some of those teachers are Alexander Weinstein, Amelia Martens, Sequoia Nagamatsu, Matthew Gavin Frank, Christopher Citro, and Francine J. Harris. Without them, I don't think I'd have as many tools as I do to write, and I'd probably be floundering a lot more.
R.J. JOSEPH: Being a Black, female horror writer is the biggest obstacle for me, by far. I've been writing in this genre for years, albeit, doing so undercover for much of that time. I grew up in the 70s and 80s, so my first readings in horror were by Stephen King, Dean Koontz, and John Saul. I didn't see work being published by other Black women in the genre. Even the inimitable Toni Morrison's Beloved wasn't immediately embraced as horror when it was first published. When I finally found Tananarive Due and Octavia Butler in the 90s, they never got the fanfare I felt they deserved. Even now, I ask myself, "If those queens with their masterful and passionate wordplay couldn't get a huge break, who are you to think you can do this?" I've seen how long Due has been at this. She's incredible and humble. My all time favorite writer. But I haven't seen her works in movies, as they all should be. Granted, things are moving for her now, but she should be held up as a standard in horror.
I have to give a lot of credit to the faculty, mentors, and fellow students in the Seton Hill University's Writing Popular Fiction program. They were the first people, besides my mother, who made me believe I could write horror. They accepted me as I was and the horror writing pod embraced me as one of theirs. Elsa Carruthers and Stephanie Wytovich are a part of this awesome family. I walked in a duality there, writing a romance thesis but workshopping horror short stories. The faculty and mentors gently prodded me along towards the things they knew I could do that I didn't think were possible, especially in academia. I also have to give a lot of kudos to so many newer horror family members I've met more recently, like Linda Addison who is simply exquisite. She's not only a brilliant writer, but she always makes opportunities to bring the rest of us along with her. Cina Pelayo, John Edward Lawson, V. Castro, Gabino Iglesias, Nicholas Diak, the Ladies of Horror Fiction…just about all the horror peeps I engage with regularly on Twitter are people I look up to and folks who're fighting the good fight. They all make this thing worthwhile.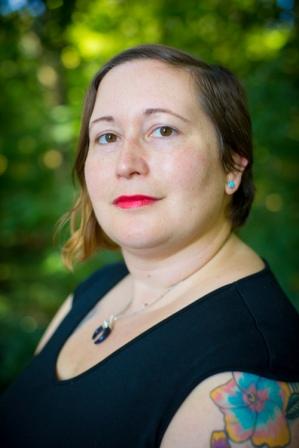 SONORA TAYLOR: I have a hard time writing down a bad first draft. I want each sentence well-written and each plot point fleshed out as soon as I write it. As such, I don't write when I feel like I can't do that, and I have to force myself to open the document and just start writing. It can be especially hard when I'm stressed. But, I always feel better having written, even when I know I need to revise.
I've been lucky to work with really good editors and publishers. Evelyn Duffy, who edits my novels and short story collections, has been a blessing. She's given me so much helpful advice as well as encouragement. She's also a hell of an editor: all of my work has improved with her edits.
Sirens Call Publications has an amazing team behind them. I frequently submit stories to The Sirens Call, a free online eZine; and they always take good care of my work. They were even kind enough to feature me last summer! I also had an amazing experience with Camden Park Press, which published Quoth the Raven. It was my first time being published by a third party, and I couldn't have asked for a better experience.
What books from female horror authors are you most excited to read this year? Which female horror authors do you feel more people should be reading?
EDEN ROYCE: I'm so behind on my reading. This year has been … interesting. I'm looking forward to reading The Deathless Divide by Justina Ireland, Mexican Gothic by Silvia Moreno-Garcia, and Out of Water by Sarah Read as well in indulging in rereads of Fledgling by Octavia Butler, White is for Witching by Helen Oyeyemi, All the Fabulous Beasts by Priya Sharma, and New Music for Old Rituals by Tracy Fahey.
GABY TRIANA: BONESET & FEATHERS, baby! Anything by you, Christa Carmen, Ania Ahlborn, Sonora Taylor, Catherine Cavendish's THE MALEN WITCH, Sara Tantlinger, Briana Morgan, Stephanie Wytovich, Alethea Kontis, Sarah Read, Kiersten White…there's so many!
LINDA D. ADDISON: Female horror authors with work out or coming out I follow: Sheree Renée Thomas, Kaaron Warren, Christina Sng, L. Marie Wood, Cindy O'Quinn, Stephanie M. Wytovich, Sara Tantlinger, Tananarive Due, Gwendolyn Kiste, V. Castro, Silvia Moreno Garcia, Cynthia Pelayo, Nicole Givens Kurtz, Sonora Taylor, B. Shares Moore, Claire C. Holland, Valjeanne Jeffers, Mercedes M. Yardley, EV Knight, Lisa Morton, Lee Murray, Tonya Liburd, Marge Simon, Sarah Read…
V. CASTRO: I have such a back log of books I don't even know where to begin! Between editing and writing new stuff with my family life, it has been a challenge. I'm excited for Laurel Hightower's new book, Crossroads.
I will always say read more women of color. Read more Black women in genre fiction. Black Lives Matter is not a fad or trend, it is a call for fundamental change. That begins with what we consume and purchasing power.
Women of color are still sorely underrepresented.
R.J. JOSEPH: I have SO MANY unread books in my Kindle app right now! I'm happy to have reached a point where I can set a book buying budget and just buy books. I can hardly wait to dig into Cirque Berserk, by Jessica Guess, Hairspray and Switchblades, by V. Castro, the first two Graveyard Smash Women of Horror anthologies, Worst Laid Plans: An Anthology of Vacation Horror, and Mexican Gothic by Silvia Moreno-Garcia. And I know there will be many, many others to come when I'm done with these.
Everybody should be reading everything Stephanie Wytovich and Cina Pelayo touch in any way. They should devour V. Castro's work. I really feel like everyone who writes should read or re-examine all of Toni Morrison's works. Chesya Burke is a phenomenal writer who I don't hear enough people talk about. And Kinitra Brooks writes extensively about Black women in horror, so she's a must read writer.
G.G. SILVERMAN: I'm excited to read Wonderland by Zoje Stage, and waiting with bated breath for Karen Russell's Sleep Donation, her first horror novel, I believe! I've also heard Silvia Moreno-Garcia's Mexican Gothic is exquisite. I also need to delve into Alma Katsu's work, which I've heard is gorgeous.
It's hard for me to single out one female horror author (read them ALL!), though if anyone hasn't read Mona Awad's Bunny, I recommend you drop everything and do it now. It's the ONE horror novel that so deftly weaves so many pop culture and literary influences, and is therefore mind-bogglingly fun. Comedic horror doesn't get as much attention in the literary world as it does in the film industry, and, as an author who has also written comedic horror, Mona Awad's Bunny was so "me."
SONORA TAYLOR: I'm so excited for the upcoming releases in Unnerving's Rewind or Die series. I just heard about All You Need is Love and a Strong Electric Current by Mackenzie Kiera, and I'm stoked. I loved Hairspray and Switchblades by V. Castro and Cirque Berserk by Jessica Guess; and I'm currently reading Food Fright by Nico Bell. The whole series deserves some kind of special award.
I'm also looking forward to Crossroads by Laurel Hightower. I see everyone talking about it and I'm so jealous because I preordered and have to wait!
I think more people should be reading horror by women of color. Women are making a name for themselves in the horror genre, but I still see a lot of conversations, promoted books, and talked-about horror reads dominated by white women. Extending horror readership and publication to women doesn't end with white women. Read Black women. Read Latina women. Read Asian women. There's a wide world of stories to be told, and the most exciting voices are the ones as far away from your own as possible.
And that's all for Part Two! Join us next week as our Fright Girl Summer roundtable continues!
Happy reading!