So 2019 is officially in the rearview mirror, which means now it's time for this annual post. As everyone always says, it tends to be a little weird to do an award eligibility blog, but at the same time, it's also nice to look back at the year that was, so here we go, once more unto the breach!
For me, last year was all about new short fiction and nonfiction as well as promoting The Rust Maidens. I didn't have any longer fiction projects released, although The Invention of Ghosts is right on the horizon, so that will be a big new project for 2020. As for 2019, I had nine new short stories make their way into the world along with five nonfiction articles. Here's a bit of an overview on each!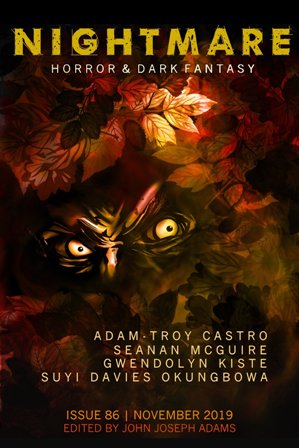 "The Eight People Who Murdered Me (Excerpt from Lucy Westenra's Diary)" (Nightmare, November 2019)
A retelling of Dracula through Lucy's perspective, this tale has got bloodlust, rage, and revenge, all while reclaiming the identity of a very unsung character of horror literature. Based on reader responses, this is one of my very best received short stories, with Curious Fictions calling it "a wonderful and subversive take on the classic story." Plus, it's free to read, so that's always nice.
"All the Ways to Hollow Out a Girl" (Horror for RAICES, December 2019)
An isolated teenage girl has an uncanny knack for resurrection, which makes her a target for a group of neighborhood boys. All proceeds from this wonderful anthology go to benefit RAICES.
"A New Mother's Guide for Raising an Abomination" (The New Flesh: A Literary Tribute to David Cronenberg, November 2019)
An eager mother gets more than she bargained for when her baby undergoes a monstrous transformation, joining a legion of other little girls who are more than what they seem. Part of the Cronenberg tribute anthology, this tale is a nod to The Brood as well as the overall body horror vibe of Cronenberg's work.
"When the Nightingale Devours the Stars" (Nox Pareidolia, October 2019)
Two women are trapped in a hellish small town, one of them cursed with a gift of strange magic that might just be able to save them both. This beautiful anthology is packed with so many incredible writers and has been quite well-received so far by readers.
"The Girls from the Horror Movie" (Come Join Us by the Fire, October 2019)
A pair of twins were the unlikely stars of a horror film when they were children. Years later, they still haven't escaped its cinematic thrall. Another personal favorite, this story is part of the flagship project for Tor's new Nightfire imprint.
"Over the Violets There that Lie" (Behold the Undead of Dracula: Lurid Tales of Cinematic Gothic Horror, August 2019)
It's the turbulent 1960s, and a troubled housewife finds herself cast in a gruesome anthology film dedicated to the work of Edgar Allan Poe. 2019 was definitely a year for me and film-centric tales, a theme I most certainly hope to continue building on in the future.
"A Lost Student's Handbook for Surviving the Abyss"(Welcome to Miskatonic University, July 2019)
A college student confronts cosmic horror, displacement, and identity issues all while coping with her first semester at the famed university. This is such a fun anthology, and I love that I got to do my own spin on the Lovecraftian mythos with this tale. Another fantastic table of contents, Broken Eye Books always puts out such great anthologies.
"The Woman Out of the Attic" (Haunted House Short Stories, March 2019)
A re-imagining of the Madwoman in the Attic trope. A lonely ghost haunts the grand estate where she once lived with her brooding husband. When he brings home a new wife, the ghost starts to realize that perhaps her fate isn't as hopeless and inevitable as she thought. This one was recently reprinted at Pseudopod and is available on the podcast for free here.
"Tips for How to Deal with Your Daughter When She's Become a Monster" (Gorgon: Stories of Emergence, February 2019)
A horrifying discovery forces a mother to come to terms with her teenage daughter's monstrous nature. True to its title, this anthology features reimaginings of the Medusa and gorgon legends, and it's a truly fantastic table of contents with a gorgeous Daniele Serra cover.
As for my nonfiction, I had an essay featured at Kendall Reviews about holiday ghost stories, a guest post on body horror over at the lovely Ladies of Horror Fiction site, and a folk horror article and a retrospective on the 60th anniversary on Psycho in Unnerving. My most scholarly article appeared in the excellent Vastarien back in February; "Magic, Madness, and Women Who Creep: The Power of Individuality in the Work of Charlotte Perkins Gilman" examines Gilman's legacy through her exploration of witchcraft, psychology, and feminism.
If you're recommending for awards, I would be absolutely thrilled to provide copies of any of the works above; just feel free to drop me a line!
Last year also saw me officially earn the title of "award-winning writer," which means provided I don't worry myself into an early grave, I'll one day be that old person with a bony fist, shaking it at the sky and croaking out things like "Back in my day, I won awards, and I've got the cool swag on my wall to prove it!" Although I suppose I'm a little like that old person now, so maybe none of us has to wait for that reality.
In all seriousness, it was a really wonderful and fortunate year professionally for me, and I have nothing but gratitude for that. Once again, thank you to all the fans of The Rust Maidens; your support is what carried it to the Stoker and the This is Horror award, and that's still astounding to me. So thank you thank you thank you.
So that was my year. It was a very good one professionally, which leaves me hopeful that 2020 might not turn out too shabby either.
Until next time, happy New Year, and happy reading!