Welcome back! This week, I'm happy to spotlight author and editor Eric J. Guignard. Eric is the Bram Stoker Award-winning author of That Which Grows Wild and Doorways to the Deadeye.
Recently, Eric and I discussed his inspiration as a writer as well as how his work as an editor at his publishing house Dark Moon Books has affected his work as a writer.
A couple icebreakers to start: when did you first decide to become a writer, and who are some of your favorite authors?
First, of course, thanks so much for this interview, Gwendolyn!
Now for your questions: I've been writing fiction with the goal of publication since February, 2011. However, I've been writing and drawing stories ever since I was a child. I'd just done it previously for my own interest, or for friends. I stopped in college, in order to pursue business and serious-minded life necessities… which, of course, I now regret. I don't regret the pursuit of those things, but rather having given up writing for so many years. I only jumped into as a potential career-type desire after the realization struck me that I was missing out on something I was passionate about!
Some authors I currently adore and consider influences and inspirations include Joe R. Lansdale, Cormac McCarthy, George Orwell, Stephen Graham Jones, Jeffrey Ford, Lisa Morton, Kaaron Warren, Dennis Lehane, Seanan McGuire, Lauren Beukes, Jack Kerouac, Mark Bowden, O. Henry, James Ellroy, Neil Gaiman, Steve Rasnic Tem, Helen Marshall, John Steinbeck, Weston Ochse, and many, many others.
Your debut novel, Doorways to the Deadeye, was released last year through JournalStone. What can you share about the process of writing your first novel, and what has the release been like so far?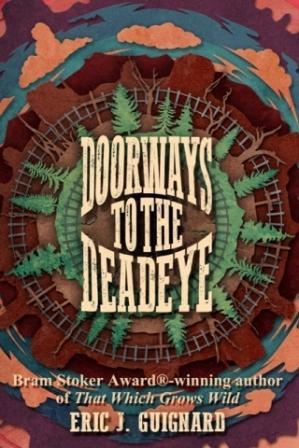 Since Doorways to the Deadeye was my first full-length novel, the process went pretty much all over the place, and it became a melting pot of worlds and styles.
I wrote this book for "me" (rather than for a particular market, which ultimately wasn't the best decision!), examining insights and feelings, and also experimenting with structure, and digging into new themes as well as ones I often include in my other writings: Death and how we handle it; the fluidity of memories; explorations of uncharted territory; loss of loved ones; unexpected ways to emerge victorious from dark situations… There's elements of Dark Fiction; Speculative Fiction; Magic Realism; Thriller; Light Horror; Urban Fantasy, etc.
Since this book is about legend-building and memories, and the search for perseverance after death, it's also meant to go "all over the place," as the voices change, and the stories within the greater story; it's all meant to evolve as the book progresses, just like in life that as we tell stories they change, and so do the memories of those involved. Then I framed all this in the travels of a 1930s-era train-hopping hobo, and the homeless narrator who is trying to keep the stories literally "alive".
I know that can sound pretty flighty, so here the P.R. synopsis: A Depression-era hobo rides the rails and learns the underlying Hobo Code is a mystical language that leads into the world of memories, where whoever is remembered strongest—whether by trickery, violence, or daring—can change history and alter the lives of the living.
As far as results of the release, I feel it's gone well. One can always wish for greater acclaim of course (it's never enough!!), but I'm happy with sales and reviews so far. This type of book is definitely not for everyone, and I know that … I've had a few people tell me they can't understand it after the first couple of chapters and give up. But most readers and reviewers have given it solid, heart-warming praise, and some have even told me it's changed the way they read and write stories.
If I may be so bold as to drop a few lines of reviews here, they include the following:
"…Guignard captures the depth of emotion underlying fictional terrors."—Library Journal
"This novel is a stunner… shocking to see how powerful the author's lines were, how well-drawn the characters had become." —Cemetery Dance Magazine
"Rich, strange, and wonderful." —Michael Marshall Smith, NY Times bestselling author
And I literally just got a new wonderful review five minutes ago from The Horror Fiction Review, which made my day, as well as an inclusion on the 2019 Bram Stoker Awards® Preliminary Ballot this morning!
Congratulations on your Stoker win last year for That Which Grows Wild! How did that collection of short fiction develop?
That book is a collection (my first!) of previously published works, the stories having first appeared in various anthologies, magazines, etc. Each story in itself had its own inspiration or aim, so the collection is more about which stories would work well together in a grouping. I worked with editor Norman Prentiss at Cemetery Dance to select ones that presented a wide range of material, but at the same time weren't too far "out of the box". Originally I had some other choices that were more "weird" or satire or dark, and Norm suggested switching out those to ones a bit more in the same mood, so voilà, the finished product, which I'm happy with!
How does your approach to short versus long fiction differ? Do you prefer one length over the other?
My favorite thing to write (and to read) has always been fiction short stories, rather than novels, so that's usually been my focus. But I am proud to have now gotten my first novel under my belt (Doorways to the Deadeye), as there seems to be this lack of gravitas for anyone who claims they're a writer but hasn't put out the "full-length" book!
And interestingly, over the nine years I've been writing short stories, I do find them getting longer and longer on average (in word count), so perhaps it's a natural progression that will lead into more novels.
I probably should have a more formal approach to writing as well, but I still mostly just write what I feel like, when I feel like it, and I also write more in terms of being a "Pantser," i.e. writing as I go, although if the story becomes complicated or I get burned out, or stuck, then I turn to plotting or outlining to figure the proper direction.
You're also an award-winning editor. What inspired you to become an editor, and how has editing informed your fiction writing and vice versa?
I started editing because I wanted to improve as a writer, and it's helped immensely. I recommend it to anyone wishing to improve their writing. By reading submission slush I saw what everyone else was writing about, the same tropes and styles, and immediately knew to write something going the other direction. By an aggregate of stories, I would find flaws in writing that I would then recognize in myself. And I learned it's true that you can accurately judge a story based on the opening paragraph, and in most cases the opening sentence. From editing, I gained experience in story development, author communications, layout, promotions and so on. I now look at projects from the multiple eyes of "Editor," "Marketer," "Distributor," "Publisher," and it's made me a better person.
I find editing is easier for me than writing, although writing brings more satisfaction. Writing is emotionally exhausting, whereas editing I can do all day long. And I'm always thrilled with the chance to connect and work with other writers while editing. But I love so much to type "The End" at the end of a writing piece—it's a wonderful, fulfilling sense. Both are different journeys to a creative destination.
As an aside, my day job is working as a Technical Writer, which can get dull at times, but it's also definitely improved my fiction writing, by articulating stories in concise language, with focus on impact, brevity, and an understanding of audiences.
If forced to choose, which part of the writing process is your favorite: brainstorming an idea, writing a first draft, or polishing an almost-finished piece?
"Polishing an almost-finished piece" is the easiest for me, fine-tuning the details (probably more aligning with my day-job work of Technical Writing). Brainstorming ideas is my favorite, because it involves a lot of daydreaming and idea sketches and just letting my mind wander, although 99% of those ideas don't go anywhere, and sometimes it turns into this very stressful realization of wasting time! A slightly different response is that the most satisfying part of the writing process would be to get down the first draft; this is absolutely the hardest part for me, so when completed, I feel a natural exhilaration for the rest of the day. (And then the next day, it's back to something else, haha!)
What projects are you currently working on?
Through my press, Dark Moon Books, I'm continuing to publish a series of author primers created to champion modern masters of the dark and macabre, titled: Exploring Dark Short Fiction (Vol. 1: Steve Rasnic Tem; Vol. II: Kaaron Warren; Vol. III: Nisi Shawl; Vol. IV: Jeffrey Ford; Vol. V: Han Song; Vol. VI: Ramsey Campbell).
And through SourceBooks I'm curating a new series of books titled, The Horror Writers Association Presents: Haunted Library of Horror Classics with co-editor Leslie S. Klinger (to begin publishing 2020).
I'm also still writing short stories, and I've started THREE new novels, although I'm not very far into any of them! One is a pulp science fiction, one a paranormal detective series, and one a literary historical horror.
I also have hopes to launch a new anthology series in the future, if I can ever get my publishing finances out of the red!
Tremendous thanks to Eric J. Guignard for being part of this week's author interview series. Find him online at his author site and Dark Moon Books as well as on Twitter, Goodreads, and Instagram!
Happy reading!