Welcome back! Today I'm thrilled to spotlight author Ashley Dioses. Her brand-new poetry collection, The Withering, is due out soon from Jackanapes Press.
Recently, Ashley and I discussed her inspiration as an author, her awesome new book, and what she's got planned next!
A couple icebreakers to start: when did you decide to become a writer, and who are some of your favorite authors?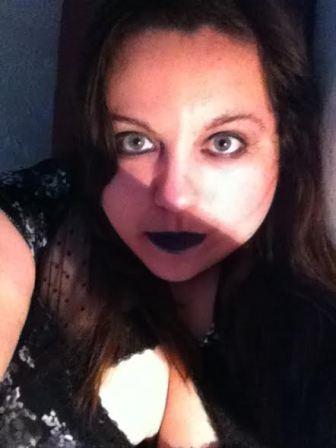 It seems I always wanted to be a writer. I don't exactly know what triggered the exact moment, but I was writing short stories since elementary school. My dad was a writer and that's probably where I got it from. I grew up reading J. R. R. Tolkein, Brian Jacques, and then later Stephen King, Dean Koontz, and Edgar Allan Poe so those authors will always be some of my favorites. Later on I read Clark Ashton Smith and fell in love with his writing. Favorite contemporary writers include Nicole Cushing, Damien Angelica Walters, Christine Morgan, S. L. Edwards, and many others.
Congratulations on the forthcoming release of your poetry collection, The Withering. What can you share about the book?
Thank you! It is a collection of horror poetry from my teenage years. I wrote a lot of dark stuff during that time and that's really when I started focusing poetry over other kinds of writing. It has 55 poems broken up into 4 sections. The themes for each section are nature horror, supernatural horror, psychological horror, and body or gore horror. There are ten full-page artworks by Mutartis Boswell, who also did the front and back covers. There's also an introduction by John Shirley. I also include an afterword, a few notes on various poems, and a chronological list of the poems.
You write both poetry and fiction. How is your approach the same or different for each medium?
For poetry, all I need is an image or a line for me to take off and write a full poem. For fiction, I really need to be organized and have a plan. I need beginning, middle, and ending ideas before I can even start writing a story.
What draws you to horror? Do you remember the first horror film you saw or horror story you read?
My dad was a big fantasy and horror fan. When I was young he started me off by reading me fantasy stories which led me to reading them on my own. It didn't take long though before he started getting me to read and watch horror. Probably one of the first horror films I saw was probably The Nightmare Before Christmas followed shortly by The Rocky Horror Picture Show. I also remember watching The Crow late at night in my room when I was supposed to be asleep. One of the first horror books I read, that I remember, is The Witch of Blackbird Pond by Elizabeth George Speare. I was also fascinated with witches at the same time (not that that has changed) so I got my hands on every book about witches I possibly could.
How if at all has living through 2020 shaped your writing?
It really hasn't changed much except for the fact that I've written less this year than previous years. I've been focused on reading more to get fresh ideas.
If forced to choose, which is your favorite part of the writing process: creating characters, establishing mood, or developing setting?
When it comes to fiction, I love creating characters. My favorite part is to create a believable person and give them ambitions and conflicts and personal demons they have to live with or get through. For poetry, it's definitely establishing a mood. The atmosphere has to be perfect.
What projects are you currently working on?
I'm currently working on a collection of Gothic and Decadent poetry called Diary of Vampyress. The 'diary' belongs to the vampyress, Countess Nadia. The book opens up with a sonnet cycle based around her and her character. It currently has over 60 poems and is divided up into sections by subjects. After the sonnet cycle, the sections are Vampires and Devils, Witches and Werewolves, Daemons and Death, Other Dead, Halloween, Femme Fatales, The Seven Seals sonnet cycle, and Translations.
Where can we find you online?
You can find me on various social media like Facebook, Twitter, Instagram, and Tumblr, but to really stay up-to-date with what I'm working on you'll want to check out fiendlover.blogspot.com.
Tremendous thanks to Ashley Dioses for being this week's featured author!
Happy reading!