Welcome back! Today, I'm thrilled to feature author Mackenzie Kiera. With Lisa Quigley, she's the host and creator of the award winning Ladies of the Fright podcast. Mackenzie's new book, All You Need is Love and a Strong Electric Current, is out now with Unnerving.
Recently, Mackenzie and I discussed her inspiration as an author as well as her favorite parts of the writing process and what she's got planned next.
A couple icebreakers to start: when did you decide to become a writer, and who are some of your favorite authors?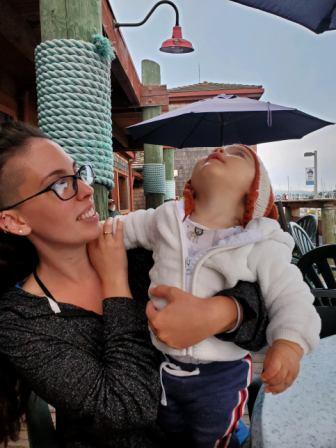 I don't remember not wanting to be a writer. Although, it was very important that I wasn't only going to be a writer. See, I was afraid of people telling me: "you will never make any money as a writer" so I always paired 'writer' with 'paleontologist' or 'archeologist' or whatever science I was reading about. I was never concerned with if being a writer would make me money. My dad worked in advertising as a writer, so I knew it was possible. Just, no one else seemed to think so. Some of my favorite authors? Oh, man. Right now it's got to be Silvia Moreno-Garcia, Alma Katsu, Grady Hendrix, Stephen Graham Jones, Rebecca Roanhorse, John Scalzi are my new shiny favorites—amazing people, all of them. A couple of books that I think will always sit on my shelf are the GOT series, Catch-22, Swan Song, Nos4A2, The Red Tent, Dante's Inferno, and the Sookie Stackhouse series.
Congratulations on the release of your debut, All You Need is Love and a Strong Electric Current! What was the inspiration for this story, and how long did it take you to develop it?
Thank you. This happened in a couple of short bursts. I wrote the short story version on a dare in a sitting or two. I made it to the final round of a couple anthologies, but ultimately it was turned down because it was too graphic. I drawered it for a few years until Lisa turned me on to the possibility of sending a pitch to Eddie Generous over at Unnerving Press for the Rewind or Die series. At the time, my son was about five months old and I worked full time from home. I couldn't imagine taking much else on, so I pitched CURRENT to Eddie, fully expecting for it to get turned down, and then I could at least say I tried, right? When he got back to me, he seemed pretty jazzed on the idea, which means I had to write the novella. I think it took me a couple of months? I drew heavily from some choice slashers Stephen Graham Jones told me to watch as slasher homework, and then, while I wrote, I was listening to the soundtrack to Hedwig and the Angry Inch.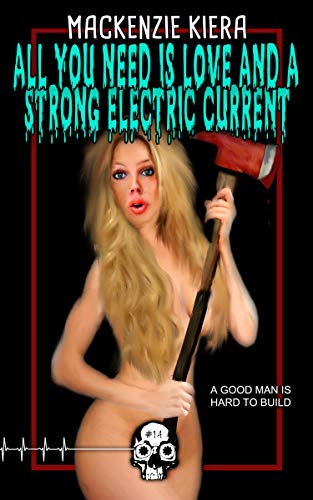 What in particular draws you to horror fiction?
The truth. I think horror tells the truth in ways other genres can't. For instance, after the traumatic birth of my son, I had debilitating anxiety and felt like unless I stayed in my son's nursery that something large and toothy was waiting to eat him around every corner. I didn't want company. Horror pulled me up. Horror had how I felt, but on the page. I read Laura Purcell's The Silent Companions and felt like I could breathe again. After a healthy dose of slashers, I felt a lot better. To me, horror is brain medicine. It lets me know that I'm not crazy, that monsters are real. But, horror also holds the secret that even though there are monsters in the world, they don't always win.
You've written short fiction, and now with your new novella, you've also tackled longer fiction. How is your approach different or the same depending on the length of the work?
I actually truly hate writing short stories. I enjoy writing non-fiction or craft directed essays, but I struggle with the short fiction format. I've written novels (unpublished and probably for the better) so the novella form actually felt like a perfect length.
In addition to your fiction writing, you're also co-host of Ladies of the Fright! How if at all has podcasting changed your approach to storytelling?
Oh, that's a really good question. Considering I've been writing the whole time, I don't think it has changed much. Our interviewing may change a bit, now that we can interview authors as authors ourselves, but considering the idea is to spotlight our guests, I can't imagine much changing.
If forced to choose, which of the following is your favorite part of the writing process: developing a character's voice, establishing mood and setting, or mapping out plot points?
Ha! Oh, the voice and plot points. I enjoy hearing how my characters speak and fine-tuning their quirks and favorite phrases. Plot points are fun too because I tend to map those out with a glass of wine late at night in one of those cheap drugstore composition notebooks.
What projects are you currently working on?
I am working on a new novella titled: The Attic Man and Madeline. It's a possession story with a trope flip. Lots of demon sex, some intense black magic, and one crazy bitch. It's been a fun time writing it, is what I'm saying. We also have some really great plans with the podcast, but that's a secret!
Where can we find you online?
Best place to find me is on Twitter. I'm Kiera1Mackenzie. My website is MackenzieKiera.contently.com (although I'm not sure it's 100% up to date) and then the podcast is Ladiesofthefright.com, and LOTFPod. Be sure to check out our blog as well! We have some new stuff happening in those corners.
Thank you! This was so much fun.
Huge thanks to Mackenzie Kiera for being part of this week's author interview series!
Happy reading!