Welcome back! Today I am super excited to feature author and reviewer Charles Payseur. If you've been paying attention at all over the last year, you've come across Charles and his work. In the span of mere months, he has firmly established himself as an up-and-coming voice in speculative fiction with stories in Lightspeed, Nightmare, and Unlikely Story, among other venues, while he's been working simultaneously (and tirelessly) at his site, Quick Sip Reviews, to survey more speculative short fiction than pretty much anyone else in the industry.
Recently, while he was between reviews, writing, and convention appearances, Charles and I discussed his inspiration for Quick Sip Reviews as well as how he balances his own writing career with the demands of being short fiction's premier reviewer.
A couple icebreakers to start: when did you first decide to become a writer, and who are some of your favorite authors?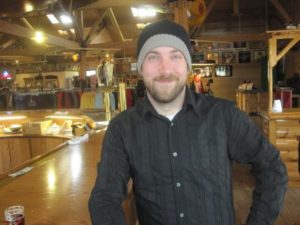 Oh plops, I think I actively started wanting to be a writer in sixth grade. There was a visiting writer to my middle school and I was a bit enchanted by the idea of it, by writing stories. I had done things with stories before then, but that's when I guess I wanted to "be a writer." And it didn't really let up. I wrote poetry since then (really, really bad poetry), and then in high school found short fiction and it's been going ever since. As for favorite authors…I think Guy Gavriel Kay was an early favorite/influence who I still very much enjoy. I've loved basically everything I've read of Alaya Dawn Johnson's and glob I love Emily Carroll's graphic stories and there's so many short fiction writers who are doing amazing, amazing work (yourself included) that I don't think I could list them all.
You are the founder of the consistently awesome Quick Sip Reviews. What inspired you to create a review site, and what has been the most surprising or challenging part so far?
So I started QSR pretty much because of my experience at Tangent and because of The Monthly Round, which I run through Nerds of a Feather. Not that I dislike Tangent, really, but it became impossible to divorce myself from the harm that Tangent did without, well, divorcing myself from the site. I still like what I did there, and still think it can be a home for excellent reviews. But I guess I wanted a place that I could own and where I could talk about stories without having to worry about editorial oversight and where I could look at poetry as well and nonfiction and everything. I will say that I learned a lot at Tangent and I wouldn't be the reviewer I am without that experience, but I'm very glad I started QSR. Plus I was trying to read a lot so I could make informed decisions for The Monthly Round and felt rather bad that I wasn't reviewing everything that I read (because The Round only highlights 9 stories a month). As for what has been the most surprising or challenging…probably just finding the time to read everything. I read fast but I also have to read a lot and finding the time can be hard. Early morning and lunch breaks and, well, a lot of my time is reading and reacting to short SFF.
In addition to how insightful and fun your reviews are, what also impresses me about Quick Sip Reviews is how much you engage with the material. I myself can be a skeptical reader, and your reviews have helped me to open up a bit more and really go back to stories and reexamine them. Have you always been such an open and non-skeptical reader?
I…think so? I think part of my reviewing philosophy is that I want to be the kind of reviewer I would want reviewing my writing. And again, part of my frustration with Tangent and some reviews I have received was that they didn't engage. There was a sentence about genre and a sentence about it being good or not good and that was it. And I wondered at what good those reviews were doing. So when I write a review I guess I'm trying to react genuinely and then examine that reaction. So in some ways my reviews are at least as much about me as about the story. I try to use a lot of "I think" and "to me" language because I don't feel comfortable pretending that reviewing is some sort of objective weighing of merit. That way even if no one else takes anything from my review I still do. I'm still examining me and thinking about what I read and finding why I like something or why I'm uncomfortable or why I had trouble with some aspect. And readers hopefully can take something from that, can gauge how they might respond or like a piece, and writers hopefully can take something from that, from seeing how a reader has connected with their work. It's always been how I like to talk about books, in part because I always felt elbowed out of conversations that focused on plot and genre. I was (and still am) accused of "over-analyzing" things when I read or watch or play something, but I feel that without approaching a work openly I have no place reviewing it. It's not helping me and it's probably not helping anyone else looking either to really make up their mind on what to spend their time reading or trying to crystallize their own thoughts on what they have read. Not that I think other people are wrong in choosing how they want to review or what works for them, but for me, personally, I want to strive to be open when approaching what I review.
You have such a wonderfully eclectic career. Not only are you a prolific reviewer, you're also a prolific fiction author, with stories ranging from fantasy and science fiction to horror and erotica. How do you balance such diverse interests? Likewise, do you have any tips to maximize the writing hours in a day?  
Well I'm not sure I'd call my fiction writing prolific, though recently I've had some better luck in placing what I write. I really suck at what people call "branding," though, perhaps because I'm still relatively new to publishing. I do tend to range all over, as long as it's speculative. I'd wish to say that it's all out of passion but some of it is just trying to find what will work. It's easy to get frustrated when rejections start piling up and I think part of why I bounce around is because I have no idea what publishers want. I like writing basically everything SFF (which is probably why I love to read everything SFF), so I feel a bit rudderless at times. That said, erotica sells. Not as much per story as non-erotic SFF, but it's therapeutic in many ways because it's just really fun to write (for me, because where else can I get paid to write Thor/Loki erotica?) and because it feels really good to get acceptances. And there's constantly calls for erotic short SFF, so when I'm feeling wrecked as a SFF writer I do have a tendency to retreat to erotica to recover. I assume this is why some writers still do fanfiction or similar things, too, because the reality of trying to make a splash in short SFF can be utterly crushing. As for maximize writing hours? I typically need large chunks of time to write fiction, so most of my days are spent sneaking in reading and reviewing time. Reviewing tends to keep my skills sharp (nonfiction writing is still writing, after all) so that when I can get some hours to stitch together for fiction I'm not completely cold. So I write reviews over lunch breaks and early in the morning so that I can have more time on the weekends to fiction. That said, I probably am lucky to get 10-15K words of fiction done a month.
Is there a particular part of the writing process that is your favorite?
The beer and cheese floofs! :p
I actually don't know what I would call my favorite part. Probably when it's working, when I'm firing at all cylinders, when the words feel powerful as I type them. Before I have to see them again, before editing, before rejections, before any of that. It feels gone a lot of the time since I've started writing to sell, but occasionally I still feel that spark that first drew me to writing, that rush from creating that makes me smile, that makes me feel like I know what I'm doing. Also the first five seconds after an acceptance, when I'm super happy and excited and before the fear sets in that I've made a huge mistake and everyone will hate my story.
What upcoming projects of yours should we be looking for?
There's been a lot of good news for me recently, so for now at least there's a bunch to look forward to. Perhaps the most exciting is that I have stories coming out in the first Book Smugglers Quarterly Almanac (with cover art based on my story!) and in the upcoming Journal of Unlikely Observances from Unlikely Story. I also have a cute urban fantasy M/M romance novelette coming out at Dreamspinner in June and plenty of smut coming out at Torquere Press and even an M/M/M erotic fairy tale that will be in Fairytales Slashed vol. 8 from Less Than Three Press later this year. And I'll be at WisCon at the end of [May] doing my first ever convention panels (so excited and terrified!). So it's a bit busy, but in the best of ways.
Any links you'd like to share?
Nerds of a Feather, Flock Together
The Postcard Chronicles (a fun project with fellow Wisconsin writer Jes Rausch)
Dreamspinner Author Page (actually compiles Facebook, Goodreads, Twitter, and more)
Big thanks to Charles Payseur for being part of this week's author interview! Be sure to check in regularly with his latest reviews and publishing news at Quick Sip Reviews!
Happy reading!