Welcome back for this week's author interview! Today, I'm thrilled to spotlight the amazing Craig Laurance Gidney! I had the pleasure of meeting Craig in Atlanta at The Outer Dark Symposium, and we even got to hear him read from his forthcoming novel, A Spectral Hue. Suffice it to say, it's going to be one of the best books of the year without a doubt!
Recently, Craig and I discussed his journey as an author as well as what we can expect from his new novel!
A couple icebreakers to start: when did you first decide to become a writer, and who are some of your favorite authors?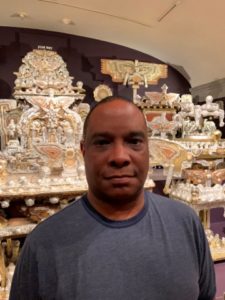 I knew that I wanted to be a writer when I was in second grade. At the point at which I could spell and make quasi-legible words, I started writing stories and making stapled chapter books. The books were accompanied by my illustrations. I can remember their titles: The Story of Dum Dum was about a hobo dog, and A Bird of Stars was a book of religious poetry. As I read more widely, my writing started to mimic whatever book I was reading. Around 10 or so I read Southern Gothic short stories—Flannery O'Connor and Eudora Welty. I think O'Connor's love of the grotesque and her blatant use of symbolism was a formative influence. Patricia A McKillip and Tanith Lee's work taught me what I could do with language and atmosphere. Octavia E Butler taught me the importance of theme, and that it was imperative that I center black and brown people protagonists, and Samuel R Delany showed me the importance of the queer (and black) point of view.
Congratulations on the forthcoming release of your novel, A Spectral Hue. What can you share about this book? What was your inspiration, and what was the process like in writing A Spectral Hue?
The seed of A Spectral Hue was planted during a college course I took on the Surrealist movement. One of the guest lecturers was a specialist in Outsider Art. I believe he spoke about Henry Darger, the reclusive Chicago janitor who secretly wrote and illustrated an epic science-fantasy novel about child slaves, aliens and the heroic Vivian Girls. I saw slides of his works among other lesser known artists and was blown away by their otherworldly depth. During the summer, when I was staying at my parents' house, my father, who was a dentist, told me about a patient of his that would give him handmade books of her poetry. He brought one of the books home, and I got the same otherworldly feeling. My dad's patient was an older African American woman, who, like Darger, had created an elaborate world that centered around a mythic figure, known as the Chocolate Soldier. She wrote cryptic poems about his adventures, and, like Darger, illustrated the work with unearthly collages.
The novel went through a few drafts before I found the right way to tell the tale. At one point, it was a YA novel! I have scores of false starts on my hard drive. The ultimate form was a result of workshopping the book in 2015.
How, if at all, is your approach different when writing short fiction versus longer fiction? Do you outline ahead of time, or is your process more free-form?
It depends on the project.
My novella Bereft was outlined, but not excessively so. I think because it was a young adult and realistic book, I was more controlled than I was with my other stuff.
Most of my short fiction isn't planned, per se. I'll have an idea and a character and basic plot and go from there.
I think, though, for the most part, I am a chaotic pantser—which makes novel writing a messy experience. You know how in cooking shows, the host has everything lined up in neat little ramekins? I'm not like that At. All. I'm the flour-stained, gravy-spattered chef.
Your chapbook, The Nectar of Nightmares, was released through Dim Shores in 2015, and was also re-released last year as a standalone ebook. How did this particular book develop?
The novelette itself was one of those spur of the moment things that just jump out from your brain and onto the page. The first part was inspired by the ballet-horror movie Black Swan. The second part sprang from the fact that I was working part-time for a Native American lobbying group. The overall theme, about a sleep demon, had been kicking around in my head for a while. I wrote the story and it just sat on my hard drive, without a particular market in mind.
Then I went to World Horror Con in 2015 and met Scott Nicolay (of the Outer Dark podcast). He was the one who told me about Dim Shores and got me in contact with Sam Cowan. Orion Zangara, the illustrator, had sent me a nice note about my fiction maybe a year earlier. I loved his artwork, and Sam let me choose him for the project.
You've been a professional writer for a number of years at this point. How do you feel your approach or perspective on the craft or industry of writing has changed over the last few years? How has it stayed the same?
A few things have happened. There is a renaissance of speculative fiction from marginalized voices, so that there isn't just one Black or Asian or queer writer—-there's lots of them. And people, all people, seem to be hungry for different voices, and different stories. We most certainly have a far ways to go, but it's nice to know that there isn't a competition for a tokenized place at the table. Now, we are the table.
I know that Social Media can be terrible. But the bulk of my commissions come from Social Media. That's really changed — and the fact that you don't have to send hard copies in the mail! I remember making a trek to the post office, sending SASEs and waiting (sometimes for two years) to hear back from markets.
Out of your published stories, do you have a personal favorite?
My black queer coming out fairy-tale "Circus Boy Without a Safety Net" seems to bring such joy to people. I view it as "the little story that could."
What projects are you currently working on?
In addition to a couple of short commissions (including a nonfiction essay), I am working on a new novel that explores themes of vampirism, colonialism, gentrification and hoodoo (black folk magic). It's in the conceptual stage at the moment.
Where can we find you online?
I have a site/blog at: craiglaurancegidney.com, and my Twitter (very infrequent) and Instagram are both @ethereallad
Link: to Orion Zangara: http://orionzangara.com
Huge thanks to Craig Laurance Gidney for being part of this week's author interview series!
Happy reading!