For this week's author interview, I'm pleased to introduce Swedish speculative fiction author Rayne Kaa Hedberg. Though just beginning, Rayne's career is off to an auspicious start with a horror story in Sanitarium Magazine, one of my personal favorite publications out there. Below, Rayne and I talk secrets of the writing process and what's in store for this up-and-comer.
A few icebreakers to start: when did you first decide to become a writer, and who are some of your favorite authors?
 That's a tough one. I'm not sure exactly when I decided upon having it as a goal, but I know I have always wanted to write in some shape or form. Already as a small child I composed stories, though up until seventh grade I primarily used it for creating stories I would use in my manga. Somewhere around that time there was a break and I became more inclined to writing only. I left the drawings and began to paint with words to compensate for the lack of visual images. Some of my favourite authors naturally include Stephen King, but also Joe Hill, Clive Barker and Neil Gaiman. They all have a way of showing instead of telling, and I enjoy reading their work.
Your short story, "Donor," appeared last year in Sanitarium Magazine. Can you share a little bit about your process when writing that piece?
Right, so initially I wanted to submit another piece I had written, but as I didn't become satisfied with it, I had to start over with a completely different idea. I wanted to have a story about a medical error where you left a great deal unsaid. I did my research, as it's always a big part of the process, and found out some horrifying things about rules regarding organ donors. "Donor" was originally meant to be my finishing project for writing class. I decided it was worth a try to send it in to Sanitarium Magazine as I had been following their process since the very first issue. I thought I could try my luck since the story was the right genre. Later on I could tell my teacher my story got published, which was a pleasant surprise.
Is horror your favorite genre to write, or are you looking to expand into other genres as well?
I don't think I have a favourite genre to write in. When I write it doesn't start in that end. I don't think about writing a horror story and move on from there. A spark of an idea lights up and as I begin to explore it then I see what type of genre it fits into. I do often write about some type of supernatural element present, however. Often I see how I do end up in horror, but I enjoy working in the various genres as long as it's an interesting idea. I don't want to get niched on the one genre. I simply wish to tell the stories.
What monsters or general tropes do you feel are most overused in horror?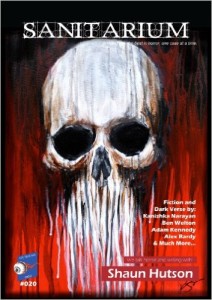 I would say the hype on zombies is rather big at this time. I don't necessarily mind that since many of the writers manage to pull it off well, but at times I lose interest when there's no element of surprise left. With that said, I am an avid fan of "The Walking Dead", for example, but when it's the same old thing with the virus, the survival, the struggle without a twist to it, the stories tend to get predicable. One of my pet peeves in horror has to be the vampire struggling with not wanting to be a vampire and refusing to drink human blood. Vampires now aren't what they used to be. Although I'm glad they don't all look like Count Dracula, I wish it wouldn't be romanticised the way it often is now, in different aspects of the word. Their horrifying factor has been diminished over the years.
What projects are you currently working on?
I am working on a surrealistic novella written in Swedish, for once. After that is finished, I have to go through the pile of unfinished novels and try to see some of them through, but I try to stay focused by taking it one at a time.
Big thanks to Rayne Kaa Hedberg for being part of this week's author spotlight. Be on the lookout for new fiction from this budding author!
Happy reading!