So in just a couple days, I'll be heading to Grand Rapids, Michigan for StokerCon 2019! Here are the places I'll be haunting this week!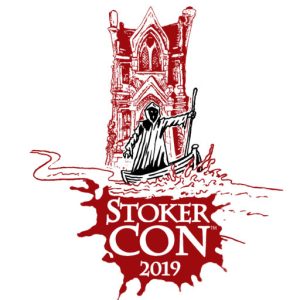 Body Modification: It's More than Just Earrings and Tongue Studs on Friday, May 10th at 1pm
This very cool panel will be moderated by Edward Rosick, and feature both me and author Donna Lynch as panelists. I look forward to the wide array of topics that we'll cover, including all the wonderful creepiness of body horror, a major favorite horror subgenre of mine.
Librarians Day: Small Publishers, Big Voices on Friday, May 10th at 3:30pm
I'm thrilled to be part of the Librarians Day events, and equally excited to be representing JournalStone along with owner Christopher Payne. This Librarians Day series through StokerCon is so incredible, and let's face it: as writers and readers, we can't do enough to thank all the fabulous librarians out there. So I'm most certainly looking forward to being part of this one.
Fairy Tales: A Child's Introduction to Horror on Saturday, May 11th at 10am
There's nothing quite as lovely and terrifying as a fairy tale, and I'll get to talk all about them along with moderator Carina Bissett and panelists April Grey and Donna Wagenblast Munro. This is of course one of my very favorite topics, so I can't wait for all the great fairy tales we'll discuss!
Reading Block 22 on Saturday, May 11th at 3pm
I'll be sharing this spot with authors Valerie Williams and Michael Cieslak, and as usual, I'm super excited to be reading. It's always such an honor to have people listen to your work being read live. So definitely head on over to our reading block to hang out and hear us tell you tales!
Those are all my panels and my reading block, but you'll also be able to catch me at the Mass Autograph Session and Ice Cream Social on Friday evening at 5pm. Because, I mean, come on! Ice cream!
I'll also be at the Bram Stoker Awards on Saturday night. All dressed up and fancy free! Spoiler: I've decided that I will probably break out the Disco Goth dress for the evening, since it only got a couple-hour appearance at Readercon last summer, and it's one of my favorite pieces in my entire wardrobe. Sequins and darkness, here I come!
So needless to say, it's going to be a fabulous weekend in Grand Rapids, and I can't wait to meet you all there! Definitely say hello if you see me around. I'm looking so forward to hanging out with everyone! Hooray!
Happy reading, and happy StokerCon!