Welcome back, and happy Friday! Hopefully, you've got some fabulous plans heading into the weekend! Here in Gwendolyn-Land, I've sadly been marooned at home with strep throat all week, meaning that the last five days are a blur of doctor offices, giant pink pills, and the proverbial water drinking and rest. A majorly boring way to spend a week, but hey, we authors must soldier on, right? Especially when we've got books to talk about!
So it's now been a month since the release of And Her Smile Will Untether the Universe. Happy one-month birthday, my book! And as promised in my post last week, let's dig into the stories that are original to the collection! We'll start small… as in the shortest of the brand-new tales: "By Now, I'll Probably Be Gone." Without divulging too much (it's only 900 words, after all), this is a dark—and darkly humorous—breakup tale that features one of the most whimsically wicked characters I've ever created. How's that for a teaser?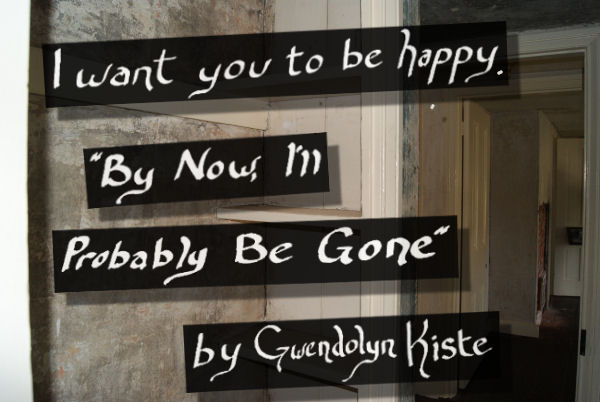 I'm sure I've said it before, but I will say it again: I love flash fiction. The table of contents for And Her Smile Will Untether the Universe includes two flash stories, the other being the mother-daughter horror tale, "Find Me, Mommy" (perfect for the impending Mother's Day holiday, if I do say so!). As for the only new flash story from the book, "By Now, I'll Probably Be Gone" started as a weird love letter to my husband, but immediately turned into something… more sinister. My husband, of course, thinks this is particularly humorous—in a wonderfully diabolical kind of way—and takes it as a serious compliment. So perhaps "a poisonous Valentine" is the best way to describe this story, which contains perhaps the most sweetly caustic voice of the entire collection. Because you need at least one mordant narrator to round out the protagonists, no?
Unfortunately, in my never-ending searches for places to submit, I've found there aren't nearly enough markets out there for bite-sized fiction. I'm not sure what it is about flash fiction that puts off some editors and readers, but ever since I was young, I've always been a major fan, especially of super short horror tales. Packing a creepy wallop in less than 1,000 words has always seemed to me to be quite an underrated skill. Furthermore, as a writer, I've found that flash fiction has been incredibly helpful to my own development. I have no doubt that my longer fiction has benefited from my writing flash. The word limit forces me to whittle down a tale to the bare essentials of storytelling while still focusing on character development, plot, voice, setting, and theme (and all those other important elements that make literature so fabulous). So while flash might not be exactly en vogue right now, I will always adore it nonetheless, both as a reader and a writer.
Do you love flash fiction as much as I do? Here are six fantastic markets where you can submit your own flash fiction as well as read other authors' flash stories!
Grievous Angel
An eclectic blend of tales, Grievous Angel focuses on genre (namely, fantasy, science fiction, and horror). Also, flash fiction stories are capped at no more than 700 words, so plan your submissions accordingly (and keep in mind that the editors accept poetry too!). You never know exactly what kinds of wonderful and strange tales you might find at Grievous Angel, but one thing is certain: the stories are consistently unique and entertaining. So if you've got an especially pithy flash story, this might just be the market for you.
Read More Here.
LampLight
Although LampLight's bread-and-butter fiction tends more toward short stories, that doesn't mean there isn't flash lurking in the magazine's pages. LampLight has long been one of my very favorite horror markets, and I can't recommend it enough. So if you've got a short and terrifying work of "quiet horror," then get submitting to LampLight; submissions close on May 15th, and won't reopen until September.
Read More Here.
Mithila Review
One of the newest publications on this list, Mithila Review is only a handful of issues into its run, but already, this magazine is proving itself to be among the very best speculative fiction markets out there today. While the publication does not focus solely on flash fiction—the editors look for a wide variety of submissions, including poetry, short stories, novelettes, and visual art—at least one or two flash stories make the cut each issue, so this is definitely a publication to keep in mind for your super short submissions in need of a great home.
Read More Here.
Bracken
Like flash fiction, there aren't enough markets for magic realism. Fortunately, Bracken has you covered for both. Word count for general submissions tops out at 2,500 words, so Bracken most certainly makes the list for awesome markets that accept flash fiction. And while the editors are currently open to regular submissions, the magazine is also running a flash fiction contest (judged by yours truly!), so if you've got a magic realism tale looking for a home, then consider sending it Bracken's way!
Read More Here.
Daily Science Fiction
When it comes to flash stories, Daily Science Fiction has long been a favorite of speculative fiction readers—and for good reason. The bite-sized stories featured on the site run the gamut from humorous to deadly serious and include everything from fairy tales and swords-and-sorcery fantasy to hard science fiction and horror. This site is a joy to read and an absolute must for flash writers looking for places to submit their work. After all, it's quite the badge of honor to have a rejection from this market but just keep on submitting.
Read More Here.
Flash Fiction Online
One of the few pro-paying markets out there that focuses solely on flash stories, Flash Fiction Online lives up to its name, providing an outlet to a wide array of speculative and literary flash tales, all of which are available to readers for free online. Each issue features a terrific table of contents (I love Maria Haskins' new story this month!). So read Flash Fiction Online (if you aren't already), and send your best flash fiction to the editors, too. It will be great literary times all around.
Read More Here.
Happy reading!