So autumn is already upon us, which is strange, because it really doesn't feel like we had a summer. Time seems sort of irrelevant this year, especially considering I've been sheltering at home since March. What are days anyhow?
At any rate, here we are, and 2020 is starting to wind down, and I've got lots of news that I haven't shared yet on this old blog. So let's get to it, shall we?
Two-book Deal with Saga Press
Everyone who follows me on social media has probably already heard about this by now, but just in case you didn't know, I'm absolutely over the moon to announce that I've signed a two-book deal with Saga Press, an imprint of Simon and Schuster. The first book, The Reluctant Immortals, is due out in 2022. Needless to say, I'm beyond thrilled about this! Saga Press has been consistently releasing the very best fantasy, science fiction, and horror books over the last few years, and it's an honor to be part of the illustrious roster of authors. Truly, I'm still stunned, and it's been over two months since I signed the contract with editor extraordinaire Joe Monti. It's surreal and exciting and I can't wait to share these books with you.
Also, here's the official Publisher's Marketplace announcement!
Boneset & Feathers is almost here!
But before I get too far ahead of myself, I also have a new novel coming out this year! My second novel, Boneset & Feathers, is due out in just over two weeks! I can't believe it's almost here!
The cover art is from the amazing gawki, who did the artwork for Pretty Marys All in a Row! It's also been terrific working with Scott Gable and Broken Eye Books again, and I'm very excited for Boneset & Feathers to officially make its way into the world! So mark your calendars for November 3rd, because these witches and ghost birds are on their way!
New Limited Edition Novella with Thunderstorm Books
And I've got one more book announcement for the year! I have a brand-new limited edition novella due out later this year with the new Tempest line from the fantastic Thunderstorm Books!
I recently got a peek at the layout, and reader, I swooned. The design is absolutely beautiful, which was truly not surprising considering Thunderstorm Books' long history of putting together gorgeous limited editions. So many thanks to Mary SanGiovanni who's at the helm of the Tempest line, Scott Cole for putting together the design of the book, and of course Paul Goblirsch who heads up the amazing Thunderstorm Books. I can't wait to talk more about this book as the release draws closer!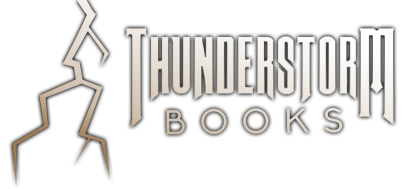 New Short Stories & Translations
Over the summer, Filles de Rouille, the French translation of The Rust Maidens, made its debut from Editions du Chat Noir. They are such a wonderful publisher, and it's been so much fun watching the book arrive to new readers!
Earlier this month, my Dracula retelling, "The Eight People Who Murdered Me (Excerpt from Lucy Westenra's Diary)" made its debut in Spanish at Crononauta. This is another fantastic publisher, and one I hope to work with again in the future!
As for new fiction, my dark fantasy tale, "Lost Girls Don't Cry," appeared in the folklore-themed anthology, Places We Fear to Tread, from Cemetery Gates Media, and my dark fairy tale, "The Princes She's Forgotten," will soon appear in the charity anthology, Survive With Me, from Alien Agenda Publishing. I adore short fiction so much, and I'm super happy to have some new stories recently released or soon to make their debut.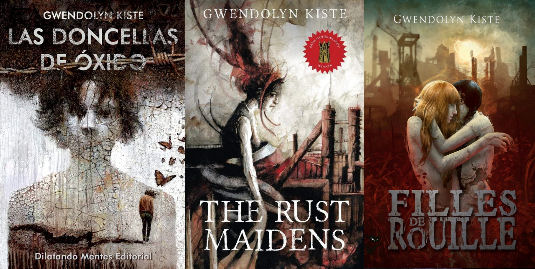 Forthcoming Events

And finally, if you still haven't gotten enough of me, then you can catch me at two very cool events this week! Tomorrow night, October 20th at 7pm, I'll be joining Michelle Renee Lane, Kathe Koja, and Sara Tantlinger for Scream Queens: The History and Future of Women in Horror, an event sponsored by the University of Pittsburgh's Horror Studies program. You can join the fun by heading right over here.
Then on Saturday night, I'll be part of the HWA Pittsburgh Chapter Reading! There will be a big awesome group of us at the reading, and it's sure to be a fun time, so sign up and hang out with us here!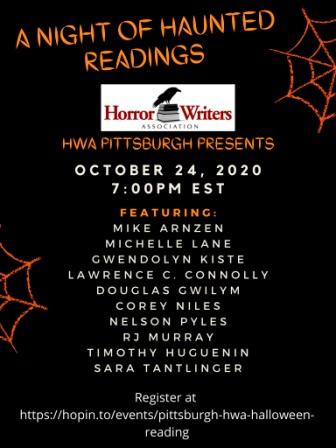 And that's pretty much everything for now! I hope everyone is doing well and staying safe and having a great Halloween season… or the best season we can have considering the dread is real this year. Sending lots of good autumnal vibes everyone's way!
Happy reading, and happy Halloween!