Welcome back! Today's interview is with the awesome Ian McDowell. Ian is the author of the Mordred's Curse series, and his short fiction has appeared in numerous venues including Cemetery Dance, Mondo Zombie, Amazing Stories, and Asimov's Science Fiction, among others. I was fortunate enough to meet Ian last August at NecronomiCon in Providence, and he is a wealth of knowledge, enthusiasm, and fantastic anecdotes about his time in the publishing industry.
Recently, Ian and I discussed some of those fabulous anecdotes as well as how he became a writer, his inspirations as an author, and what he hopes to accomplish next in his fiction.
A couple icebreakers to start: when did you first decide to become a writer . . .
The first thing I ever remember writing was a poem titled "The Enchanted Forest."
In the enchanted forest where the trees are old
in the enchanted forest where the leaves are gold
there's a unicorn with a silver horn
in the enchanted forest where the trees are old.
That was probably before my sixth birthday, I think. I recall my mother being still being healthy and active, and putting it up on the fridge.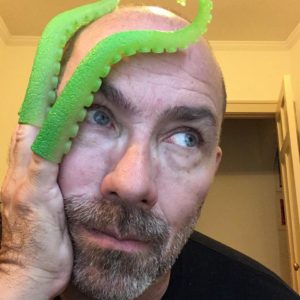 I can't recall anything of the years immediately after she died, but by the fifth or six grade, I'd written a couple of science fiction or horror stories that caused my teachers to shake their heads and ask why I couldn't write about something nice like dogs or fishing or Jesus. I spent much of high school plotting and drawing sketches and maps for a godawful fantasy epic novel on which I never actually wrote a word other than making up some Cool Fantasy Names. In early college I tried to write poetic Celtic-inflected fantasies that showed the influence of Tanith Lee, Poul Anderson and Peter S. Beagle, but which generally sucked because I had no idea how to plot. I still don't, but have gotten better at disguising it.
Back when I was in high school, I'd tried out for the role of Mordred in a Fayetteville Little Theater production of Camelot, in which the famous future horror movie makeup master Tom Savini played Arthur. I didn't get the role. A very talented young man did, but then he disappeared and nobody knew what had happened to him until his headless body was found beside a country road. He hadn't died from decapitation, but from a hit-and-run (no, not caused by me, I didn't drive yet), and a dog or other scavenger had stolen the head. That poor kid was better than I would have been in the role, but his understudy was awful, and watching his dreadful performance on opening night, I started thinking about the character, and of retelling the story from his point of view.
I struggled with that through four years of college, but it wasn't until right after graduation that I managed to do anything with the idea other than a couple of writing class assignments. In the summer before grad school, I sold my first stories, which were set in Camelot and narrated by Mordred, who I initially depicted as a picaresque cowardly lecherous rogue not unlike George MacDonald Fraser's Harry Flashman.
But then I wrote a more serious take on the subject when I was in the MFA writing Program at the University of North Carolina at Greensboro, which went into the past history of Mordred and Arthur and had real pain in it. The fantasy gaming magazines that had been buying my earlier Mordred stories recoiled from this one, saying it was too long and too sad and too pretentious, and when I sent it to Asimov's Science Fiction, either George Scithers or Darrel Schweitzer sent it right back, saying it "reeked of a modern attitude of fashionable despair." But then they left the magazine and Shawna McCarthy took over and I sent her an edited and better-typed draft (I was a few years away from using a computer) and she accepted it and it got reprinted in several anthologies and people approached me about turning it into a novel but it took me seven years to do that, for no good reason other than my being a general slack-ass fuckup.
. . . and who are some of your favorite authors?
Before she died, my mother got halfway through reading me The Lord of the Rings, a chapter a night, with my dad taking it up at some point after Gandolf's encounter with the Balrog. That was a huge influence, even though I only once actually read the book, for a high school paper. She also read Where the Wild Things Are and Kipling's The Jungle Book and Just-So Stories, which I love more than I love Tolkien.
In the 5th grade, I discovered Robert E. Howard and H. P. Lovecraft, and they were my literary gods until Junior High, when I suddenly found myself understanding Bradbury, whom I'd always bounced off of before. And Lovecraft led me to Ramsey Campbell, although I didn't like anything but his earliest and crudest stories until I was in college and understood Demons by Daylight and realized he was our greatest living horror writer. I loved Salem's Lot and The Shining in college, but then grew increasingly dissatisfied with every Stephen King book after that. I loved Clive Barker's Books of Blood, but couldn't finish his novels.
These days, my favorite writers, some still in their prime and some long dead, include Angela Carter, Shirley Jackson, Fritz Leiber, Ian Fleming (despite all the awful thoughts he expresses in really good prose), Kelly Link, Neil Gaiman, M. R. James, T. H. White (his "The Troll" is my favorite short story), Saki, and Sonya Taaffe.
Do you have any specific habits as a writer? For example, do you write at a certain time each day? Music or no music in the background? Likewise, are there any patterns to the way you draft and edit your work, or does each project dictate its own terms?
No real routine. No music. My only habits are bad ones, and generally involve finding every possible reason not to be writing.
You're an incredibly prolific writer who's been in this industry for many years. What's your secret to weathering the storms of publishing? How have you kept going, even through the lean and difficult times?
That's very kind of you, but I'm not really prolific. In fact, in the early 00s, John Pelan described me as "talented but unprolific." I took seven years to write my first novel, a year to write my second, and haven't written one since. Published a handful of short stories in the mid-eighties, and more at a fairly steady rate in the 90s, and couldn't write any fiction from 2002 until 2014.
Oddly, horror markets have never been that receptive to me, even though so many of my early stories featured either fetus-eating or monsters that looked like giant fetuses. I got into Love in Vein through virtue of knowing Poppy, but while my story is the one everyone remembers, nobody ever reprinted or nominated it for anything. I used to have this weird little quasi-career (hobby, more like it) of selling fantasy, usually with a darker element, to newsstand science fiction magazines, but those hardly exist anymore.
Maybe because it's something instilled in me by my mother's early death and my father's alcoholism and financial instability, I've grown up with a habit of dealing with bad times by going on emotional autopilot, and just plodding on, day by day. That's what I did when I was being treated for leukemia. Dealt more with the hourly minutiae rather than worried about whether I was going to die.
What's the best advice you've ever been given as a writer?

That's a tough one. Lots of people have given me great advice that I generally haven't taken because I'm a fucking dumbass.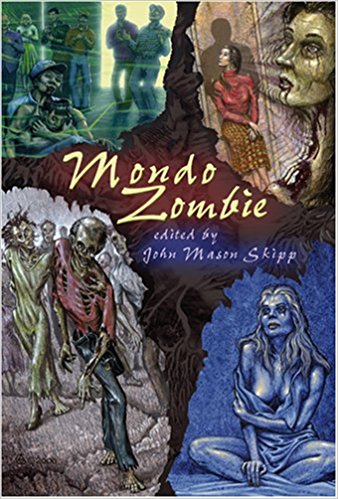 I do recall a conversation I once had with John Skipp about "Dead Loves," the story he solicited for the ill-fated anthology that was eventually published as Mondo Zombie, but which I thought of as The Last Fucking Book of the Dead on the Edge of Fucking Forever. I told him I was thinking of an opening scene with a zombie Dolly Parton, but it didn't have much to do with rest of the story. Skipp said "dude, if you have a damn scene with a zombie Dolly Parton, you stick it in anywhere you can, preferably right up front, no matter what the rest of the story is about. Always lead with Zombie Dolly." That strikes me as very sound advice.
Probably the best criticism I ever got was "what's with all the fetus-eating in your stories?" I realized I was falling into a rut, and my characters stopped eating fetuses well before the end of the 20th century.
In addition to your fiction writing, you're also a journalist. How does the research element of your journalism work overlap or contrast with the research you do for your fiction?
I tend to excel at "journalism" where I can tell tall tales and then question whether or not they really happened, so there's that. But really, research is research. I've not done it yet, but I keep intending to pitch my editor at the Encyclopedia of Alabama an article about the only pirate attack in the state's history. The research I do, if I do it, won't be that different from that I did for "Under the Flag of Night," my Asimov's story about Anne Bonny. Researching 1860s Guilford County, where I live now, for an article about its REAL Civil War history that made one member of the local "Southern Heritage" bubbasphere threaten to stick a Confederate flag up my ass wasn't that much different from researching the town of Tombstone in 1881 for "The Hard Woman," the last novella I sold to Asimov's.
You've accomplished so much in your writing career. What goals remain for you at this point? Total world domination perhaps?
Somebody actually wanting to buy "Black Boy, Black Bird," the novella I think is the finest thing I've ever written, but which everyone rejects for being too literary or too genre, when they think it's a story at all. It's sort of a reworking of Old Yeller with a white teenaged girl in the early 70s rural south who has a prehistoric Terror Bird for a pet and meets an African-American teenaged boy from the city, and I think that my problem in selling it may be that it's more about the boy than the bird, but the real problem might be that it sucks, despite all the damn fine writing I labored over.
Beyond that, I really really want to see a collection of my short fiction get published as a real physical book. I know this is financial insanity, but I'd rather see that happen before another novel, if I ever write one.
Out of your published work, do you have a personal favorite?
I think my recent work is much better than my earlier work, but not everyone agrees. "Dear Dead Jenny," which I wrote for Richard Chizmar and Robert Morrish's October Dreams 2, may be the story other than "Black Boy, Black Bird" and "Archie and Mehitabel" (currently under submission at a magazine that's published me before) that I'm proudest of. It was the first fiction I was able to complete in over a decade, when the experience of nearly dying somehow made it easier to actually finish something. It draws upon my childhood as Monster Kid growing up near Tom Savini, who did a lot of community theater with my father back in Fayetteville, NC, and whose monster masks I used to borrow.
Unfortunately, that anthology, which was supposed to appear in time for WFC in 2014, didn't come out until March, 2015, not the best time for a Halloween-themed book. The few reviews I've seen called my story one of the best in it the book, but that's about all the notice it got. It is a pretty traditional ghost story, nothing groundbreaking, but still very personal.
What projects are you currently working on?
"The Long Arm of the Sea," which is another Anne Bonny story. A novel based on "Geraldine," my infamous abortion vampire story in Poppy's Love in Vein, which made more money over a longer span of the time than anything else I've ever written (alas, the royalties dried up after the death of Mary Greenberg, who'd handled all that stuff for Poppy). Zombie-Con, a short "exploitation novel" based on a film treatment I wrote for a friend before we realized that shooting a micro-budget movie at a real comic book convention was a nightmare of legalities and logistics. It's about several cosplayers who find themselves battling undead fanboys at a Southern convention where the crazy British author of the classic graphic novels Watching the Defectives and The Revenger's Comedy accidentally casts a spell that turns their friend into a voluptuous skull-faced Goddess of the Dead like a Richard Corben illustration come to life, and who turns fanboys into her zombie army.
Where can we find you online?
I really should do a website, but haven't, other than an old blog I can't get into anymore. Mostly, I fuck around on Facebook and try to get people to share my articles on Twitter.
Tremendous thanks to Ian McDowell for being this week's featured author!
Happy reading!