I often lament how there simply aren't enough markets for horror and weird fiction out there. Of course, the publishing world does already boast some seriously fantastic publications, but as the always overflowing slush piles prove, we could certainly use a few more.
Enter Mantid Magazine, the latest and greatest in strange and beautiful fiction, and the brainchild of maverick author and filmmaker Farah R. Smith. Earlier this year, I was fortunate enough to work with Farah on the debut issue of Mantid Magazine, and it was truly one of the best experiences I've had in the entire publishing industry. Farah is professional and accommodating, and the magazine is a gorgeous sight to behold.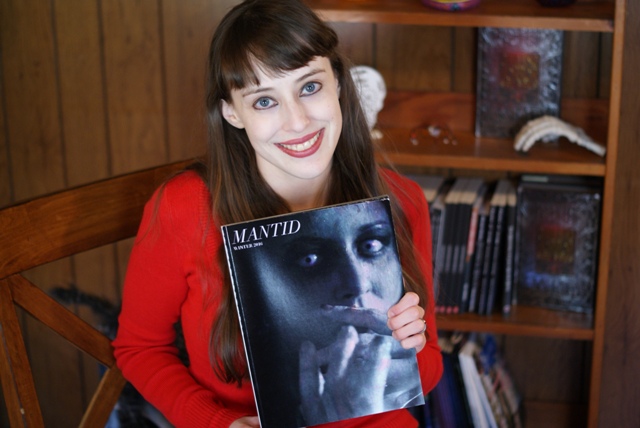 That issue was only the beginning of what looks to be a fabulous run for a fabulous magazine. Submissions for the second issue of Mantid will open on June 1st, and Farah is specifically seeking work from diverse authors, including but not limited to women, people of color, LGBTQA, and differently-abled authors. And as anyone who keeps up with the publishing industry can attest, we most certainly need a beautifully produced weird fiction magazine that not only encourages diversity, but outright thrives on it.
Sounds like fun, right? Well, here's where you, my very fine reader, come in. Editor Farah R. Smith is currently holding a campaign to fund the second issue of Mantid. Your contribution will go directly to paying authors and producing high quality print copies that keep with the amazing standards already set forth in the debut issue.
And if that's not enough incentive, I've gotten in on the fun and present you with this offer of FREE BOOKS!
Make a donation of any amount to Mantid Magazine's Go Fund Me campaign between now and June 30th, and you will be entered in the giveaway for a paperback copy of the Halloween anthology, A Shadow of Autumn.

I will be donating up to five (5) paperback copies of A Shadow of Autumn, so there will be multiple opportunities to add a new book to your bookshelf while supporting Mantid's inclusive mission statement!
A bit of fine print: this giveaway for the paperback edition is open to continental US residents only. However, if you are from outside the US and your name is selected, you will receive a digital copy of the anthology. This will be in addition to the five (5) paperback copies. That means more Halloween tomfoolery all around!
So if you have a few dollars to spare, please consider supporting this superbly macabre magazine. The world of weird and horror publishing will be stronger for it!
Happy reading!