Boneset & Feathers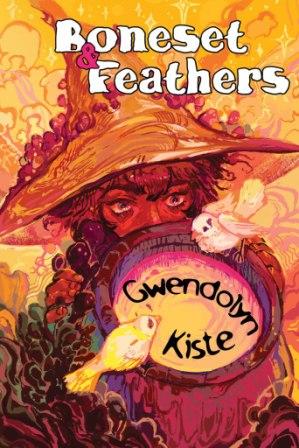 Spanish Translation available
from Dilatando Mentes Editorial

You don't know their fire is coming until it's too late. That's exactly the way the witchfinders like it. As an isolated enchantress, Odette knows this too well--she lost nearly her whole family to the last round of executions, barely escaping with her own life. All the magic she could conjure wasn't enough to protect her parents, a burden that leaves a despondent Odette practically wishing she'd burned with the rest.
Now it's five years later, and as the last witch left from her village, Odette has exiled herself to the nearby woods where she's sworn off all magic, hoping instead for quiet and for safety. But no witch has ever been permitted a peaceful life.
It starts with crows tumbling out of the clouds and spectral voices on the wind that won't leave her alone. Then there are those midnight visits to the graveyard that she can't quite remember in the morning and the strange children following her everywhere she goes. Odette wants to forget magic, but her magic doesn't want to forget her. Meanwhile, the former friends she left behind in the village are cowering together, hiding from the ghostly birds they believe she's sent to torment them for abandoning her. But that's only the beginning of their problems, as Odette soon discovers their worst nightmare is about to come true--the witchfinders are returning. And this time, the decree is clear: to burn the witch that got away.
With the men drawing nearer to the village, Odette must face the whispers from the dead and confront her fear of her own growing power if she wants any chance of stopping the army of witchfinders determined to rid the countryside of magic once and for all.
"Kiste casts a spell with this original and suspenseful horror story, but it holds more than meets the eye." -- Library Journal (starred review)

"A gorgeous book featuring magic, witches, ghosts and revenge turned sour." -- S.J. Budd of Come and Behold My Dark World

"By the time you hurtle toward the epic conclusion, you will be wowed and left wanting more from this master storyteller and weaver of magic tales. Buy all of Gwendolyn Kiste's books if you haven't already." -- A.E. Siraki at Cemetery Dance

"Kiste is a versatile and engaging author making this book definitely one to check out. Recommended for fans of coming of age, witches, and more." -- Sci-Fi & Scary
For full reviews, check out Horror Bound, Staring Into the Abyss, Tara's Book Addiction, Dark Dispatch, The Foreboding Home of the Scary Librarian, Tom Deady, Dark Dispatch, Micah Castle, Horror Tree, Cemetery Dance, Library Journal, Sci-Fi & Scary and Come and Behold My Dark World!
For even more about Boneset & Feathers, visit the press release announcement at Broken Eye Books' website!