And Her Smile Will Untether the Universe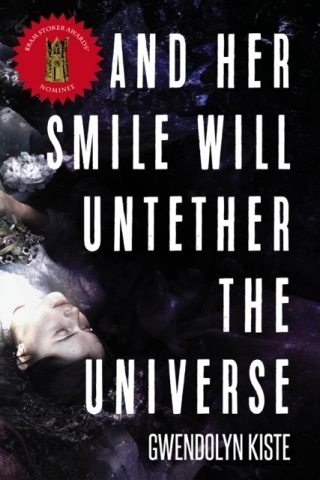 A murdered movie star reaches out to an unlikely fan. An orchard is bewitched with poison apples and would-be princesses. A pair of outcasts fail a questionnaire that measures who in their neighborhood will vanish next. Two sisters keep a grotesque secret hidden in a Victorian bathtub. A dearly departed best friend carries a grudge from beyond the grave.
In her debut collection, Gwendolyn Kiste delves into the gathering darkness where beauty embraces the monstrous, and where even the most tranquil worlds are not to be trusted. From fairy tale kingdoms and desolate carnivals, to wedding ceremonies and summer camps that aren't as joyful as they seem, these fourteen tales of horror and dark fantasy explore death, rebirth, and illusion all through the eyes of those on the outside---the forgotten, the forsaken, the Other, none of whom will stay in the dark any longer.
"Ravishingly beautiful and profoundly haunting." -- Maria Haskins, author of Dark Flash

"These stories come from the shadows under the merry-go-round, and they're eager to drag you back there with them." -- Sarah Read, author and editor at Pantheon Magazine

"A lyrical journey of blood, loss, and secrets, Kiste's debut collection takes you from a cursed orchard to a world that looks all too familiar. Dark and beautiful, And Her Smile is not to be missed." -- Jacob Haddon, editor of LampLight

"Poignant, beautiful, and extremely unnerving." -- Nathan Hystad, Woodbridge Press

"Gwendolyn Kiste's debut collection, And Her Smile Will Untether the Universe, gathers together some of her very best stories about love, loss, and uncanny disappearances... [She] walks you up to the ledge, shows you the abyss, and lets you draw your own conclusions" -- Morgan Crooks, author and reviewer at Ancient Logic
Featured on Barnes and Noble's 10 Recent SFF Short Story Collections to Read from Cover-to-Cover, Paper Darts' Favorite 2017 Small-Press Short Story Collections, Locus Magazine's 2017: A Year Inside the Tent by John Langan, and on Unnerving Magazine's Top Five Books from 2017 podcast!
For more reviews of And Her Smile Will Untether the Universe, check out Tor Nightfire, Nightworms, Cemetery Dance Online, A.E. Siraki, The Des Lewis Gestalt Real-Time Reviews, Reads and Reels, Tamarah Today, Monster Librarian, Medium, Black Static, The Horror Review, Unnerving Magazine, It's a Jumble, GreyDogTales.com, Ancient Logic, Hex Libris, Thorn's Thoughts, Maria Haskins, S.J. Budd, and again at Cemetery Dance Online!
Find even more reviews (or leave a review of your own) at Goodreads!