Welcome back for this week's author interview! Today, I'm thrilled to spotlight Donna J.W. Munro! Donna is the author of numerous short stories, poetry, as well as her debut novel, Revelation: Poppet Cycle Book One.
Recently, Donna and I discussed her new novel as well as her inspiration as an author!
A couple icebreakers to start: when did you decide to become a writer, and who are some of your favorite authors?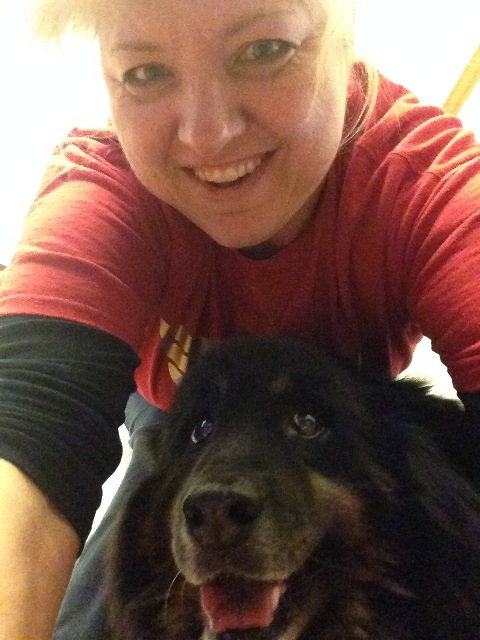 I've always been a writer, but I think it really clicked for me when I took my first college level writing class. I did it with my husband and my awesome father in law. We encouraged each other and in that class, my icky stories got visceral reactions from the critiquers.  There's magic in moving people to anger or excitement or fear with the words you've crafted. It felt witchy to me, so of course I wanted more. I think that's when I first started to submit my writing with an inkling that I could become an author.
Stephen King and Neil Gaiman, the dark fantasy/cozy horror masters are at the top of my list of favorites, but Ray Bradbury and Theodore Sturgeon probably shaped my storytelling more than anything. I love making the monster an object of love, not pity. Turning the tables in a story and subverting horror into a romance between the subject and the reader fascinates me. Current authors I read with this sort of "turn the trope inside out" mastery include Nalo Hopkinson, Lucy Snyder, and (ahem) Gwen Kiste.
Congratulations on your new novel, Revelation: Poppet Cycle Book One! What can you share about your process for writing this particular book?
This is my first published novel, though I've written others. My process is pretty straight forward. I start with an idea. What if the dead could be revived as servants to do the jobs we hate? Then I start to think about who should tell the story. In this first book, my protagonist is a 16 year-old rich girl benefiting from the production of the dead. I had this image of a girl loving this dead thing that followed her and did things for her. I'm a history teacher, so my long fascination with the  screwed up zeitgeist of the Antebellum south informed the society of my book. Kids in the old south loved their enslaved caregivers like mothers and played with enslaved children like they were brothers. But at some point that love had to be crushed out of them so that they could become slave owners.
That process horrifies me. Brainwashed people growing up with this scar on their souls. And how terrible for the enslaved people to have to love these people who'd eventually turn on them.
This story isn't about southern US slavery, but that zeitgeist shaped the conflict my protagonist is feeling. She's on the cusp of adulthood and facing that change.
That conflict births all the others in the book.
I like to start my plotting with "One Page Novel." It's a brilliant method I learned in a class you can access at The Lady Writers League. There's even a template for scrivener based on the program that I use to keep track of things.
Other than that, it's butt in chair, fingers on keys, and suffering right along with my characters.
Your poem, "Call the CCC, Your Psychic Repair Team," was recently published in the HWA Poetry Showcase, Volume VII anthology. What can you tell us about the inspiration for this particular poem?
That's a fun story. I love writing short stories, especially flash fiction. Poems are a  mystery to me. I'm stunned by the work Stephanie Wytovich, Sara Tantlinger, Anton Cancre, Marge Simon, and Linda Addison are doing. Horror and beauty and words that weave a dream. I'm stunned by them all the time. That said, I do a weekly flash fiction contest at Obsidian Flash where we post prompts and I usually do story after story. One week it was a circle of robed acolytes with their arms raised around a busted up car. The poem flowed out and I giggled the entire time I wrote it.
You've written a wide variety of work, from poetry to short fiction to novels. Do you have a favorite form as a writer? How does your approach differ (or stay the same) depending on the length of the work?
I love writing a good short story. There's nothing like achieving a beginning, middle, and end along with character growth and conflict in 1000 words or less. About three years ago, when I emerged from a serious low point that lasted years, I started the Ray Bradbury approach to short fiction. He said, "Write a short story every week. It's not possible to write 52 bad short stories in a row." That changed my life! Since then, short stories have written me through bad times and depression and isolation. My best medicine is completing a story every weekend, no matter what ails me.
I'm a total pantser for a short story. I look at a prompt and start writing. Usually, something very close to the end product tumbles out of me.
For novels, I'm a plotter at first and a pantser inside of the scenes. Still, I'm much more deliberate in the long works because I don't have a mind for detail.
Do you have any particular writing rituals, such as writing with music or writing at a certain time of day?
I like loud, old music, anything 60s-90's I don't have a ritual because I'm a teacher. I have to write when I don't have other things going on, sometimes in the morning. Sometimes in classes when the kids don't need me, I get 500 words in. Mostly I force myself to write between 5 and 7pm because that's manageable with the rest of my life.
Also I'm lazy so I need the block of time I set out to be like my "job." Thank goodness for my supportive hubby. I disappear every day and when I come back he tells me how proud he is.
If forced to choose, which is your favorite part of the writing process: brainstorming new ideas, working on a first draft, or editing your work?
The longer I'm at this, the more I like the polish. My first draft is usually really complete, but it's that last 10% that makes the work shine. I have an incredible developmental editor, Anna LaVoie at Literally Yours Editing, who helps me tease out real character depth. I love getting the edits from her… little fixes make all the difference.
Grammar editing? That sucks.
What projects are you currently working on?
I'm writing a story a week and sending them out to find homes all the time. Anyone interested in my short stories can check my website for updates on what's being published where. Aside from that, Runaway: Poppet Cycle 2 is in polish edits and Revolution: Poppet Cycle 3 is about halfway written.
Huge thanks to Donna Munro! Find her online at her author website as well as Facebook and Twitter!
Happy reading!