For this week's author interview, I'm pleased to present Cynthia Lowman. Cynthia and I have been working on the podcast, The Lift, together, and I was so honored in January when she chose my story, "Girl, Alone at Play," to make her voice acting debut. And what a debut it was! Cynthia is definitely a major voice talent to reckon with, and her fiction is equally amazing.
Recently, she and I discussed her work on The Lift as well as her many upcoming projects.
A couple icebreakers to start: when did you first decide to become a writer, and who are some of your favorite authors?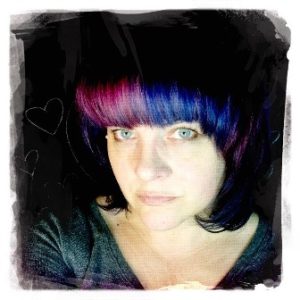 I'm the typical writer who has been doing it since grade school. I took writing very seriously through high school, but when it came time to choose a career I fell into that trap of thinking I couldn't make a living as a writer. I canceled my plans to go to the fabled University of Iowa and did "sensible" jobs, which included such moneymakers as waiting tables and telemarketing. It is only within the past few years that I decided the other path didn't turn out so well, so why not do something I've always been good at and loved (most of the time)? About three years ago, I quit my office job to write full time and proceeded to allow everything to get in my way since then.
As for favorite authors, I am not so easy to pin down. I have lots of favorites. I blame it on being a Gemini, which is the only thing that sign is good for. But if you want some names, I do love Jasper Fforde, J.R.R. Tolkien, Carlos Ruiz Zafon, Mary Roach, Donna Tartt, Neil Gaiman, and Hannah Kent, even though she only has one book. I know there are some I'm forgetting, but that would fill up the whole interview.
You are currently working with Dan Foytik on his major shared world project, The Lift. How did you become involved in the podcast series?
Dan had been doing 9th Story podcast for a while, and Victoria was a part of that from the beginning. She was not to be ignored. We talked about her a lot, and one day while at a workshop, Dan asks me and another writer friend of ours if we thought this Victoria spinoff with the lift and the building of 9th Story in a Twilight Zone-type structure would be a good idea. Of course, we thought that was great! Since then, Dan and I talked about the details of the building, the world, and, of course, Victoria. She invaded both of our lives quite thoroughly, and we share with one another what she reveals.
I originally thought I would only be a writer for The Lift, because I had a lot going on in my life. I kept referring to myself as the fifth Beatle. Since Dan and I are close friends, and we talked about the project so much, eventually, I knew I couldn't let this opportunity get away. Now I'm editing and narrating and writing and social media-ing too. So Pete Best, I am not.
Speaking of The Lift, you recently made your narration debut with my story, "Girl, Alone at Play," and though I might be biased, I think you knocked it completely out of the park! You followed it up with the narration on your own story, "No Such Thing." Was it easier or more difficult to narrate your own story as opposed to another writer's story? What were the biggest surprises when doing narration for the first time?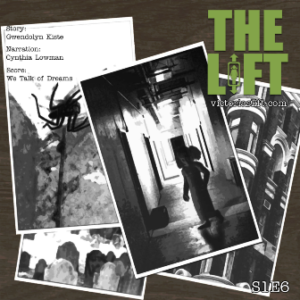 I cannot tell you how glad and relieved I was to hear you liked my narration of your story! Reading someone else's work and wanting to tell the story appropriately made it the more difficult one to do. I never want to let listeners down, but letting the author down would be dreadful.
I actually recorded my story first. From the time I had the idea for it, I asked Dan if he would be okay if I narrated it, and he was gracious enough to say yes. There were several things in my story that, as I wrote it, I knew I wanted to convey in the telling. So that one was easy. Well… except when I immerse myself in the character, it can be emotional.
The same went with reading your story. It was even more emotional. I read through it multiple times and marked it up, so I would read it just right. Every read-through was tough, because I was feeling what the character felt. That was the surprise in narrating. It was much more than reading books to kids when I was preschool teacher.
On your website, you blog about your writing and also spotlight details about your in-progress novels. Do you feel that sharing your writing process with others helps to keep you accountable as you continue to develop a story?
I wish! Accountability is my nemesis. I can't seem to wrangle it into submission. My blog isn't even kept up to date regularly. The most accountable I am is when someone expects something of me, even if it's a daily word count or a progress report. I haven't grown up in that regard. I still need a parent.
What other upcoming projects can we expect from you?
I'm currently working on another Lift story, which I am super excited about! I don't want to reveal too much, but it is a core story about Victoria, and there is a surprise for the listeners on this one. I will be writing a few more stories for The Lift too.
I started another novel after attempting to revise my first novel and seeing how malodorous it really was. It is now stinking up a drawer where I dream it will transform into a bestseller.
Everyone will get to hear my voice a few more times on The Lift! Narrating is a love I never knew I had. I was recently added to narrate the female characters in the book, Carrot Field, by Vincent Asaro, which I am thrilled about!
Where would you like to see your writing career in five years?
By that time, I better have a novel published, even if I do it on my own! (Who wants to be my parent on that one?) I have no doubt The Lift is going to grow into something great, so I expect that to keep me busy with production and writing. And even though it's not my own writing, I look forward to expanding my narration opportunities.
Big thanks to Cynthia Lowman for being part of this week's author interview! Find her at her author site as well as on Facebook and Twitter.
Happy reading!