You might have seen the announcement earlier this week on the Broken Eye Books website, but if not, then allow me to share a very exciting update: my debut novella, Pretty Marys All in a Row, is slated for release later this year!
Inspired by the Marys of folklore, this novella is part fairy tale, part horror story, and part one of those ideas that has lived with me for years (and I'm so happy to have finally been able to get it all down on paper). In this writer's personal opinion, Pretty Marys is among the very, very best things I've ever created, so I'm thrilled that it will soon be shared with the world.
And here's the official description to give you an even better idea of what it's all about!
You'll find her on a lonely highway, hitchhiking at midnight. She calls herself Rhee, but everyone else knows her by another name: Resurrection Mary. And when she's transported home each night to a decrepit mansion on a lane to nowhere, she's not alone.
In the antique mirror, call her name three times, and Bloody Mary will appear. Outside, wandering through a garden of poisonous flowers is Mistress Mary, Quite Contrary, a nursery rhyme come to gruesome life. Downstairs is another jump-rope rhyme—Mary Mack, forever conscripted to build her own coffin. And brooding in the corner with her horse skull is the restless Mari Lwyd.
They are the Marys, the embodiment of urban legend and what goes bump in the night. Every evening, they gather around the table and share nightmares like fine wine, savoring the flavors of those they've terrified.
But other than these brief moments together, the Marys are alone, haunting a solitary gloom that knows them better than they know themselves. That's because they don't remember who they were before—or even if there was a before. And worst of all, they don't know how to escape this fate.
That is, until a moment of rage inspires Rhee to leap from the highway—and into the mirror with Bloody Mary. Suddenly, the Marys are learning how to move between their worlds, all while realizing how much stronger they are together.
But just when freedom is within their reach, something in the gloom fights back—something that isn't ready to let them go. Now with her sisters in danger of slipping into the darkness, Rhee must unravel the mystery of who the Marys were before they were every child's nightmare. And she'll have to do it before what's in the shadows comes to claim her for its own.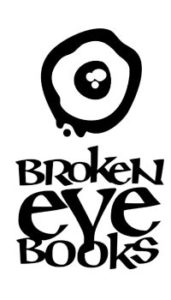 If you want to read more about the book and my inspiration in developing it, then be sure to head over to the Broken Eye Books site for the official announcement! And of course, tremendous thanks to editor Scott Gable for taking on this project!
Now as we move toward the fall release date, Patreon supporters of Broken Eye Books will receive the ebook first (likely in early September) with a wide release to everyone else down the road. So that means if you're really eager to read Pretty Marys All in a Row along with all the other great releases available and forthcoming from Broken Eye Books, then consider becoming a supporter of their Patreon.
And naturally, expect me to be discussing Pretty Marys a whole lot more in the upcoming months. I can reveal that I've already seen a mock-up sketch of the tentative cover, and it's incredibly beautiful and eerie. As soon as it's finalized, I'll be sure to share it here and promote the fantastic artist who's designing it! It's a very fortunate life to work with so many amazing editors, writers, and artists!
Happy reading!