Welcome back! For this week's interview, I'm thrilled to present artist Alex Murd. Alex's work has appeared in venues such as The Wicked Library and The Lift, among others.
Recently, we talked about Alex's inspiration, process, and all those amazing upcoming projects through Crazed Pixel Comics!
A couple icebreakers to start: when did you first decide to become an artist, and who are some of your favorites in your field?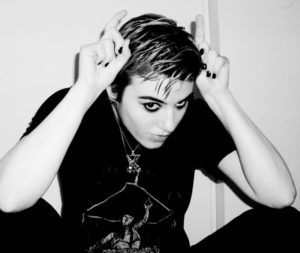 I love icebreakers, especially when they involve a rocks glass, good bourbon, and a dash of bitters.
My pursuit of art can't be defined by a single moment, as I always knew I wanted to do something art-related. I didn't always know what kind of art I would be creating, but held firm to the certainty. I was supported in my endeavors, and let my artistic niche find me. I'm only a lucky fool that it ended up being such a sexy one.
Artists that I admire, and can't hold a candle to, consist of dead-and-gone to walking-around-town: Schiele, Klimt, Stuck, Tom of Finland, Mignola, Fyodor Pavlov, Los Bros Hernandez, Seatlleites Laura Graves and Eli Tripoli, Portlander Scott Roller.
Every creator feels like they are missing people in their 'thank you' speech, but these are off-the-cuff entries. Each of these artists have some facet I admire and respect.
What is your process as an artist? Do you work at a certain time of day or for a certain length of time? Do you work with music playing or without? Any other habits about your working style you'd like to share?
Process, oh goodness, how much time do we have here? Not very much, I'm guessing, so I will try and be concise. The take away from this is: what process?
I am a creature of whim. I can be very taken by some kind of inspiration or a moment, and run with it. My creative bouts are fickle. Inspiration and I play games with each other. Sometimes I win, sometimes it is the victor.
It's all about the music. Music, as a medium, has inspired more characters, scenes, feelings, drawings, and carnal acts than any other medium, for me. I enjoy being a creative hedonist and seducing myself into creating: mood music befitting the project, twilight into the night, giving myself a mental massage before I begin. I'll create a scene for myself, before I gorge myself on the artwork. And when I'm spent, that's it. I'm done. Tapping out.
I enjoy being 'taken' by something and exploring its surfaces and inner workings before sinking in. If that sounds like an innuendo, it's because it is. It's totally like foreplay and sex.
There, that's a way better analogy: my process is like taking someone to bed. You set the mood, you both have fun and explore, then you get down to the dirty work until you're so worked up into a fervor you can't possibly take anymore, then post-coital cigarette and 'was it good for you's' all around.
And then there are always those projects that are fast and dirty, just to get the itch scratched. Sometimes, even in public. Lunchtime sketches, and have to jump out of the shower to jot down that idea, I'm lookin' at you, you naughty, naughty ideas.
You have created a number of gorgeous pieces for The Wicked Library and The Lift (your cover art for Brooke Warra's "The Dance" seriously stopped me in my tracks). Is your process different when you're designing art based on a specific story, and how do you pick which image or scene to depict?
I'm flattered, and thank you for that. My Lift piece for Brooke's "The Dance," was one of my favorites to create. I enjoyed trying to conjure a good image from that story to best show Tommy's feeling of isolation in his handicap.
The best aspect of creating individual illustrations from these amazing stories, is the selection of what to portray. I try and let the stories tell me what image or scene will best encompass their overall feeling, and engage a reader/listener. I read it once, off the cuff jot down the first images that impacted me, then process of elimination. What one has the best combination of honesty from the text, intrigue, and most important: mystery. I want to get people hooked on these tales. From there I think of an engaging style to draw the piece in, befitting the text. For example; I didn't draw a garish cartoon for Aaron Vlek's disturbing tale, "The Wet Man." That style would be inappropriate for the weight of the story.
I work with Dan, since he is a gateway to the authors, and see how everyone is feeling about the idea I submit. Dan is an excellent backboard and I enjoy his collaborative efforts very much. He now knows how I work well enough to give me more free reign on a piece. But, it still never hurts to submit an idea. He's told me I disturb him. I'm still proud of that one.
Creating illustrations from such a wide variety of voices is an absolutely different process, than creating of my own volition. I very much enjoy the challenge and exercise involved, trying to help bring someones' words to visual life. The biggest impact is hearing how the author feels about it. If they enjoy it, duty finished.
Every artist sometimes faces that awful moment when it is either difficult or altogether impossible to create something new or keep working on a given project. When this happens to you, how do you work through these creative blocks?
I'll let you know, when I know, dear. The best I can. Switching gears and trying to make myself walk away, which is no easy feat. When this happens I latch onto any fresh wave of inspiration: music, movies, books, a conversation. I take it and run, to try and break the spell. Even if it is simply a small sketch, or jotting down some words. The first strike is the hardest. Any time you create, no matter how small, it's worth something.
Deadlines, as we all know, can be a lifesaver. Sometimes, even at a moment of losing inspiration on a project, if someone else is counting on it, you fortify and finish the damn thing. Then collapse and go brain dead with pointless and lovely guilty pleasures.
Out of your body of work, do you have a particular favorite piece?
I'm really not the kind of fella that 'kisses and tells', but there are pieces that tug deep on different heartstrings.
My first collection of 'Cinder' comics, along with my first 'Little Black Book', are two works that I hold dear.
'Cinder', my slice-of-life comic filled with alternative characters of every sexuality, and my collection of alternative and queer porn art, 'Little Black Book', helped me break artistic barriers, within myself. Being queer, these works give me a chance for catharsis and experimentation. I love exploring sexuality, and figure work, so these titles have become a perfect match. They remind me to keep playing around, and stay true to what I like.
If my putting my fetishes out there for others to read gives some other strange soul solace, my job was done well. Nothing like encouraging the freaks to stay freaky.
On a more saccharine note, an illustration of my 'Satan' character, Jasper, reuniting with a long lost lover, is warming. A creature spending eternity watching favored souls blink in and out of its existence, running into a now very old flame, and sparking as if it were yesterday. I find it very sweet.
I may revel in drawing dirty pictures, but it is no secret I am a hopeless romantic.
What projects are you currently working on?
My selection process is as follows: take yourself out of the frying pan, and place directly in fire. Too much is what. I have such a web of reserves, I pull out depending on my mood. Rotating artworks that can be added to, until they are submitted to print before CrazedPixel Comics takes to the road for con season.
Always room for more erotic and pornographic artworks for my 'Little Black Book' series. Some fresh pieces for 'Cinder'. New prints. And I have a written horror comic that is dying to get drawn. Now if only a certain artist would get off of their ass, and give it some attention before it becomes a poltergeist…
An ongoing project is a series of original artworks for charity, specifically reputable women's or any kind of minority rights funds. In lieu of payment, I ask for proof of donation to said charities, and I mail the original artwork. Something small I can do to help combat small mindedness.
And always The Lift or The Wicked Library artwork, time permitting.
Where can we find you online?
Our main comic hub, with most of our work, is available to read at crazedpixel.com. On it you can find our social media links.
My NSFW tumblr page, Smolder Sessions, where I house my art pieces, erotic, and risqué art, is alexjmurd.tumblr.com.
Physical copies of artwork and comics available through our store https://squareup.com/store/crazedpixel-comics.
And thank you, Gwendolyn, for the interview and for keeping your awesome lady-writing-self out there, for the world to read: you better keep that in here!
Big thanks to Alex Murd for being part of this week's artist spotlight!
Happy reading!