For this week's author interview, I am pleased to spotlight the work of Austin Muratori. Like so many great authors who have previously appeared on this blog, Austin and I met through the Sanitarium Magazine forum. His varied interests as a burgeoning filmmaker and a genre author set him apart in both fields. Below we discuss the overlap between filmmaking and fiction writing as well as how well-written dialogue makes all the difference in both artistic mediums.
A few icebreakers to start: when did you first decide to become a writer, and who are some of your favorite authors?
My love for writing came at an early age–as soon as I learned how to write, I was hooked. I would write these little stories for my family and then gather everyone I could find, so I could read and perform those stories. I talked a lot as a child, so even before I could write, I would ramble on and on to my family, making up crazy stories.
Then, as I got older and into middle school, I competed in the 'Young Authors' contest my school held every year. I actually won three years in a row! That really motivated me to want to become a writer. In high school, I had a creative writing class and learned about the different forms of writing, which really excited me! That was when I found poetry and all the various styles and formats. I also learned actual story structure and that was when things really started to click for me. My teacher played a big part in me wanting to continue my journey of becoming a writer. She pulled me aside one day, and told me that she really appreciates my work, that I have a lot of talent, and that I should certainly continue to pursue my dreams because big things were in store for me.
When it comes to my favorite authors, I would never be able to list them all because I have so many favorites and that list keeps growing and growing. With that being said, some of the authors that have impacted me in a major way are Edgar Allan Poe, Stephen King, William Shakespeare, Ernest Hemingway, William Faulkner, Truman Capote, Oscar Wilde, Mark Twain, Jack Kerouac, Blake Crouch and Dean Koontz.
How does your work as a filmmaker and as a prose writer overlap? Are there any ways the two are at odds with each other?
Filmmaking starts with a script. In fact, the script is the most important part of the filmmaking process because it is the blueprint for the story you are planning to tell, and without that, you really don't have anything. Essentially, writing is the most important part to the filmmaking process, just as writing is the most important part of prose writing.
With prose, you have more freedom to explore and develop your world and characters; however, you have to be extremely descriptive in order to create a visual image for the reader to imagine, whereas in filmmaking, you have to show what is happening rather than tell. The screenplay has to be simple and visual; you have to show what your character is doing as opposed to describing it. Filmmaking is a very powerful storytelling medium; you get to create amazing visuals, and that allows the audience to share an experience together. Though prose writing is a powerful medium as well, the difference is that in prose writing, everyone will have a different experience while reading a story because they are forced to use their imaginations and everyone's imaginations are different.
In film, the audience collectively can see exactly the same thing on screen. The cool thing is that like prose writing, people will get something from the story, and that message means something different to each and every person who sees the film. One other interesting thing is that filmmaking is a process. The script is written and rewritten and [the] film that is written is going to be completely different once production starts and everything is filmed. Then it changes one more time as it is edited. So throughout each different process, the story constantly evolves. In prose, the story evolves through one process, and that is rewriting.
My work as a filmmaker and as a prose writer goes hand in hand. I love the challenges both fields present. I think being a versatile artist is very rewarding! Plus it is really fun! For me, the stories will dictate whether they are best suited as a film or if they are best suited as a short story, novel or poem.
If forced to choose, which part of the writing process is your favorite: developing character, crafting dialogue, or establishing setting?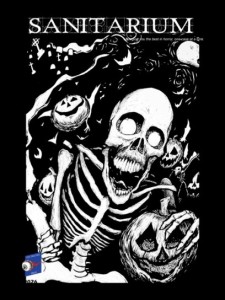 I would say that my favorite part of the writing process would have to be crafting dialogue. I love being able to make a character come to life through dialogue. To be honest, I take pride in making sure my dialogue is realistic and unique to each and every character. Personally, I feel that without good dialogue, it is almost impossible for a reader to not only get into the story but also to relate to the character overall. I also really like developing characters! I find it fun to be able to live vicariously through a character and not only live a life that is completely different from my own but also to do things that I would never do in real life. It is very exhilarating.
Out of your published pieces so far, do you have a personal favorite?
So far, my absolute favorite is a poem called "The City Within," which was featured in Sanitarium issue 26. The reason it is my favorite is because while I was working on it, I managed to tap into a flow state that I never had experienced before. Words came easily, and so did the overall emotion of the piece. It has been compared to the works of Edgar Allan Poe, which is really humbling. Also, it was the first piece that I had published, and in fact, it was my first time even submitting anything anywhere. Being a perfectionist, I struggled with being confident enough to submit because I felt like even after a bunch of rewrites that it still wasn't ready. For this piece, I worked up the courage and made the decision to try and I sure am glad I did!
In what directions would you like to take your work in the future?
I would like to explore more genres and other forms of writing in the future. I have so many short stories, poems and novels that I would like to get published at some point. I also have a lot of screenplays that I would like to get made. Overall I just want to be able to continue to get better as a filmmaker and prose writer and do what I love for the rest of my life. I recently became a faculty member for Sanitarium Magazine and I love it! I really enjoy editing! I hope to do more of it in the future.
Thanks to Austin for being part of my author interview series. Find him online at Twitter, Facebook, YouTube, and his main site.
Happy reading!