Welcome back! All this month, I'll be spotlighting a brand-new roundtable featuring nine fantastic authors who have new books out this year! From short fiction collections to novels, and from horror and westerns to the witchy and the weird, we've got so much talent and such a wide array of books to spotlight!
So let's take it away, shall we?
Congratulations to all of you on your new book releases! What can you share about your new book and the inspiration behind it?
GABY TRIANA: Thank you! My latest gothic horror novel, MOON CHILD, is The Shining meets The Craft. A young woman becomes the fifth member of a coven needing her help opening a spiritual portal inside an abandoned Florida hotel. The inspiration behind the story was more my own spiritual journey away from Catholicism which is characterized by Valentina.
ZIN E. ROCKLYN: Thank you! FLOWERS FOR THE SEA is about a pregnant woman trapped on a boat with the last of humanity. It all started from a prompt and took off from there when I thought about the horror of pregnancy without the wild circumstances. Even "easy" pregnancies permanently change so much of your body and it bugs me out that people go through it.
EV KNIGHT: My new book is titled Children of Demeter. It is about a vanished cult from the 70's who worshiped the Goddess Demeter. They lived on a commune and since their sudden disappearance, nothing has grown on the land. Sara Bissett, a sociologist trying to escape her own past, buys the place with the intent of writing a book about the cult. Strange things begin to happen making Sara question her sanity and the stories told about the cult by the people in town.
The inspiration came from an idea I was playing around with as I wanted to write a haunted house story. I wondered if the house could become a womb and those inside, rather than developing/evolving, would instead devolve/change into something less human. From there, the story just took off and "evolved" into its current iteration.
REGINA GARZA MITCHELL: Thank you! Shadow of the Vulture is number 9 in Deaths Head Press's Splatter Western series. (The books are not related and can be read in any order.) My book takes place on the border of Texas and Mexico and is told from a Tejana perspective. The focus is primarily on women: a shape-changing witch, a soldier and her dead friend, a healer who wants to be a vulture, and a cantina owner. There's a mix of knife fighting, gunfighting, and brujería. Juana, the ex-soldier is the main character. She is angry and ruthless and brutal about the way her world has been impacted by colonization. The story was inspired by stories I heard growing up, books I read on Chicana feminism, and books on Texas history written from Tejano and Mexican American perspectives.

STEVE TOASE: As a collection there are many inspirations behind the stories, but some of the main themes are grief, loss and inevitability. Rather than the jump scare I tend to write a sense that the story is heading to an outcome and that feeling of helplessness (which I think is more horrifying) builds the terror in the story.
For specific stories I tend to draw on lots of different sources. These include family hobbies and day trips, as well as places we've visited. Folklore has always been a huge influence on my writing, so the myth of Baba Yaga found its way into The Jaws of Ouroboros, and traditional ideas about borders inspired Grenzen, a story set on the motorway between West Germany and West Berlin at the time of the Cold War.
EDEN ROYCE: Thank you so much! It feels like it's taken forever, but it's finally here!
Root Magic is a Southern Gothic novel set in 1963 in my home state of South Carolina. While it was written for a middle-grade age group, readers of various ages can enjoy this take of magic and mystery, haints and hags, all woven together with historical themes still relevant today; racism, school integration, police brutality, and a return to the practices of folk magic and herbalism.
I read and watch movies in my (ever dwindling) spare time and it has always been difficult to see rootwork and conjure magic portrayed on screen and in books as evil. Especially by people who don't know the reasoning behind why these practices have such negative connotations.
It goes back to colonization where people were enslaved and brought from various countries on the African continent through the Transatlantic Slave Trade to what is now the United States. Enslavers wouldn't allow these people to practice their religions or spiritual rituals under penalty of severe abuse, even death. Enslaved people were also not given medicines. So these disenfranchised people had to hide their prayers, ceremonies, their use of herbs and roots from those enslavers. And when you hide to do something, even something innocent, your actions are seen as wrong.
I wanted to do my part to show these traditional medicines and practices aren't the evil many take them to be. So I wrote Root Magic to show rootwork in the manner it was always intended: a way to protect and heal the rootworker and those they loved.
V. CASTRO: The book I would like to talk about is The Queen of The Cicadas from Flame Tree Press. When the reboot of Candyman was announced I thought of what a Latinx version would be like. Immediately my mind went to my great grandparents who were migrant workers. The experiences of Mexican Americans and Mexicans are not often told through our own voices and I wanted to do that. BUT HORROR.
I also want to mention it began as a novella and morphed into a novel after multiple rejections.
MARIA HASKINS: Six Dreams About the Train is my short story collection. It contains 21 stories, 2 of them previously unpublished, and I'm ridiculously excited that Trepidatio Publishing picked it up. I owe a big debt of gratitude to author Angela Slatter who encouraged, supported, and helped me get the collection together in 2020 when I was dealing with a lot of stuff in addition to the pandemic. It was a tough year, but working on that collection, and finishing the two unpublished stories for it, was one of the things that helped keep me going.
S.L. EDWARDS: Thank you! Well, The Death of An Author is a collection of weird fantasy and Cthulhu mythos. They are stories that I liked, but did not fit with the overall tone of my debut collection, Whiskey and Other Unusual Ghosts. The stories have a pulpier feel than the stories in Whiskey, skewing more towards Clark Ashton Smith than Edgar Allan Poe.
If I were to pitch it, I would say the book has sword and sorcery, weird westerns, vampires, dragons (lots of dragons) and overall feels on the whole more optimistic than "Whiskey" did. The characters fight back, more like action stars than terrified horror protagonists. You have gunslingers, pizza delivery drivers with combat training, hospice nurses, and even a telepathic shark monster.
The second half of the collection really focuses on what I call my "Congressman Marsh cycle," which spun out of my political panic in 2016 and thereafter. Most of those stories will be original to this collection and were sort of responses to the news that I saw. They are, admittedly, much harder stories to read now and I do sort of expect some ridiculous one star reviews on Amazon motivated by some people who are unwilling to admit that they saw the same damn things we all saw. But I can't do much to stop that.
How long did your new book take to write? Did anything happen along the way that changed the course of the book or its release?
GABY TRIANA: I wrote MOON CHILD across four months in 2020 between ghostwriting projects.
ZIN E. ROCKLYN: In total, I'd say the book took about two months to write, but spread over about two years, lol. I had a R&R (revise and resubmit) that took some time for me to find my way through, but I managed!
EV KNIGHT: The book took about three months to write and one to edit. I took a month-long break while writing it to write my novella Dead Eyes for Unnerving's Rewind or Die series.
Covid, of course seemed to affect everything when it came to the publishing part, but also, there was a lot of political and civil unrest in this country for awhile and it just didn't feel right to be publicizing my book when attention needed to be drawn to liberty and justice FOR ALL.
REGINA GARZA MITCHELL: It took me about a year and a half to write this fairly short novella. My day job is pretty demanding (and is actually a day/night/weekend job since I teach evenings and online), and part of that work involves research and writing. That doesn't leave much time or space for other types of writing, so my fiction writing time is pretty limited. As I was writing, I was also working on a research project that influenced the trajectory of the book, so you'll see some nods to Gloria Anzaldúa in the story. It took longer than expected for me to write the book, and I had to ask for an extension…and then COVID hit, and my writing time went out the window. So I submitted my book quite a while after the original deadline, but Jarod and Patrick at Death's Head were incredibly kind about it and easy to work with.

STEVE TOASE: It's taken a few years to get to the point where I felt happy pitching a short story collection. Basically, I wanted to have enough material to be able to make a choice rather than publish everything I'd ever written. The past few years have been good in terms of selling stories. I think the big development for me in terms of the book's direction was having stories in Shadow and Tall Trees 8 and Weird Horror #1. This meant I was hitting that sweet spot for Undertow; getting the right note of weirdness and horror.
EDEN ROYCE: I wrote the first draft during National Novel Writing Month (NaNoWriMo). Root Magic didn't start out life as a novel. I initially wrote it as a collection of short stories because the idea of writing long form fiction was so staggering to me I needed an abbreviated time – and apparently an international writing event – to push through and get the work completed. I'd written up my outline/notes beforehand and wrote furiously for a month. After that, I let the manuscript sit a while then wrote sections to connect the separate stories into a novel.
As far as things that happened along the way, I had a title change and had my release date pushed back from Fall 2020 to January 2021.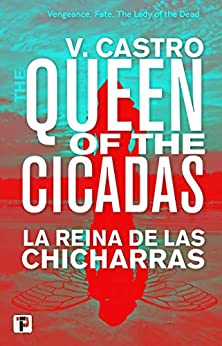 V. CASTRO: The first draft took me a few months to write. I'm a fast first drafter, but after multiple rejections it became clear I should expand the story to novel length.
Never get stuck on rejections because sometimes it is exactly what you or the story may need!
At the same time American Dirt was released so I had a lot to say about identity and hate. Many of my emotions are expressed in the book.
MARIA HASKINS: The collection includes stories from 2015 and onward. Putting it together in 2020 was a challenge for a lot of reasons, but it was also a project that felt doable for me. I had a really hard time working on brand new fiction because the year was such a dumpster fire, but going through my old stories and putting the finishing touches on the two new stories was less of a challenge. It was also interesting for me to look at my work as "a collection". It made me feel a sense of pride and accomplishment as a writer that was sort of slipping away during that year.
S.L. EDWARDS: The book, ironically, was ready to go almost immediately after Whiskey and Other Unusual Ghosts. I think one thing we should talk about more, though, and I know this happens to other writers but I don't see it being normalized is what you might call "the first book blues." After Whiskey's publication I was feeling much more confidant about my writing. Maybe in retrospect, overconfident. I'd like to think I wasn't arrogant, but I had much bigger expectations than were justified.
Then, for reasons beyond anyone's control, the publisher had to close and I was left in 2020 what felt like entirely alone. Something similar happened with The Death of An Author, in that there was an interested publisher, but the deal just didn't get worked out. Again, no fault of anyone. But indie press does not make a lot of money for the most part.
So the release was delayed. New stories were added. A lot of new material was added, ironically some of it coming from out of my really dark moments in 2020. I was, for instance, one of the last passengers to come back from Bogotá on a commercial flight before the world shut down. I had only learned in one day that Colombia's government planned to close the country and my airline did not notify me in advance that they had cancelled my flight. So, the day was just one of dread and panic I'd never really experienced before. It's a very, very visceral and hard memory for me to this day. One day, I'd like to go back to Bogotá to get a bit of closure.
But this informed stories like "The Last Mayflies Out of Bogotá," which will be original to the collection. 2020 also informed some of the rewrites of earlier stories which are included in the collection. It did not, ironically, inform my story "A Slower Way of Starving," a story about two pizza delivery drivers in a town contained during the spread of a pandemic. That story was written for the now infamous pizza anthology, well before COVID. It was rejected, but now you all get to read it if you want to.
And that's it for Part One in our month-long roundtable! Head on back next week as we discuss more about these authors' fabulous new books!

Happy reading!