Welcome back! Today, I'm super excited because we're officially only two weeks away from the release of Reluctant Immortals!
*screams joyously into the void*
And that's not the only reason I'm excited. For the first time ever, I'm doing an actual author book tour! Most of the appearances will be virtual, but a couple will, in fact, be in person! This is seriously the neatest thing in the world to me. I've literally imagined doing an author book tour ever since I was a little kid, so needless to say, I'm over the moon about this.
And where will I be appearing? Well, since you asked, here's a nifty promo featuring all the event dates!
So first up, on the release day of August 23rd, there's the book launch at Riverstone in Pittsburgh! This is an in-person event, and I'll be in conversation with author Emma Riva! If you're in the area, please feel free to stop by! The event starts at 7pm ET!
Then on Wednesday, August 24th, I'll be doing a virtual event at Mysterious Galaxy! Festivities start at 6pm ET/ 9pm PT, and I'll be appearing with the always awesome A.C. Wise who was also kind enough to blurb my novel! Bonus: if you order Reluctant Immortals through the Mysterious Galaxy site, you can also get a signed bookplate!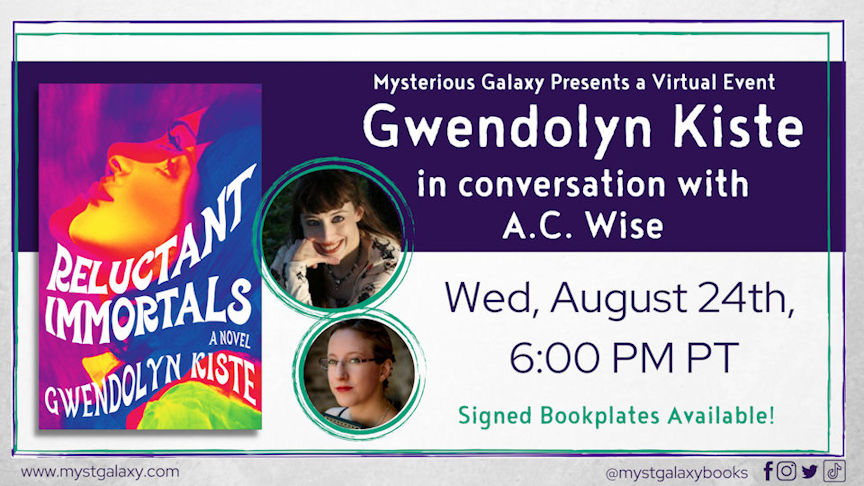 On Thursday, August 25th at 7:30pm ET, I'm thrilled to be appearing at a virtual event at Charis Books, a feminist bookstore located in Decatur, Georgia. I'll be in conversation with the amazing Addie Tsai whose queer re-imagining of Frankenstein, Unwieldy Creatures, was just released! It's beyond perfect that my Dracula and Jane Eyre retelling is being paired with a Frankenstein retelling, and I can't wait to talk more with Addie about our new novels!
To finish off the first week of my book tour, the ever supportive Daniel Braum has invited me back to his Night Time Logic series. That virtual event is on Friday, August 26th at 8pm ET, and I'll be appearing with the fabulous Rebecca Rowland!
For the second week of my book tour, I'll be appearing at a virtual event at The Novel Neighbor, a bookstore located in St. Louis, Missouri. This fabulous bookstore does so many wonderful events with authors, and I'm so thrilled to be able to be part of their lineup. The event starts at 8pm ET/ 7pm CT!
On Tuesday, August 30th at 7pm ET, I'm doing a virtual event at Old Town Books where I'll be in conversation with the amazing and supportive Becky Spratford! It's always great to talk with Becky as she's long been one of the biggest supporters of my work, so this will no doubt be a very fun night!
And last but not least, I'll be appearing at another in-person event when I return to StoryFest at The Westport Library on Saturday, September 10th. I'll be on the panel "Resist and Rise Up: A Panel on Activism," alongside amazing authors Sarah Gailey, Hugh Ryan, Mondiant Dogan, and Sonya Huber. That panel starts at 1pm ET, but the event goes all day and features lots of incredible writers, so if you're in the area, please come and hang out with us!
So that's the schedule for my first ever author book tour! And as if that's not enough, I'll also be appearing on numerous podcasts over the next two months, so like it or not, you'll have plenty of opportunities to catch me discussing vampires, the Gothic, Hammer horror, the 1960s, and everything else related to Reluctant Immortals. *another joyous scream into the void*
Happy reading!