For this week's author interview, I'm thrilled to introduce S.A. Mckernan. This dark fantasy author crafts incredibly beautiful and terrifying worlds while doing some real beauty work in front and behind the camera as a makeup artist.
We talked recently about her work as a writer and artist as well as her future plans in the publishing and beauty industries.
A couple icebreakers to start: when did you first decide to become a writer, and who are some of your favorite authors?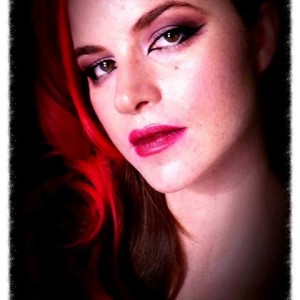 I began creative writing in high school when I needed extra credit for my English class. I wrote a short story based off a dream I had, so in a way I was stricken by sudden inspiration and necessity, which are two amazing motivators. After boosting my grade I decided to continue writing. I eased into it because I enjoyed the creative process as well as the creative outlet. One of my biggest inspirations is Anne Rice. Not just because of her stories, but because of her writing style, especially in her earlier works. Of course, there's J.K. Rowling. Growing up I read a lot of Harry Potter. Mary Stanton is amazing. I adore her Unicorns of Balinor novels. Then there's Walter Farley, who wrote the Black Stallion. Then there's Abigail Tartellin who wrote the Golden Boy.
Your novel, The Apex Predator: The Chain, debuted last year. What was the best part about your experience writing the book, and are you currently working on the follow-up?
The best part was when the story/novel finally came together. I loved stitching up the seams of that monster and finally seeing the end result. Apart from the editing (which I did plenty of) I drew the cover artwork and designed the cover as well as the interior formatting.
A sequel is in the works. I don't have a specific due date, but I'm shooting for completion in mid-late 2016.
Your work leans toward horror and the darker side of life. Have you always been a fan of horror, and what was your earliest experience with the genre?
No, I haven't always been a fan of horror. My first love was fantasy. It was through video games that I began liking and appreciating horror, especially psychological horror. The first truly frightening video game I ever played, and which still remains a big influence is Silent Hill 2. The protagonist receives a letter from his dead wife who is claiming to be waiting for him in a haunted town called Silent Hill so, of course, he goes in search of her. Along the way he encounters monsters, a handful of people, and most disturbingly various levels of the town. The town transforms into hellish states. Silent Hill is a manifestation of the individual's psychological state. The monsters that he fights are symbols of various aspects of his torment and personality as are the people that he encounters. The disturbing levels the town transforms into are levels of his emotions, from foggy and empty to bloody and decaying. It's frightening and fascinating. Since this game I've always enjoyed horror. It's that type of visceral horror I enjoy. But horror has to have a purpose. I don't write horror for shock value. There's always a reason for it.
In addition to your writing, you're also an accomplished makeup artist. Your designs are incredible! How did you get started with makeup art?
Thank you! I started studying makeup because I wanted to apply better makeup on myself. During my studies I developed an obsession with the transformative powers of makeup and beauty. My goal with makeup/beauty is to do more with less. Most of the time the biggest transformations can be made with the smallest touch.
Where would like to see your writing career in five years?
Ideally, I would like to be publishing with traditional publishers. Hopefully I'll have more novels out as well. I have such minimal expectations it's really hard to say what I want for the future without sounding arrogant. Right now I'd like to have more novels published and an increase in book sales. That would be super.
Big thanks to S.A. Mckernan for being part of this week's author interview series. Find her online at Facebook and Twitter, and pick up The Apex Predator: The Chain on Amazon!
Happy reading!