Welcome back for another author interview! This week, it's all about author Justin Hamelin. I first became acquainted with Justin's incredible horror fiction through his story, "Sick Love Potion," in Issue 32 of Sanitarium Magazine. Since then, I've enjoyed reading his interviews at his site, Mangled Matters, where he was kind enough to spotlight yours truly a few months back.
Recently, Justin and I discussed his inspiration growing up in Ray Bradbury's hometown along with the future directions of his very promising horror career.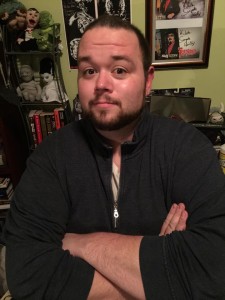 A couple icebreakers to start: when did you first decide to become a writer, and who are some of your favorite authors?
I fell in love with reading and writing at a very young age. I was fortunate to be raised in a household that really encouraged creativity, reading, writing and just about anything that stimulated the mind, so I was pretty young when I realized I wanted to do something that involved excessive creativity at a young age. Some of my favorite authors include R.L Stine, Stephen King, Joe Lansdale, Poe, Shirley Jackson, Richard Matheson and Ray Bradbury. Stine and King were huge inspirations for me growing up.
You and I have talked about this so much already, but it bears repeating: you live in Waukegan, Illinois, hometown of the inimitable Ray Bradbury. How has growing up surrounded by Bradbury lore affected you as a horror writer? Any great Bradbury-related trivia you can share with those of us unfamiliar with Waukegan?
Bradbury still is, rightfully so, a huge part of the Waukegan scene. I actually only started reading Bradbury late in high school. I would tell people I wanted to be an author, and a few teachers of mine suggested I do some research and learn about Mr. Bradbury. My first experience in the world of Bradbury was Something Wicked This Way Comes, and I immediately fell in love. I've also done a few Bradbury tours, both official and unofficial, around town and it's really simply inspiring. As far as Bradbury in Waukegan today, the most exciting info is that the city is really working on opening a Ray Bradbury museum at the city's old library location. The old library is actually a Carnegie building and it's just the coolest little spot on a corner in downtown Waukegan that I think would be absolutely amazing to hold a Bradbury museum in!
You're also a blogger at your site, Mangled Matters. How do you balance your nonfiction writing, such as your regular interviews, with your fiction work? Does one frequently influence the other?
It can be quite a juggling act! I love my blog and sometimes I do get sidetracked by one or the other, either the fiction or the nonfiction. Sometimes whichever one I'm working on less often does get put on the back burner inadvertently. I make a conscious effort to try and keep a pretty fair balance, though, between things like interviews and taking time out to write fiction.
I've been blessed to speak with so many amazing people, whether they be authors, filmmakers, actors and actresses, or simply horror fanatics like myself. Sometimes the conversations do lead to some inspiration for stories and such, but usually when I'm speaking with somebody for the blog, it's almost solely on their work and celebrating their awesome achievements!
Your horror collection, The Darkest Corner, earned some fantastic reviews. The book is currently out of print; any plans for a second edition?
Oh man, I cannot wait to get that collection back in print! It was an amazing learning experience to get that first book published, and I was blessed to have a incredible group of friends, family, and horror fans from around the world really support me and that book.
I'd like to think that The Darkest Corner will be available again sometime very soon.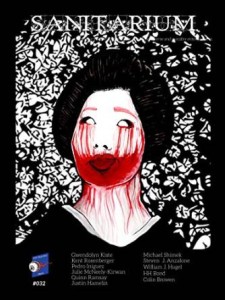 On the personal side of things, I'd like to say congratulations on your recent wedding! Just from Facebook and our previous conversations, I know what a major influence your wife, Krystina, is on your writing. Is she a first reader on your work? Since writing is at times such a solitary pursuit, do you have certain ways that the two of you work together when you're writing a story, such as brainstorming in the early stages or editorial suggestions in the later drafts? Also, is she a writer or artist in her own right?
Thank you very much! It may be a cliché, but it's absolutely true for me—Krystina is my world. She is my muse, my biggest fan, my most honest critic and I love the heck out of her for putting up with hours and hours of brainstorming, reading ideas, and really just supporting me in anyway possible.
She knows and completely respects that I usually write alone; however she is always there to provide feedback or whatever I may need to keep a story idea going. Once the story is complete, she is always the first to read it and usually offer insight, suggestions or questions that tend to make the story 100 times better!
While she is not a published writer, she is one of the most creative people I know and dabbles in just about every artistic angle you could think of!
Out of your published stories, do you have a personal favorite?
My favorite would have to be the one that was featured in Sanitarium Magazine alongside your awesome work! "Sick Love Potion" was a blast to write. It practically wrote itself but I absolutely love it.
I also have a fairly personal one from The Darkest Corner, titled 'The Man Next Door'. There is a lot of emotional weight in that story, for me personally.
Where would you like to see your writing career in five years?
Simply put, I just want to continue to write and have a great time doing it! A career as an author certainly would be awesome, but I don't write for the paychecks. I'd be awfully broke if I did!
I'm challenging myself to submit as many stories as possible this upcoming year, and I have a few half-baked ideas that deserve to be finished and put out there.
Big thanks to Justin Hamelin for being part of this week's author interview series! You can find him at his Facebook author page as well as his site, Mangled Matters. This writer of weird fiction is definitely one to watch.

Happy reading!