Welcome back! This week, I'm thrilled to present author Morgan Crooks. Morgan's work has appeared widely in publications including Daily Science Fiction and Cyclopean Press along with anthologies such as Mystery and Horror LLC's History and Horror, Oh My! He also runs the awesome review and pop culture site, Ancient Logic.
Recently, Morgan and I discussed his genesis as a writer as well as his inspirations and upcoming publishing plans.
A couple icebreakers to start: when did you first decide to become a writer, and who are some of your favorite authors?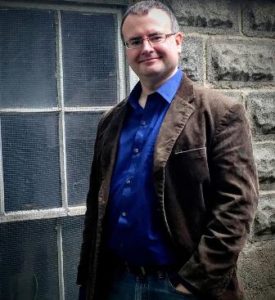 Writing chose me. I've always written, always told stories. One of my earliest memories is narrating a trip to Mars into my brown Fisher-Price tape recorder and I think I've been trying to retell that story ever since. I suppose there are plenty of ways to experience life, to make sense of the universe, but I've always relied on stories – mine or other people's – to get through the rough spots.
As far as getting published, of being a writer, that happened a few years ago. I got sick of revising the same half dozen stories again and again, and decided to push a few of them out into the world. My wife Lauren had the patience to encourage me to keep trying and over time I've been able to find a few markets willing to publish my work. Writing is a lonely job made possible by the support of lots and lots of people.
Favorite authors? Early on Stephen King and Isaac Asimov. Nowadays I read everything published by Kim Stanley Robinson, Peter Watts, and Laird Barron. I could name plenty of other authors and works I find meaningful, but these five sketch out my interests pretty well. I respect the power of horror to make the familiar nightmarish, and science fiction's ability to make the unimaginable inevitable. I haven't quite figured out how to get my writing do both of these things but that's my target.
The first story of yours I read was "What the Prodigy Learns," from Mystery and Horror, LLC's History and Horror, Oh My! How much research went into writing this Roman horror tale, and what else can you reveal about your process behind this story?
That story formed quickly. At the beginning of summer I jot down ideas for stories I'd like to bring to first draft. It occurred to me that although my day job is a history teacher, I hadn't written anything actually set in the past. Roman history fascinates me and seemed a good starting place. At the outset, all I had was "Roman investigates town with bizarre rituals." Not too promising. By the time I got to writing the story I had stumbled on to this book about the Roman Road and Inn system. I started thinking about a Patrician Fox Mulder, aware of himself living in a world already ancient, filled with age-old conspiracies. A few drafts later I understood what was threatening him and where it came from.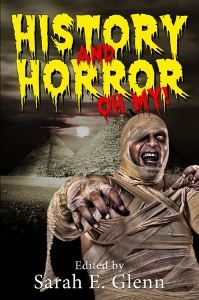 As a speculative fiction author, was there a certain story or film that you saw when you were younger that inspired you to want to write science fiction and horror?
Oh yeah. The first movie I remember seeing was Ghostbusters. Oh okay, more accurately I remember seeing parts of the movie. The library scene nearly sent me fleeing the theater and I spent the rest of it with hands clamped firmly over eyes. The only ghost I remember seeing was Slimer so consequently that little spud played a starring role in my nightmares for the rest of my childhood. I still like how the movie, in addition to being hysterically funny, summoned into being an entire alternate reality; spectral eradication as a viable business plan and some moldy Babylonian threatening NYC. The mix of comedy, science fiction, and horror, all elements rubbing shoulders without stepping on each others' toes, is probably one of my ideals as a writer.
For the record, I'm looking forward to the reboot. I like the cast and the feel is basically there. Maybe it will totally suck but I feel like the past couple of decades have been cruelly deprived of Ghostbusters.
Your site, Ancient Logic, is a wonderful mix of fiction and film reviews along with your insightful musings on all things publishing and pop culture. What initially drew you to blogging, and do you have a long-term plan for where you want to take the site?
Thank you very much! For better or worse, Ancient Logic is a pretty good reflection of my interests/obsessions. I read a lot, watch far too much TV, and work up considerable passion about movies and music. When my friends' eyes glaze over, I know it's time to write another post.
I started blogging as a way to make sense of what I was reading and seeing. I blog in a different voice than I tell stories but I think the two work hand in hand. What I blog is kind of the footnotes for what I'm writing.
I do have a longer term project planned for Ancient Logic over the summer. A while ago I wrote a novel called Agent Shield and Spaceman, a goofy riff on espionage thrillers, superhero teams, and nihilism. The idea was to serialize it as a podcast but I ran out of time. Since June I've been finally releasing it , three or so chapters a week.
Out of your published works, do you have a personal favorite? 
My current favorite is "The Mystagogue," which is available through Cyclopean Press, a longer work about subterranean elder races and outsider art. I'm shopping around a few recent stories that fall more on the science fiction side of things, hopefully they'll be available soon.
What upcoming projects are you working on?
In addition to Agent Shield and Spaceman, I'm tinkering with a few more stories. I've been working through some nostalgia, and my recent work seems to revolve around the experience of growing up near the lakes and woods of Upstate New York. The Finger Lakes were gouged out by glaciers, bathed in blood and holy spirits, and left to rust. Sort of like rural Pennsylvania, it's a fine setting for some quality terror.
Any links you'd like to share to other recommended sites?
You mean other than Reddit? I follow a few authors' blogs: Peter Watts, and N.A. Ratnayake. For those interested in finding new awesome fiction and poetry, I'd recommend Gillian Daniels' short fiction review column in Fantastic Stories of the Imagination and of course Charles Payseur for his Quick Sip Reviews. For all things nerdy and awesome, I follow my friend Dan Toland's podcast (available on Earth-2) and Twitter.
Big thanks to Morgan Crooks for being part of this week's author interview series! Find him at his website, Ancient Logic!

Happy reading!