Welcome back! This week, I turn a spotlight on purveyor of horror and the weird, Kristi DeMeester. Kristi is the author of numerous short stories as well as the chapbook, Split Tongues. Her fiction has been featured widely in publications such as Black Static, Shimmer, and Three-Lobed Burning Eye among others.
Recently, Kristi and I discussed where she's been as a writer and where she's planning to go (and she even hinted at her forthcoming and highly anticipated short fiction collection).
A couple icebreakers to start: when did you first decide to become a writer, and who are some of your favorite authors?
When I was younger, I was always more of a reader than a writer. I'm not the person who can say "Oh, I wrote my first story when I was six." But I ingested every book I could get my hands on. I did try to write a novel when I was eleven. I think I got three spiral bound pages in and stopped. I titled it Who Made You the Boss Anyway. Yeah. I didn't start writing seriously until I was 24. When I left my MFA program two years later, I started writing horror.
Some of my favorite authors are Flannery O'Connor, Joyce Carol Oates, Shirley Jackson, Livia Llewellyn, Laird Barron, Michael Wehunt, Poppy Z. Brite, John Langan, I could go on and on.
In only a few years, you've already reached so many milestones in your career, with stories appearing in Black Static, Shimmer, The Dark, and Year's Best anthologies. When it comes to your short fiction, what's left on your to-do list? Are there still publications out there you're eager to crack?
I'd love to have a story in Nightmare, Apex, and Cemetery Dance. And, of course, I'd like to be on a Datlow or Guran list at some point.
As I read multiple stories from authors, I always love to search for the threads that connect the writer's world. One primary theme I've noticed that permeates your work is your frank and nontraditional exploration of motherhood. You've confronted the subject from various angles: a mourning mother looking for something transcendent in "Like Feather, Like Bone"; unlikely mother figures searching the hungry darkness in "All the World When It Is Thin"; a lost mother who must be retrieved in "To Sleep in the Dust of the Earth"; and a predatory mother who offers her child as a sacrifice in "The Marking." When crafting these stories, did you set out specifically to explore a certain aspect of motherhood, or did that develop naturally as you wrote? Also, it can sometimes be difficult to get editors to pay attention to narratives that plumb the depths of "the monstrous feminine." Have you experienced any resistance when writing such female-focused stories?
Motherhood is a topic I come back to because I'm constantly trying to work out my own issues with it. What it means to be the daughter of a terrible mother; how frequently daughters don't recognize how much of themselves has been sacrificed in the face of a self absorbed mother; how that might ultimately affect my own abilities to mother and the fear of ultimately turning into the monstrous thing my own mother was. Because even though I've separated myself from that abuse and toxicity, she's still a part of me. Lurking somewhere under my skin and lying wait in my blood. And I think too frequently, women have a lot of pressure to be this selfless, giving fountain of love and are expected to lose themselves in their children. I have a lot of fear about that as well because I can't do that, and the associated guilt is enough to drown, and I wonder if I'm going to turn into her no matter how hard I rail against it. Much of my fiction centers on those fears because I think it's a dark underbelly that women often try to ignore. I know that I have tried.
I haven't experienced overt resistance necessarily. No one has told me explicitly that my story would be a hard sell. But some of my stories that deal with the darker aspects of femininity have been tough sells. "The Marking," which appeared in Three-Lobed Burning Eye and which will be reprinted in Year's Best Weird Fiction Volume 3, was rejected eight times before it sold. It's one of the more intense stories I've written dealing with mother/daughter relationships. I'm still in shock that it was selected for Year's Best Weird.
Congratulations on the recent release of your chapbook, Split Tongues! What was the process behind launching the project through Dim Shores, and was there anything about putting together your first chapbook that was particularly surprising or challenging?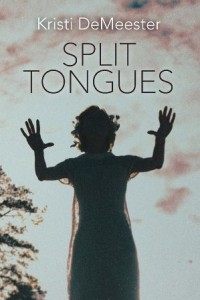 Thank you so much! I was so excited when Sam reached out to me. I didn't have anything at the time that was the length he was looking for, but I had an idea in the back of my mind about a teenage girl and speaking in tongues. I sat down the same day he emailed me and started "Split Tongues." A week and a half later, it was finished, and I sent it to him. After that everything came together beautifully. I was so impressed with how professional and courteous Sam was. Working with him was a dream. Anytime an editor allows the author to help with design and artwork, it's a phenomenal experience, and I was thrilled when I found Natalia Drepina, whose photography appears in the book. Thankfully, Sam liked her work, too. It was a lovely experience.
Looking forward in your career, you've mentioned in previous interviews that you have your first collection of short fiction in the works. What can you reveal about that project at this point? Have the stories been selected, and can we expect some never-before-released pieces in the table of contents?  
Unfortunately, I can't reveal much. The stories have all been selected, but there may be one or two never released pieces that will be added.
Out of your published stories so far, do you have a personal favorite?
It's titled "The Beautiful Thing We Will Become" (and will appear in Word Horde's upcoming Eternal Frankenstein anthology).
Tremendous thanks to Kristi DeMeester for being this week's featured author! Find her at her author site, and pick up a copy of Split Tongues, while you still can!
Happy reading!