2020 is officially in the rearview mirror. It still seems strange even writing that sentence but here we are. And here I am, once again with a year in review post. As always, it feels strange putting together posts like this, but at the very least, it's nice to take a look at the year that was, despite its obvious difficulties.
So here we go, once more unto the breach!
Boneset & Feathers (Broken Eye Books, November 2020)
Witches, witchfinders, ghost birds, oh my! My second novel was released in November from Broken Eye Books! It's been named a top horror book of the year at Library Journal (also, major shout-out to Becky Spratford, Cody Daigle-Orians, and Stephanie Klose for all their hard work putting together this year's Library Journal picks in the horror genre). Cemetery Dance has said of the book that "[by] the time you hurtle toward the epic conclusion, you will be wowed and left wanting more from this master storyteller and weaver of magic tales" and Sci-Fi and Scary says it's "[recommended] for fans of coming of age, witches, and more." So many thanks to Scott Gable at Broken Eye Books for ushering my witches into the world!
In the Rose-Colored House Where They Died (Thunderstorm Books, November 2020)
My second standalone novella made its debut in November as a limited edition hardcover from Thunderstorm Book's Tempest line, and it sold out immediately. It's all about a house of possessed girls and the dubious exorcists who come to "cure" them. I will eventually include this one in a collection down the road, but for now, it will just be that mysterious novella of mine that only a handful of people have read (which actually sounds like the start of a story unto itself). So many thanks to Paul Goblirsch and Mary SanGiovanni; it was an absolute joy working with both of them on this book!
The Invention of Ghosts (Nightscape Press, January 2020)
Way back in the long ago world of last January, my very first novelette was released through Nightscape Press's Charitable Chapbook series! One-third of all proceeds from the book go to the National Aviary. Big thanks to Jennifer and Robert Wilson for releasing this strange, surreal tale of hauntings, toxic friendship, and the occult. This story is one I hold close to my heart, so I'm very glad that it sold out its limited edition paperback run. That being said, the eBook version is still available, so if you haven't checked it out yet, you can still hang out with me and my ghosts!
"The Maid from the Ash: A Life in Pictures" (Weird Whispers, January 2020)
This was the first of my short stories from last year, and a personal favorite overall. Told in a series of museum exhibits, a young girl is whisked away from her remote home "for her own good," only for everyone to realize too late that she—and everybody else—was better off when she was left alone. This story appeared in the debut issue of Nightscape Press's Weird Whispers. I know that editors Jennifer and Robert Wilson have some great content planned for future issues, so definitely keep an eye on this magazine!
"Lost Girls Don't Cry" (Places We Fear to Tread, Cemetery Gates, September 2020)
The folklore legend of Crybaby Bridge serves as a backdrop for this tale of sisterly love, loss, and strange girls who'd rather be lost than found. This is a fantastic anthology, and I'm so happy that I got to be part of it. It was a wonderful experience working with Cemetery Gates, and I look forward to all the awesome books they've got coming soon.
"The Princes She's Forgotten" (Survive With Me: A Charity Anthology, November 2020)
In this dark fairy tale, a so-called villainess is slayed again and again on behalf of the kingdom's princesses, only to realize that she must take back her power on her own if she's going to make it through another night. All the proceeds from Survive with Me benefit the American Indian College Fund. A great cause, a great editor, and a great table of contents!
I also had four short nonfiction pieces published, including "The H Word: The Horror of Solitude" at Nightmare Magazine as well as three articles at the Tor Nightfire blog: a Women in Horror feature, a Historical Horror spotlight, and a list of female-penned horror that need film adaptations. A definite goal for 2021 is to write more short nonfiction, so fingers crossed that I keep to that goal.
And last but in no way least, for the first time ever, my fiction is now available in translation! "The Eight People Who Murdered Me (Excerpt from Lucy Westenra's Diary)" was translated in Russian for Darker Magazine and Spanish for Crononauta. Then The Rust Maidens made its debut in Spanish through Dilatando Mentes Editorial and in French through Editions du Chat Noir. This is truly one of the most exciting and delightful things to happen in my writing career. I never thought I'd have translations of my fiction, and it still doesn't seem real even now.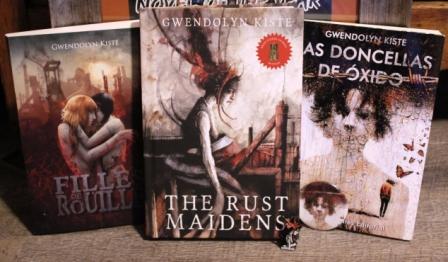 For the first time ever, my work was also featured in a year's best anthology, and as it happens, two different year's best anthologies! "A New Mother's Guide to Raising an Abomination" appeared in Year's Best Hardcore Horror: Volume 5, while "The Eight People Who Murdered Me (Excerpt from Lucy Westenra's Diary)" appear in The Best American Science Fiction and Fantasy 2020.
As for other good news, there are two tremendous things that happened to me in 2020. First off, in April, I won two Bram Stoker Awards, for Superior Achievement in Short Fiction for "The Eight People Who Murdered Me (Excerpt from Lucy Westenra's Diary)" and for the brand-new category of Superior Achievement in Short Nonfiction for "Magic, Madness, and Women that Creep: The Power of Individuality in the Work of Charlotte Perkins Gilman." I'm honestly not sure it's sunk in even now that I have three Stokers sitting on my shelf. All I can say is thank you so very, very much to everyone who's read and supported my work; it absolutely means the world to me. Thank you thank you thank you. Seriously.
And finally, the last piece of incredible news from 2020 is that I signed a two-book deal with Saga Press, an imprint of Simon and Schuster. I've been completely in love with Saga Press's books for years, so it is no exaggeration to say that this is an utter dream come true. The first book, Reluctant Immortals, is due out in 2022. This is a spin-off of sorts of both "The Eight People Who Murdered Me (Excerpt from Lucy Westenra's Diary)" as well as my horror story, "The Woman Out of the Attic," which was originally published in Haunted House Short Stories from Flame Tree Publishing and reprinted at Pseudopod. The new book will follow Lucy Westenra from Dracula and Bertha Antoinetta Mason from Jane Eyre as they face off with the toxic men from their pasts, all set to a backdrop of 1960s California. It's basically everything I love all wrapped up in one book, and I can't wait to share it with everyone.
So that's it for 2020. What an undeniably challenging year it was, but here's to hoping that 2021 is at least a little bit kinder to all of us.
Happy reading, and happy New Year!