This week's author is a major devotee to none other than Edgar Allan Poe, which practically makes us blood sisters to the cause. Tawny Kipphorn is an up-and-coming horror writer who pens both fiction and poetry. With a knack for the beautifully macabre, her work has appeared in Sanitarium Magazine and The Tales from the Shadow Realm among other publications. Recently, I talked with her about her many current and upcoming projects.
A few icebreakers to start: when did you first decide to become a writer, and who are some of your favorite authors?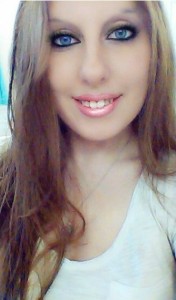 I made the discovery of my passion at fifteen, during english class in my freshman year of high school when we were learning about Edgar Allan Poe. We were reading "Annabel Lee" and something just ignited within me and told me that it was imperative that I do my part to help bring back that literary style, and I've since desired to create things with that same sense of beauty. However, I didn't make the conscious decision to become a writer until my first publication in 2014, which was The Hellequin of Volterrum (Story Version) in the Tales From the Shadow Realm digital magazine. I always had a draw to language and literature since I was in grade school, and even in my teenage years when I was constantly writing and living in my head, I never saw myself becoming an author because I thought my passion would run dry if I were doing it for a living, plus it's the only area in which I've been able to excel. It took me a very long time but I finally accepted that this is what I'm meant to do.  Aside from Edgar Allan Poe, I also enjoy Lord Byron, D.H. Lawrence, Patricia Cornwell, and James Patterson.
You write both prose and poetry. How is your approach the same (or different) for each?
My approach for both is the same in the sense that I really try to do as much research as I can before I begin any project. For poetry, most of the time I try to make them rhyme and go along the same cadence as Poe's "Annabel Lee". I describe my poetic style as being Poe meets Seuss. They say you'll spend the rest of your life trying to recreate the first poem you ever loved, and that holds true for me. I'm a poet at heart and so it comes much more naturally to me than writing fiction, which I find to be much more difficult. When writing poetry, I also like to move words around to give the sentences a more archaic fluidity. Fiction is something I'm working on slowly but surely, it's a fairly new thing for me. It's different also because usually with fiction, I have a vision and know where it's going, but poetry just flows more freely and I won't know where it goes until the end.
What initially drew you to the horror genre, and is it your favorite genre to write?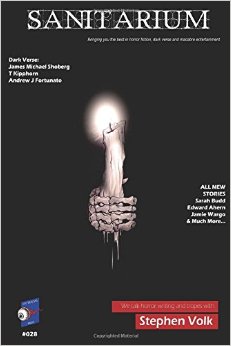 I grew up reading and collecting The Goosebumps Books by R.L. Stine, and also watching a lot of horror movies. I've always been interested in the darker more macabre, supernatural things. I spent most of my time in middle school engrossed in vampire themed books and went through a goth stage as well, so I really embraced the whole image. It is definitely my favorite genre though it can be quite challenging to write. When I have a story in my head, it usually plays along the lines of Quentin Tarantino meets Stephen King. When I envision the possibility of bringing these stories to life it gives me a pleasure that I couldn't get from writing any other genre, especially as a woman in what most would consider a male dominated genre.
Out of your published pieces, do you have a personal favorite? 
This is a tough one because it's a toss up, but I would have to say my favorite published piece is "Rosalee". I wrote it with the intention of creating something as beautiful as (yep, you guessed it) "Annabel Lee". Much to my surprise after I wrote it  I actually discovered Poe had a sister named "Rosalie" which I thought was amazing. I changed the spelling from "Rosalie" to "Rosalee" as a dedication to my mother.
Any projects you're currently working on?
Several! My document folder is horrendous. I have a poem in progress entitled "The Legend of Countess Creep" which is about Elizabeth Bathory. I also have a science fiction short story titled "Project Blue Blood" in progress, and my biggest project in the works is "Steven", which is the life story of a serial killer with an unusual MO.
Thanks to Tawny for being part of this week's author spotlight! Check out more about her writing at her website! 
Happy reading!