In just one week, we'll be hitting the road and heading out to the awesome Saugatuck StoryFest in Westport, Connecticut! It's my last convention for the year, and I'm incredibly excited for it! So in case you'll be there, here's my official schedule of panels and signings during the event. (Plus, check out this super cool graphic that StoryFest created for me! EEEE!)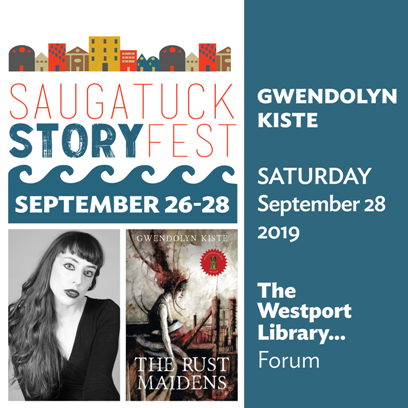 Scary Stories Presented by the Horror Writers Association on Saturday, September 28th at 12pm
Moderated by HWA president John Palisano, I'll be joining panelists Paul Tremblay, Stephen Graham Jones, Mallory O'Meara, Grady Hendrix, and J.W. Ocker on The Forum Stage. We'll be talking all about the current state of the horror genre as well as its future. And as if all of this isn't cool enough, this panel serves as the "opening act" for R.L. Stine who will be giving his keynote address right afterward. For real, how cool is that?! *writer swoon*
Book Signing on Saturday, September 28th at 2:30pm
If you want a chance to talk a bit or to pick up a copy of The Rust Maidens, Pretty Marys All in a Row, or And Her Smile Will Untether the Universe, I'll be signing books in the afternoon. This signing event will also include all the great panelists and moderator from the previous panel plus the absolutely delightful and talented Christa Carmen. So head on out to meet us all and get your books signed!
The Storyteller in the World on Saturday, September 28th at 3:30pm
My second panel of the weekend explores the worlds that writers create and how we have personal connections to those worlds. Moderated by Meryl Moss, I'll be with fellow panelists Marah Hardt, L.L. McKinney, Christa Carmen, Tope Folarin, and Courtney Maum. Also, in case you miss my first signing, the panelists and I will be doing a signing right after this panel too!
There are so many other great events all weekend, so you can find the full schedule for StoryFest right over here. Needless to say, I'm looking so forward to seeing everyone in Connecticut next week! Definitely say hello if you see me!
Happy reading, and happy StoryFest!