I discovered the work of A. F. Stewart when I read her eerie story, "Voices" in the current Women in Horror issue of The Sirens Call. But the tale is far from her first outing. With dozens of books, both fiction and nonfiction, already on her resume, this Nova Scotia native brings a fresh perspective to fantasy, fairy tales, and yes, even horror. Plus, it turns out she's an affirmed Bradbury fan. What more do you need to love this writer?
This week, Ms. Stewart was kind enough to answer a few of my questions about her illustrious writing career.
A few icebreakers to start: when did you first decide to become a writer, and who are some of your favorite authors?
I've always been a writer of some sort, scribbling poems, stories, a bad attempt at a romance novel, but I only started pursuing it seriously with the aim to being published around 2007. That's the year I tested the waters of independent publishing, and I never looked back.
As for my favourite authors, I have quite a few, but here's a current top five list: Neil Gaiman, Guy Gavriel Kay, Ray Bradbury, Agatha Christie, and Jennifer Roberson.
Several of your works take influence from fairy tales. What was the first fairy tale you remember reading, and which one is your favorite?
It's a bit hard to remember that far back into history, but I do know I had a very well worn book of Grimm's Fairy Tales as a child, and one of my favourites from that book was Snow White and Rose Red. I liked the two plucky heroines whose kindness brought them good fortune. I'm also fond of The Six Swans, though as a child I thought the ending was sad; I always felt sorry for the poor brother that didn't quite get turned back into human form.
You're a diverse writer with many types of work, including poetry, fiction, and nonfiction. How is your process different for each (or do you approach all your writing in a similar way)?
Both my fiction and non-fiction processes have similarities, as each develops from outside inspirations or topics that hold some interest for me. Of course, from there the two diverge, with my fiction incorporating fanciful elements such as dragons or fairies, and the non-fiction dealing more in facts and historical tidbits. The poetry on the other hand has a much more emotional and personal basis. I channel more of who I am, and what I feel, into my poems, as opposed to fiction or non-fiction.
If forced to choose, which part of the writing process is your favorite: developing point of view/voice, crafting dialogue, or establishing mood?
It would probably be dialogue. I find it generally easy and satisfying to write. I also enjoy crafting the voice of characters through dialogue, making them come alive so to speak.
Out of your published pieces so far, do you have a personal favorite?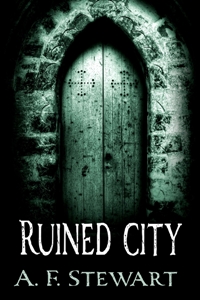 If I had to choose, my preference would be for Ruined City. The format was a challenge, having twelve short stories interconnect to form a novella-like narrative, and I enjoyed the experience of writing the book. Also, I rather fell in love with the world I created, and plan to write more stories set in the Nine Kingdoms.
 What advice do you have for other writers out there? 
My advice is to learn the craft of writing—grammar, sentence structure, descriptions, dialogue—and keep learning, keep honing with each story, each book. Embrace the editing process, accept that you will face disappointment and rejection and love what you write.
Thanks to A. F. Stewart for being part of this week's author spotlight. You can check out her blog, which features a variety of interviews and reviews, and you can learn even more about her here.
Happy reading!