After a two-month summer hiatus, today marks the return of my author interview series! This week's writer, Quintin Peterson, specializes in crime fiction and thrillers. He's been featured in the Washington Post and Shakespeare Magazine among other prestigious publications. Between projects, Quintin was kind enough to share a little about his own creative process as well as what it's like to guard some of the most famous works of literature.
A few icebreakers to start: when did you first decide to become a writer, and who are some of your favorite authors?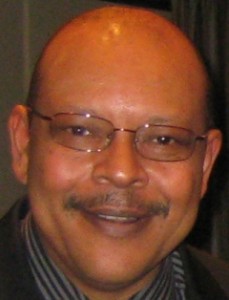 A few of my favorite authors are James Baldwin, Octavia Butler, Richard Wright, Tananarive Due, Chester Himes, Laura Lippman, George Pelecanos, James Patterson, Nelson DeMille, James Grady, and Lee Child.
I've been writing most of my life. In high school, I won the National Council of English Teachers Award for my essay, "Notes of a Wayward Native Son."
You've led a fascinating life that includes not only your fiction and poetry writing but also a long tenure in law enforcement. How did you balance two vastly different professional paths, and were you ever surprised at how the two could sometimes overlap?
It's quite a juggling act, but working odd hours helps. On the police department I worked shifts like 3:00 pm – 11:00 pm, 11:00 pm – 7:00 am, 6:00 pm – 2:30 am, 8:00 pm – 4:30 am. As a rule, I wrote for two hours before I went to work and for two hours after I got home from work…which I continue to do to this day. (I work 3:00 pm – 11:00 pm, Tuesday – Saturday at the Folger Library.) As a police officer, the kinds of stories I wrote changed. Before joining the police department, I wrote science fiction and horror, and plays similar to Lorraine Hansberry's A Raisin in the Sun. As a police officer, I began to write crime fiction. I am now known for my "hard-boiled police procedurals".
Your novella, Guarding Shakespeare, follows a protagonist who gets harangued into breaking into the Folger Shakespeare Memorial Library where many Shakespeare works are housed. What is your favorite Shakespeare play, and what made you want to write about the library?
My favorite Shakespeare play is Othello. I retired from the Metropolitan Police Department, D.C., after more than 28 years of public service on April 23, 2010 and started working at the Folger Shakespeare Memorial Library's Department of Safety and Security on December 14, 2010. Shortly thereafter I learned that April 23rd is Shakespeare's birthday. Other coincidences that struck were, 1) I was sworn in as a D.C. police officer on December 14, 1981 and issued badge number 2807, and 2) the badge number I was issued as a Folger Shakespeare Library Special Police Officer is 28. As a crime fiction author, the story of a heist job at the Folger Library occurred to me very quickly. Othello was playing at the Folger Theatre as I penned Guarding Shakespeare, so that is what is playing as the heist job ensues behind the scenes…
You've been a writer for decades, and your output has most certainly been prodigious. What advice do you have for new writers on how to get their work out there?
Aspiring fiction authors should first pick the genre they are most interested in, read a lot of work in that genre, and write a lot. Enter contests in that genre and surf the Net for anthologies in that genre seeking submissions.
Anyone who has been in the business for as long as you have has certainly faced rejection, both from editors and readers. How do you cope with the constant struggle of being an artist?
I've been rejected a number of times, but everything I've written that was rejected is now in print. Acceptance is subjective. The trick is to find out when a story has been rejected because it is rotten or just was not an editor's cup of tea. You may never know which, really. You just have to actively pursue the study of the craft and keep at it. Find employment in another field to pay the bills and keep plugging away.
Out of your published pieces so far, do you have a personal favorite?
My favorite novel is Guarding Shakespeare, because it is lighter than my other work; more fun. My favorite short story is "Broken Doll," because it features my new character Private Eye Luther Kane, who debuted in "Damaged Goods," which is featured in the star-studded Mines Advisory Group (MAG) charity anthology, Explosions: Stories of Our Landmined World, edited by Scott Bradley. All of the proceeds from the sale of Explosions are being donated to MAG.
In what directions would you like to take your writing in the future?
Aside from continuing to write crime fiction, I'd like to return to horror and science fiction, which I did with "Hope to Die," featured in the British horror magazine, Sanitarium. Also, I'd like to feature Private Eye Luther Kane in a graphic novel. I'd also like to see Guarding Shakespeare produced as a film. The Pitch: The Maltese Falcon meets The Da Vinci Code.
Big thanks to Quintin Peterson for being part of this week's author spotlight! You can find out more about his work at his Amazon author page and his online gallery of artwork.
Happy reading!